12 Of The Best Home Exterior Makeovers On Fixer Upper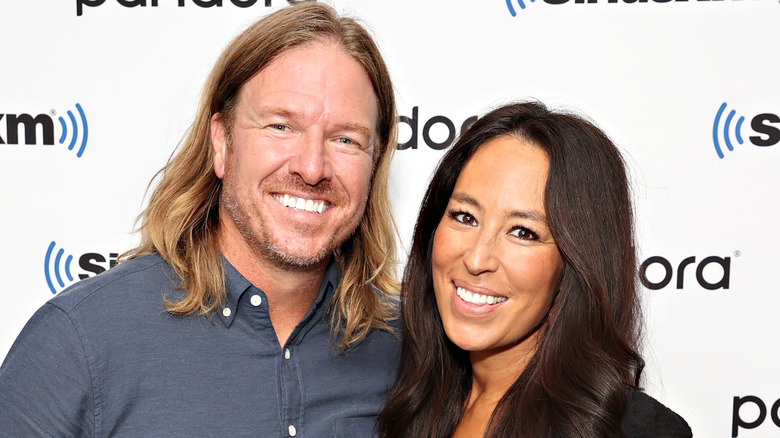 Cindy Ord/Getty Images
There is nothing like that "wow!" moment when Chip and Joanna Gaines reveal a particularly impressive home exterior makeover on "Fixer Upper." While the interior of each home is usually just as amazing, nothing beats that first impression of the outside. The couple consistently turns outdated properties into dream homes, often exceeding the expectations of homeowners and viewers alike. When you think it can't get any better and the home is a lost cause, they top themselves again! From weather-worn ranches to neglected cottages and everything in between, the exterior transformations on "Fixer Upper" are nothing short of remarkable.
Whether you're an avid fan of the show and want to admire Chip and Jo's work, or are simply looking for a few million-dollar ideas to spruce up your home's exterior, this compilation of the best exterior makeovers is for you. These transformations will ignite your imagination of what is possible for even the ugliest and most run-down of houses and, hopefully, even give you more of a desire for your own home improvement adventure.
From small shack to cozy home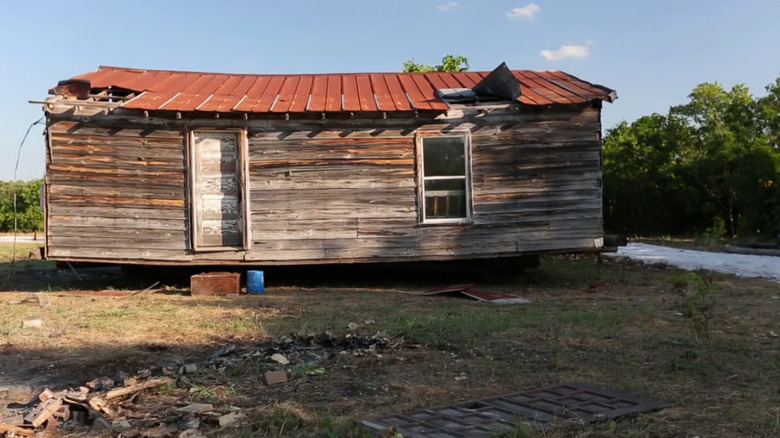 Max
Even house flippers with the strongest stomachs might have felt uneasy about investing in this rundown shack at first glance. Seen in Season 4, Episode 17, it looks like it's been abandoned for generations and is quite literally falling apart. Most folks would probably take one look at it and call in the demolition crew because there is no hope for rescuing something so far gone. However, this wasn't the case for the Gaineses, as they worked their magic to create something truly astonishing.
"Little Shack on the Prairie" is one of the best renovations in "Fixer Upper" history simply because of the massive amount of value Chip and Jo's renovations added to the home. Bought for just $12,500, the home was eventually listed for over $400,000 — talk about a great increase in capital value. Aside from the incredible increase in price, this shack was completely unlivable before the renovations. >>>But now its bold red front door instantly ups its curb appeal and offers great contrast against the crisp white of the rest of the exterior. The large concrete slaps leading to the front door offer the perfect amount of utility without seeming sterile, while the front porch itself is perfectly Southern.
Turning a tiny home into a statement piece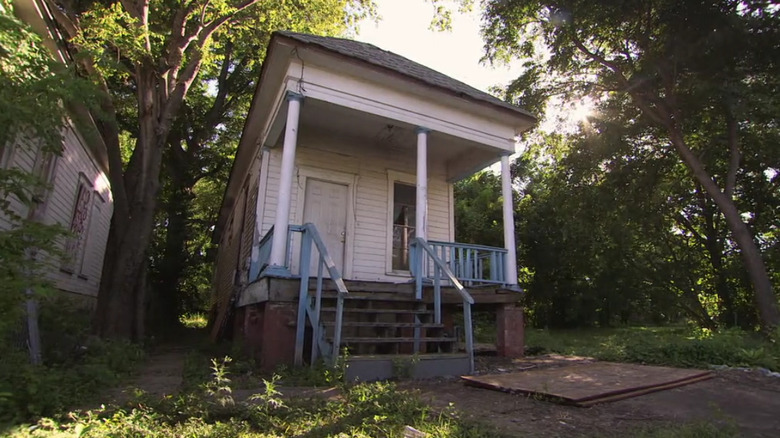 Max
Cameron and Jessie Bell purchased this "Shotgun House" for just $28,000 in 2016 in Season 3, Episode 15, and listed it for almost $1,000,000 after the "Fixer Upper" renovations were complete. This dramatic increase in value alone makes it one of the best home exterior makeovers on the show. Before the renovation, the home simply looked exhausted. The wooden front porch was rotting, the home's white exterior looked dingy and uninviting, and the stairs that led up to the front porch appeared as if they might collapse at any minute. It also looked to be one story, at best.
The Gaines breathed fresh life into a home that most would have just demolished. The home's exterior is now a rich hunter-green, a far cry from the dinge of the previous white. The porch is now study brick, meaning inhabitants can spend hours relaxing on it without worrying about falling through. Chip and Jo also added a strong natural wood column to the front porch, which contrasts nicely with the dark green as a great statement piece. The home's upper loft is now also clearly visible, adding much-needed space to the tiny house.
Rustic barn to country chic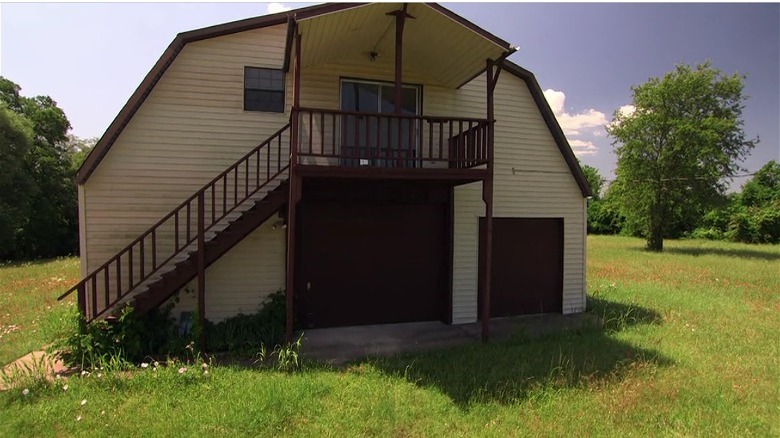 Max
This rustic "Barndominium" in Season 3, Episode 7 started as an authentic horse barn. When the Meek family purchased the home, it was in quite a state and would need a lot of work to be ready for human inhabitants. The outside of the barn was a dull yellow color that was clearly showing signs of wear and tear, like mildew and peeling. The grass around the barn was patchy in some places and overgrown in others. While likely a great place for a horse to spend a day or two, for a family, it was a major eyesore.
The renovation made the home country-chic and, most importantly, very liveable. The Gaineses accomplished this by adding more windows so the home would have plenty of natural light. They are on each end of the top story of the barn, as well as sliding glass doors. The barn is so large that it could easily feel gloomy without light, so this was a great addition. The couple also added plenty of outdoor lighting to brighten the home's new stark white exterior — a vast upgrade from the dingy yellow. Finally, the home's landscaping is no longer patchy grass but expertly arranged plants and mulching, giving it some much-needed curb appeal.
A 1930s mansion with a modern update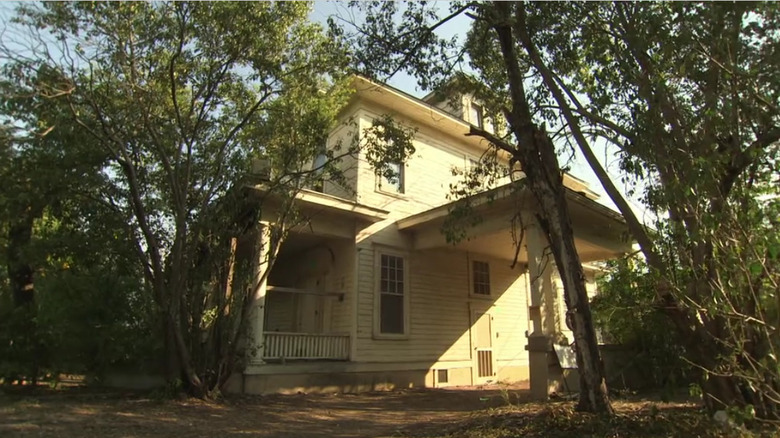 Max
The "Gorman House" in Season 1, Episode 2 was one of the very first homes featured on "Fixer Upper." It was a mansion built in the 1930s that desperately needed some TLC when Chip and Jo got a hold of it. Originally, the home had white siding that looked pretty worse for wear and a front porch that didn't look safe to walk on. The front yard was tired as well, making the entire home seem unapproachable.
Luckily, Chip and Jo were able to revive this home. This was one of the best exterior makeovers on the show because it gave viewers a glimpse of just how glorious the house might have been in its heyday. The teal exterior gave the home a bold new look, but not one that looked garish or out of place. The blue-green hue complimented the green grass and blue sky perfectly. The home also had a new wraparound porch, giving the owners a great place to relax during elongated Texas summers. The addition of symmetrical landscaping also gave the home a finished, welcoming feel. Whether in the 1930s or the 2030s, this house is a beaut.
A vintage home with a touch of modernity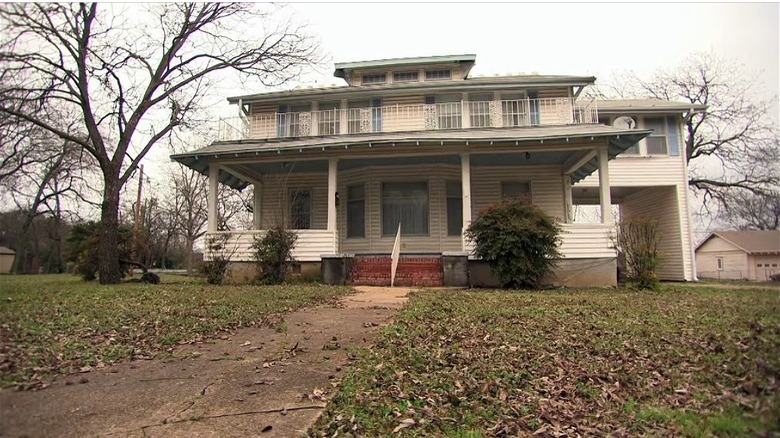 Max
The downside of having a home that follows modern trends is that your home's exterior will look painfully dated one day. While it's tough to avoid, the purchasers of the home in Season 3, Episode 1 were lucky they had Chip and Jo to the rescue. The home was a classic Texas country house but looked stuck in the 1960s. Its off-white and sunbleached blue exterior looked old-fashioned and dull. Yet underneath that terrible paint job was a house with great bones.
Luckily, Chip and Jo noticed the structure didn't need much changing, only a series of small touch-ups here and there. This is why this makeover is one of the best, as we learn that you don't always have to do a complete overhaul to make something beautiful. The bright white of the porch against the dark facade of the house in a classic Joanna Gaines white-and-gray combination brought the home into the modern era. Joanna also chose to keep the home's original set of brick stairs, so even though the house was thoroughly updated, it still had a touch of its vintage charm.
Urban update to a traditional home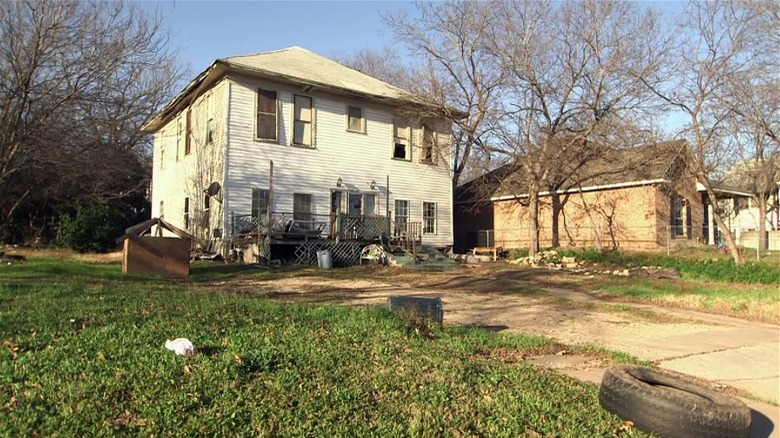 Max
This home in Season 1, Episode 6 was fairly large to start with, but it looked tired and overrun before its run on "Fixer Upper." It had a dilapidated roof, a rickety wooden front porch, and peeling white paint. To add to its sad appearance, it also had window frames experiencing major wood rot and bullet holes marring the siding walls. It needed a complete makeover to become liveable. 
The couple started by painting the house a warm gray color. The home's white trim added a great pop of contrast to the traditional home without any renovation needed. Before it looked drab and depressing, but now it looks like it stepped straight out of a magazine. The pair also added a covered front porch and upstairs deck to the house, which created a much-coveted outdoor entertaining space. But even more importantly, the pair added a new roof and window frames for a little extra protection from the elements.
From a tiny ranch to a modern oasis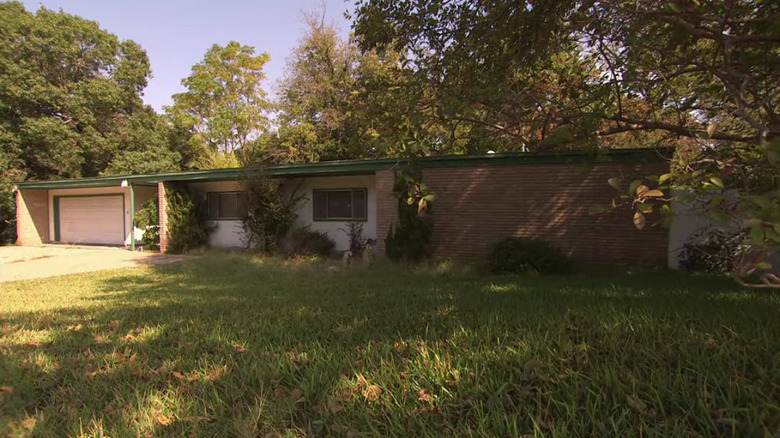 Max
Affectionately known as the "Funky Fixer" before its renovation, this house in Season 2, Episode 9 was previously less of a house and more of an abandoned trailer. It had weather-worn sheet metal as walls and garish green trimmings. Frankly, this home looked exhausted. However, when Chip and Jo were finished, they had completely transformed it from a junkyard to a modern oasis.
The unremarkable brick ranch was flipped into a mid-century modern building thanks to putting wooden planks where there was once brick, adding larger windows, and moving the garage to the opposite side to carve out a living room space. But this is one of the best exterior transformations on "Fixer Upper" because it shows how much landscaping can impact your home's overall curb appeal. Instead of trying to make dead grass thrive where it clearly won't, the Gaines created a southwestern-style rock garden that would make the Grand Canyon jealous. Most of the grass was removed, and in its place was a healthy dotting of easy-to-care-for rocks and desert plants that didn't require much water or upkeep. This grass-less front lawn made the home seem modern and chic. In addition, the horrific sheet metal walls were gone in favor of gray-painted brick and beautifully stained wood — tied together to be natural and sturdy all at once.
Sinking houseboat to floating paradise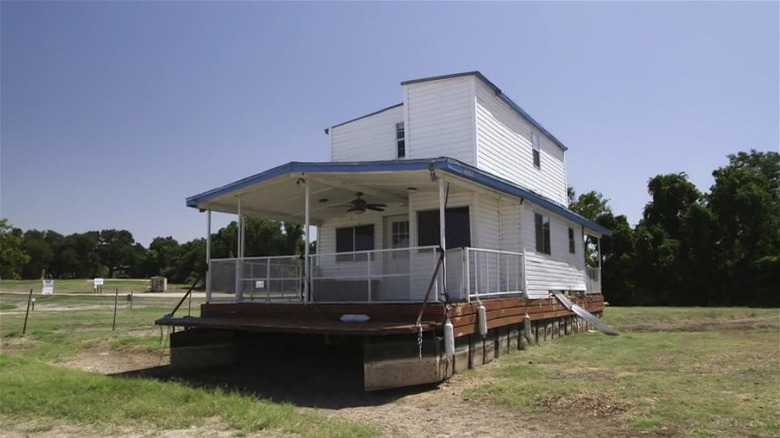 Max
This houseboat in Season 4, Episode 10 started out white with blue trim, which fit its nautical theme but seemed a bit kitschy and old-fashioned. The boat wasn't even technically sea-worthy at the beginning, as its owners wondered whether or not it could float on Lake Waco. (Hint: It did in the end, but only after much TLC.)
It's hard to carve out space when you live in a vehicle like a houseboat, but Chip and Jo pulled off the impossible again, which is why this makes our list. They did this by adding more height to the boat. They raised the lower floor's ceiling by about 12 inches. The team also removed the tiny windows and swapped them for floor-to-ceiling windows on one side and large glass doors on another. If you are on a houseboat, you likely want to enjoy the views around you, so adding all this glass made for a huge upgrade. In addition, the home was now a chic and sleek combination of black and stained wood. It created a strong, bold look that won't be going out of style anytime soon.
Ranch house fit for a king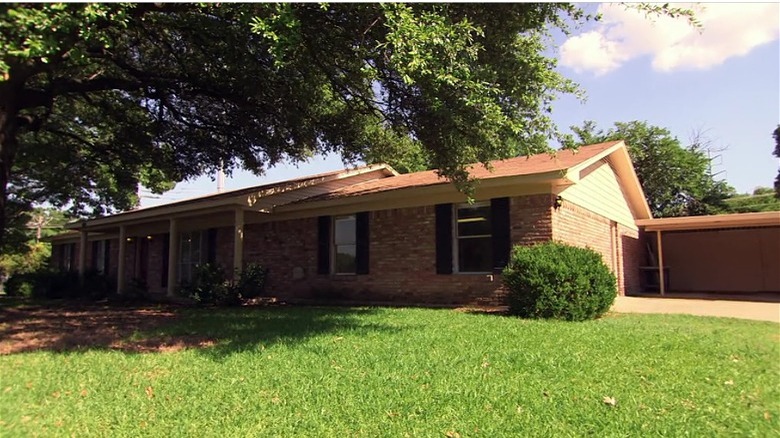 Max
Lovingly called the "Peach House" when featured in Season 3, Episode 11, the home wasn't all that bad beforehand, but that's exactly why it made our list. It's proof that even homes that look okay can always be updated to look amazing. The house had very classic red brick walls, dark shutters, light trim, and a light brown roof. Stylistically, it was fine, if not a bit frumpy.
Chip and Jo made over the house for Brett Ridley, who Chip decided was "the most eligible bachelor in Waco" during the episode. Often, the Gaineses renovate homes for couples or families, but rarely for a single man. To honor their new client, the pair leaned into traditionally "masculine"- looking design pieces, like dark colors and hefty, stained wood. The home's slate gray roof and wooden columns atop black brick bases were stoic, adding gravitas to the house.
Grim brick to fairy tale cottage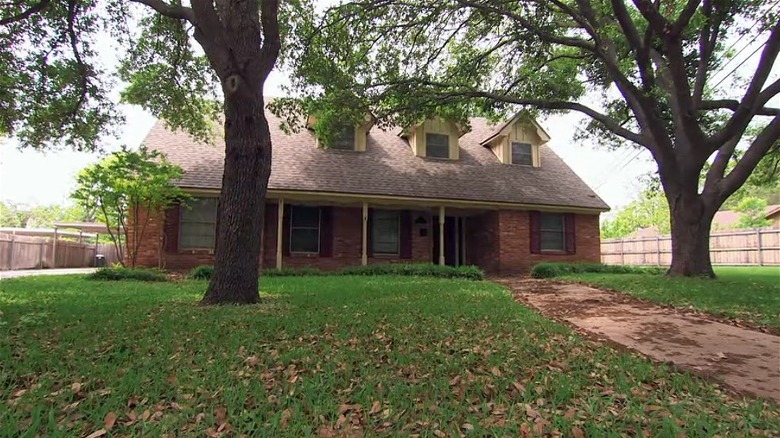 Max
The "German Schmear House" in Season 3, Episode 9 makes our list because it shows how homes with great bones are easily transformed into something beautiful. Before its renovation, the home looked like a generic brick house. You might see this home in Anytown, USA, as there is nothing special about the deep red bricks and light yellow trim. It's not ugly; it is just plain.
Yet Chip and Jo stepped in and took this house "from just down the street" and transformed it into an actual fairy tale. They achieve this by using the German Schmear technique, which is to whitewash a wall but scrape most of it off. This allows small pockets of red to peak through a mostly white wall. It looks like a cottage and offers a cozy feel. Another small touch that went a long way was adding wooden paneling to the dormer windows. It made them seem like a more defined feature instead of an afterthought. It also tied the entire house together really well, as the front door and downstairs shutters were the same kind of wood.
The country house turned Italian villa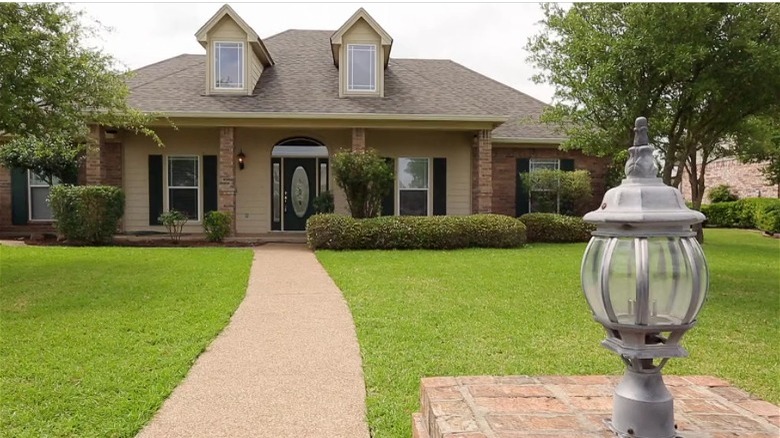 Max
Joanna Gaines is known for her love of the modern farmhouse aesthetic, which is why this particular home makes our list. This home in Season 4, Episode 15 started as a quaint country house, which seemed right up Joanna's alley. Yet the HGTV star flipped things on their head by transforming it into a "Rustic Italian Dream Home" instead, per her clients' requests. It showcased Gaines' ability to work in a variety of styles. The home already started out strong with a lot to offer, including a large front porch with sturdy wooden columns and two quaint dormer windows. There was also a brick addition to the home off to the right side, but it looked a bit out of place.
Yet the renovated home was drastically cohesive, which is what made it work so well. The Gaineses painted the brick addition the same color as the siding on the main house, so they no longer looked separate. They also stained the wooden columns to be a bolder, darker hue and ensured they matched the wooden front door and shutters for more cohesiveness. They leaned into the rustic feel with the porch lights, metal work door accents, and stone column bases, which looked like they came straight from Italy.
From a dull ranch to a stone-accented haven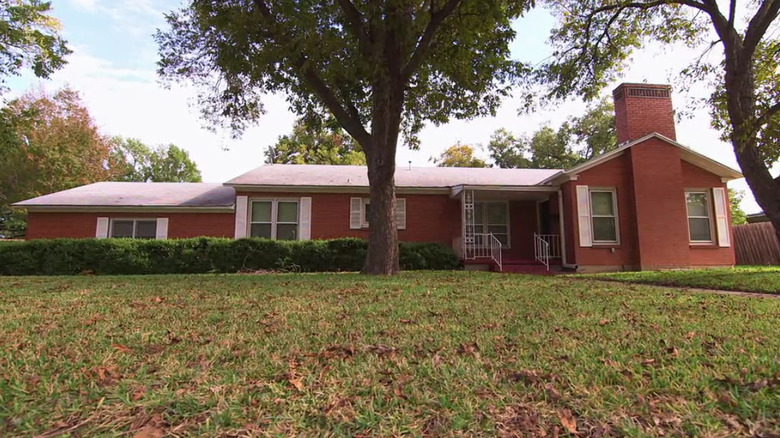 Max
Before its renovation, the so-called "Chicken House" was just a little plain. The dull 1940s ranch house in Season 3, Episode 17 had seen better days. It was a schoolhouse red, accented with detached white shutters and a rickety and outdated front porch.
This house renovation is one of the best because it is all about the small details that go into transforming a home from dull to amazing. For example, Chip and Jo made changes like painting the exterior a soothing gray to bring it into the new century. They also added a stone chimney that not only added curb appeal but would keep the Messerall family warm during nippy Waco mornings. Plus, the pair expanded the front porch and added new rails, making it more of an outdoor relaxation space instead of just a point to enter the home.