What Is A Barndominium?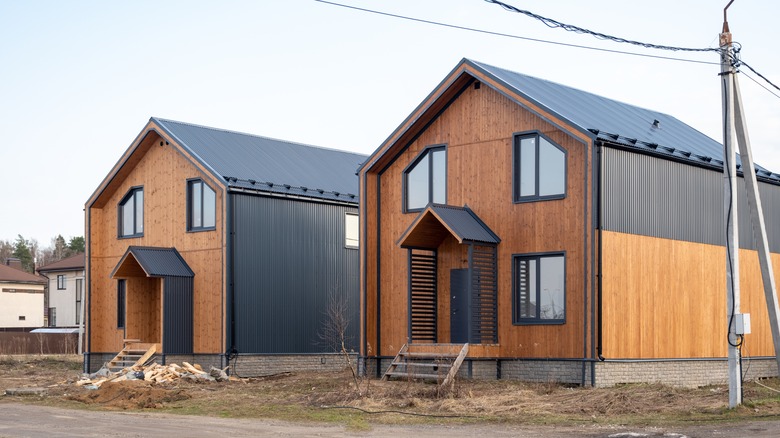 Dina da/Shutterstock
Barndominiums, sometimes known as "barndos" and "shouses" (a combo of "shed" and "house"), are a growing trend in new home construction, with owners flocking to the countryside and the charms of rural life. You can spot them on the landscape, particularly in the South and Midwest, where, according to CNET, their popularity grows every year. Initially used to describe any kind of former barn space turned into a home, today, the terminology has expanded to include homes constructed from the beginning using the open concept structure of a barn or shed to create a home. The idea of the barndominium has been around since the late 1980s to occasionally describe barn renos. However, it gained popularity after an episode of HGTV's "Fixer Upper" used it to describe a home.
While they vary in size and square footage, these homes typically mimic the style and bones of a barn or other more utilitarian buildings, offering endless options for customizing the perfect space for you, incorporating both vast living areas, workshop space, and garages. In addition, the residents typically enjoy the rural placement of barndos, which can provide an easier entry point for building a new home in both construction and costs than a new farmhouse.
Customizable interiors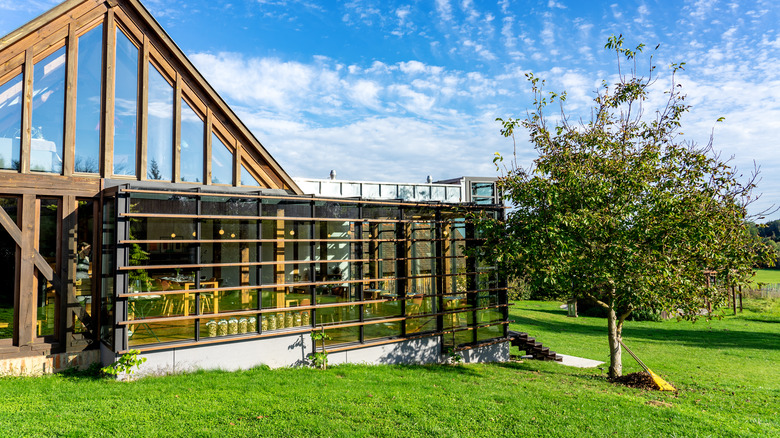 berni0004/Shutterstock
One of the chief benefits of barndominiums is the ability to create a completely custom home beginning with a lower price point per square foot. While the average new construction traditional house may run you as much as $100-$200 per square foot at their most no-frills basic, barndominiums, according to Barndos, can often be constructed for half that, ranging from $30-$50 for the basic layout of the structure, allowing owners to instead spend their money on customizing a beautiful interior. Many structures begin as pre-assembled kits or pre-fab structures that are then placed atop a concrete foundation. Others are constructed from the ground up.
Because of their roots as utilitarian buildings, barndos are often more durable and low-maintenance than a traditional home, many constructed of steel and treated aluminum and meant to last a variety of climates and conditions. Floor plans vary, with some retaining fully open-concept plans and loft-like living, while others include more interior walls and intimate spaces. Many barndos feature vaulted ceilings, large expanses of windows to enjoy the surrounding landscape, sleeping lofts, wraparound porches, and sizeable spaces for working and living.
Want to build a barndominium?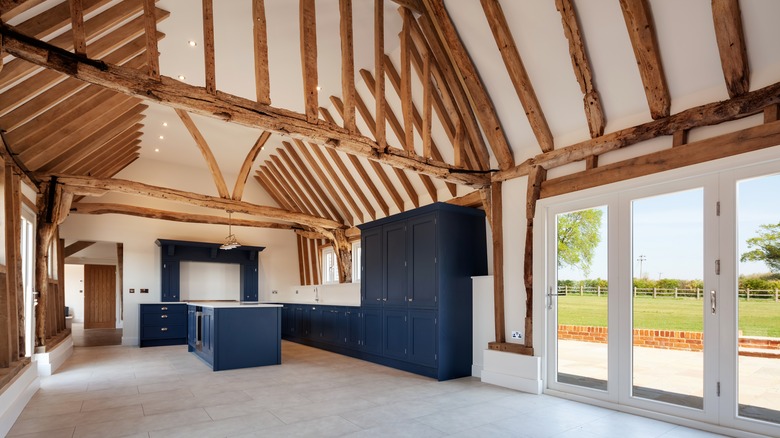 Mike Higginson/Shutterstock
While different locales have different policies on barndos, you will need to begin with land, which is often one of the more in-demand and costly elements to create a barndominium, depending on where you live. Overall costs will vary according to foundational regulations (usually a concrete slab), access to water, plumbing, and electricity/gas lines. According to Building Elements, existing kits for building your barndominium also vary in cost, with other considerations to take into account, including labor, luxury materials, and customization of the basic frame.
Many barndominium dwellers seize the opportunity to delve into more off- or semi-off-grid living styles and sustainability in construction, utilities, and materials, employing rainwater collection, solar panels, and organic gardening. Others prefer to build their homes with wood and stone instead of metal frames. In addition, many homeowners use the format of the barndominium as a chance to exercise their own DIY skills, doing much of the labor of design and interior construction themselves to have more control, express creativity and vision, as well as save costs on labor.