The Battle On The Beach Paint Decision That Made Ty Pennington Want To Cry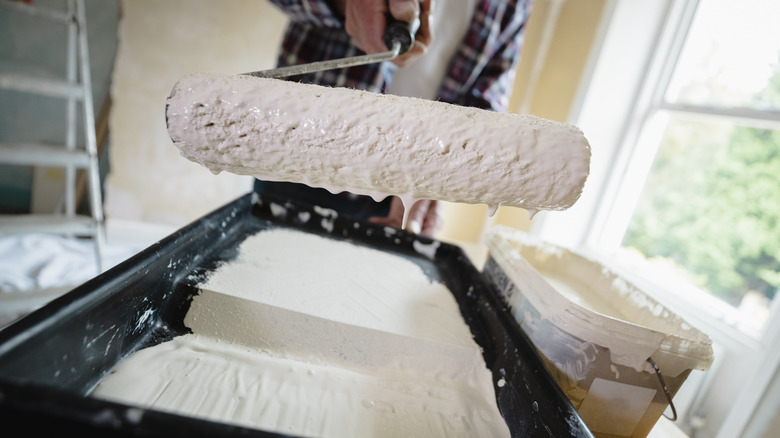 Solstock/Getty Images
As one of the hosts of HGTV's "Battle on the Beach," carpenter Ty Pennington mentors a variety of budding interior designers each season. During the premiere of season 2, business partners Wally Remaley and Jacqueline Matoza decided to paint pine wood ceiling panels in a stark white shade, which nearly brought Pennington to tears.
Initially, the former "Trading Spaces" host was thrilled to see the pair installing light tongue and groove panels within the beach cottage challenge. "Tying in this wood element, I think it works really, really well," Pennington explained in the episode. However, Matoza made a quick choice to cover the ceiling all in white as it matches the walls of the kitchen and dining areas.
Pennington wasn't the only one dismayed by the team's sudden paint decision. Judge and renovator Bryan Baeumler added, "I would've left it raw." Matoza and Remaley designed the space with an airy coastal vibe to compliment its Surfside Beach, Texas location. Amidst the open layout are neutral hues of white and tan, including muted olive green kitchen cabinetry and light-colored wicker dining chairs. While painting the ceiling white may provide a clean look similar to shiplap, upholding the pine would have left a better impression on Pennington and company because of its rustic, natural tone.
A pine wood ceiling would have added charm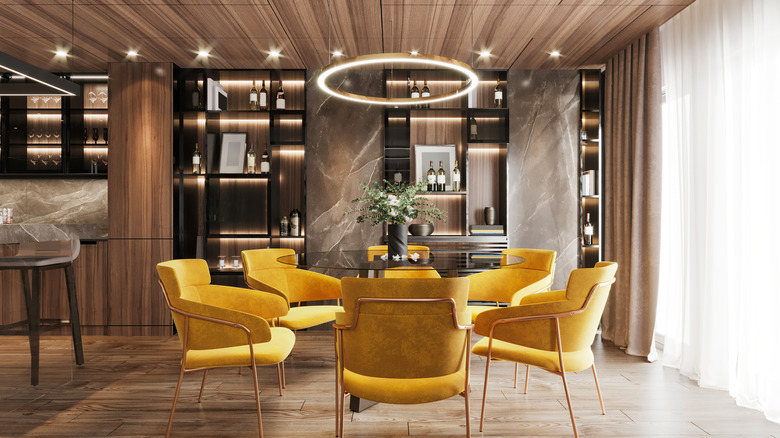 Experienceinteriors/Getty Images
When Ty Pennington saw that his "Battle on the Beach" design team had painted over a beautiful pine wood ceiling for the first time, his heart dropped a little. "It's not often that I walk into a room and I want to cry," he said on the show. Sustaining the wood's color and texture may have helped Wally Remaley and Jacqueline Matoza move along more smoothly within the competition.
While pine is often used in cabins and homes, including cabinetry, framing, and furniture, it exudes innate warmth and character. From a light tan to a rich, golden hue, the appearance of pine is versatile, which would have made an interesting contrast to the ceiling. Additionally, a similar wood was installed within the flooring, which could have added an earthy counterbalance like in the image above.
While Remaley and Matoza's tongue and groove lining fit snugly together within the upper realm of the beach house, they would never be able to get back its original color following the paint job. Pennington continued, "Everything that was warm and soft and inviting has been just wiped away. It's been painted — it's all gone."
Although pine planks are fairly inexpensive — $3 to $4, or more, if unfinished — they may be valued more for their cozy, yet durable appearance. Besides its ability to add charm to a border, frame, or ceiling, pine also acts as a barrier of insulation against heat and sound, keeping things consistently calm and intimate.
Sometimes, all white interiors are boring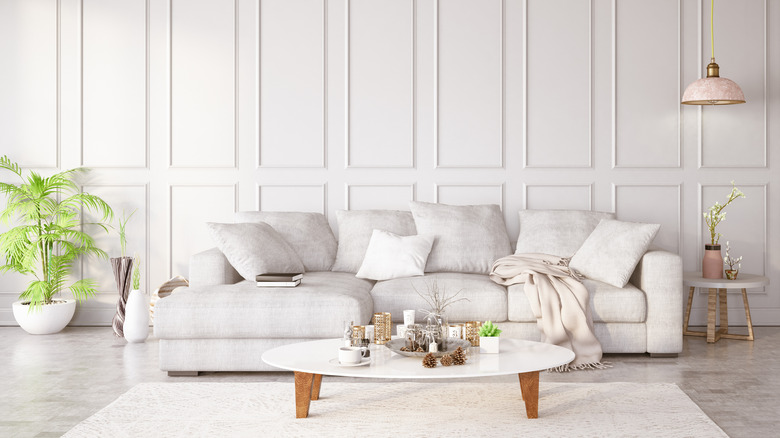 Asbe/Getty Images
While Ty Pennington found his team's 'Clash of the Kitchens' challenge rather upsetting, the compulsion to opt for a bright white shade may be to blame. Although an all-white interior may maintain an even, uncomplicated aura, its pristine presence can sometimes appear overpowering and dull, particularly when it covers too much of one area. Normally, various shades of white enliven and add space as well, especially in the kitchen. However, in the case of Wally Remaley and Jacqueline Matoza's project, it masked the authenticity of the natural wood.
Commonly seen in modern farmhouse designs, white paint easily transforms interior and exterior spaces, with a fresh, contemporary look. When the "Battle on the Beach" contestants made a rash white paint decision about their kitchen ceiling, Ty Pennington knew the potential of the space had been instantly altered. With white already present on the walls and the nook dining table, coating the natural pine hindered the entire presentation, making it appear ordinary. A real downside for the co-host, keeping the wood as it was would have given the room a significant vantage point.