HGTV's Brian And Mika Kleinschmidt Name The One Thing Clients Want The Most In Their New Home
We may receive a commission on purchases made from links.
Husband and wife duo Brian and Mika Kleinschmidt are co-hosts of HGTV's "100 Day Dream Home," with Mika holding experience in the real estate business and Brian specializing in development. Based in Tampa, Florida, the pair remodels their clients' houses and businesses in 100 days or less. These consistent transformations give them great insight into what people seek most in their new homes. "A lot of our homeowners this season are doing fireplaces. In Florida, it's kind of a rare thing," Mika told Realtor.com. "A lot of people like the open concept. But you want to still differentiate each zone of the house and what it's utilized for. So I would say at least more than 50% of the houses that we are building now have fireplaces."
According to Future Market Insights, the Kleinschmidts are correct that fireplaces are spiking in popularity. The global electric fireplace market is expected to increase from $2.21 billion in 2022 to $3.2 billion by 2032. "It's so funny because no one ever asked for fireplaces in the first couple of seasons," Brian said. "Now everybody wants one, and I think it's because the technology with the LED fireplaces has gotten so good, where it actually looks realistic." 
Electric fireplaces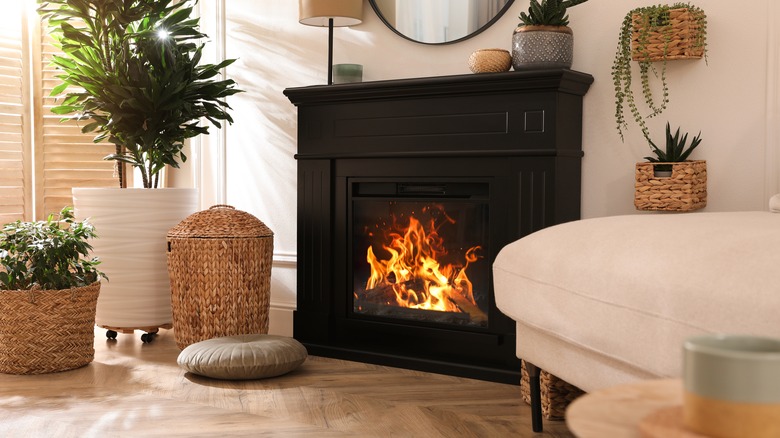 New Africa/Shutterstock
Electric fireplaces may be seeing increased demand because they are more affordable for homeowners than traditional ones. The Kleinschmidts installed a Touchstone Forte electric fireplace for a family in season 3 of "100 Day Dream Home," so they could have all the perks of a traditional setup without exceeding their budget while having a more child and pet-friendly option. A traditional wood-burning fireplace can cost over $5,000, depending on if a house already has the needed ventilation or if construction would need to be done to install a chimney. On the other hand, electric versions will have a much simpler installation process and typically cost about $700. LED fireplaces are also more eco-friendly, avoiding the emissions of smoke and gas that come with wood burning. 
Like most new technology, electric fireplaces will come with easy-to-use perks. Many models will radiate heat for that warming effect and even allow you to change the color of the flames. Remote control and thermostats make the operation incredibly easy with just a press of a button to adjust your preferences. Warranties are offered if you experience any trouble, and you'll be glad not to have the excessive cleaning and maintenance that traditional fireplaces require. Several styles are available, such as ones with heated logs or something sleeker like the Touchstone wall-hanging model from Amazon. You can also opt for an entertainment stand with one embedded or buy an electric insert for an already open fireplace in your home.