Why Modular Furniture Is Perfect For Your Outdoor Patio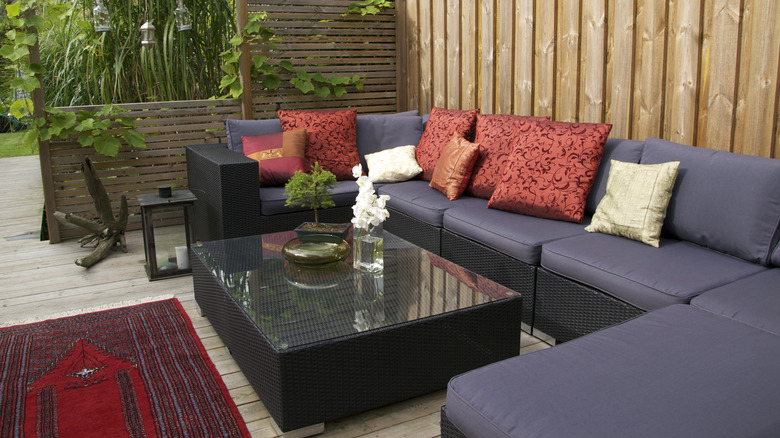 Eirasophie/Getty Images
We may receive a commission on purchases made from links.
When you hear modular furniture, you may think of some space-age seating arrangement of a Kubrickian nature, and that's not necessarily wrong. However, in this day and age, modular furniture isn't so out there anymore, it actually makes sense and doesn't take an odyssey to see its value and purpose. So what is modular furniture today? Well, modular furniture is just a piece of furniture that is actually composed of several other pieces that can attach or detach in many different ways to fit your needs. 
Whether you're looking for a versatile and consistent look or something that can save space with a set that fits just right, modular furniture will always be a bang for your buck, and you may never go back to standard furnishings. These are just a few reasons why modular furniture is perfect for your outdoor patio. Now, for the sake of sectionals, let's break this up and look at each beneficial piece of this stylish new patio furniture trend. 
Breaking down the pros of outdoor modular furniture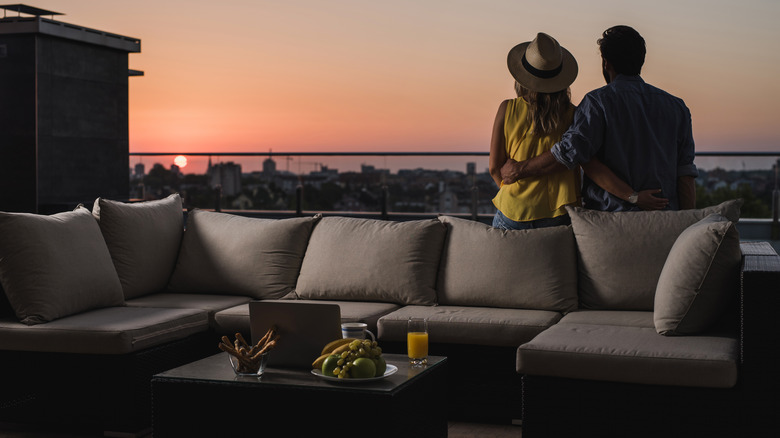 Skynesher/Getty Images
There really are as many pros to modular seating as there are ways to personalize your setup. Perhaps the most obvious benefit is the furniture's versatility. It doesn't just have to be your standard L-shaped family arrangement, it can be so much more. You can have a loveseat, single-seat sofas, and even a chaise to break things up for any company you may be expecting that day. Each piece of a modular set is made to work with each other, leaving you with many creative opportunities to have a configuration that fits best in your outdoor space.
One of the biggest challenges when it comes to buying new furniture is figuring out whether or not the piece will fit where you want it to. With a modular seating arrangement, you do not need to worry so much because of how many unique stylish combinations you can play around with. It doesn't have to all fit in one spot and is easy to move and arrange. This Sunvivi seven-piece wicker set from Wayfair can easily be broken up into two mini couches or put together for a large arrangement. If you want something smaller and a bit more casual, this four-piece set from Target is great for tighter spaces.
Patio sets can be expensive, while modular furniture can be quite cost-effective for its multipurpose use. Oh, and did we mention that it's also typically more eco-friendly than other furniture due to its overall design, producing less waste? Sounds pretty good, right?
Year-round advantages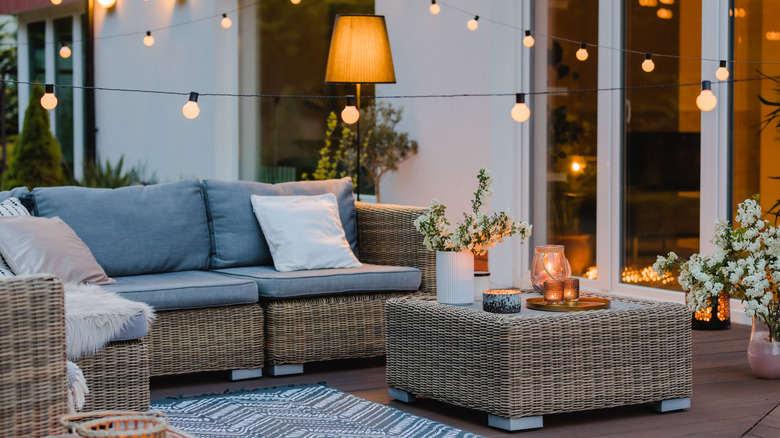 Ground Picture/Shutterstock
Though every season can't be one for the patio, it's also important to consider what use your patio furniture may have during poor weather conditions or colder months. Did you guess "no use?" Think again. Remember how we said that modular furniture can do wonders with optimizing space? Exactly and for that reason, sectionals can be easily moved or stored away during these less-than-ideal seasonal weather conditions. 
Made with lightweight materials and easy to maneuver, you won't have to worry much when that forecast switches up on you last minute. On top of that, you can rest assured during winter months that this patio furniture won't give you nearly as much trouble in comparison to others when it comes to storage. This would be more like playing "Tetris" on easy.
All in all, when it comes to patio furniture, modular options are not only smart but stylish solutions too. Make a sustainable, cost-effective, and chic choice — transform your patio with modular furniture. It will surely turn into a conversation piece and a comfortable welcome for guests as you enjoy the perfect setup for an ever-more-perfect summer. Welcome, to the new age of furniture arrangement!