The Dining Room Furniture Mistake Hilary Farr Avoids At All Costs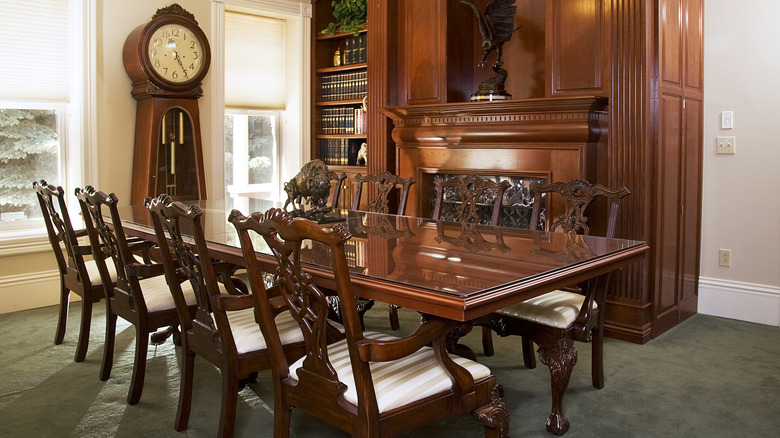 Richlegg/Getty Images
Decluttering is an obvious path to take when dealing with a cramped home, but you might have to consider downsizing your furniture as well. When tasked with transforming an interior that needs more space, "Tough Love's" Hilary Farr identifies her clients' bulky dining table and cabinet as items that would make a significant difference if they were removed, per Realtor. Oversized furniture is a mistake that should be avoided at all costs in any room that's tight on space.
Dining rooms are often designed with a sense of elegance, sophistication, or warmth. However, oversized furniture can disrupt the overall visual appeal of this space, make it look cluttered or unbalanced, and make it difficult to move around comfortably. Dining rooms often serve multiple purposes, but items that close up the space can limit the flexibility and adaptability of the room, making it less conducive for its various needs and functions.
Always be ready to let go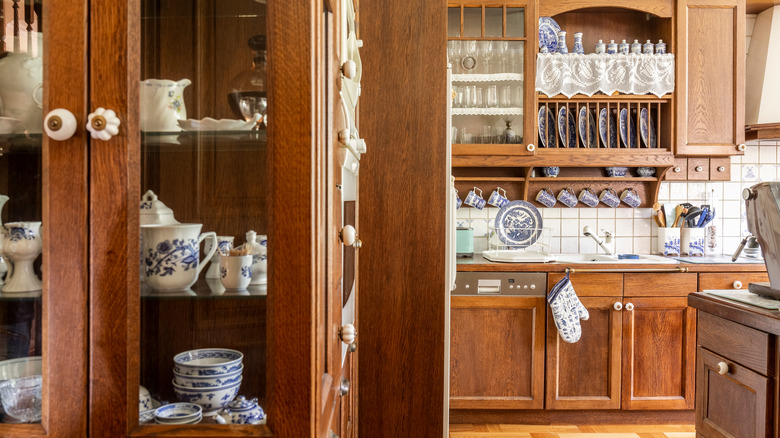 Ground Picture/Shutterstock
In this particular case, Hilary Farr's client didn't want to let go of the cabinet and table regardless of the negative effect they were having on the room because they'd been a part of the family. This sentimental value is the reason a lot of things are held onto even though they've passed their time or don't fit in the home anymore. To achieve a successful renovation, however, you need to be willing to part with things to make room for something better.
"There's always room for one or maybe even two little pieces that have sentimental value, because there is something to that, I believe it," says Farr. "But when it's clearly going to interrupt everything you're trying to do in a renovation, you have to find a way to just let go of it" (via Realtor). While the emotional attachment is important, practicality and usefulness should also be considered. Chinaware, bedding, or artwork are pieces that can usually be worked into a new space, but bulky furniture is rarely functional in a space and can be easily replaced.
How to switch it up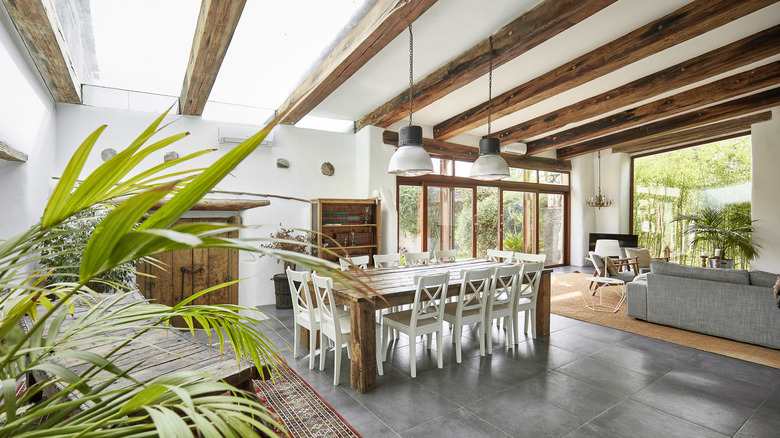 Xavierarnau/Getty Images
To address the problem of oversized furniture in your dining room, know how much space you have to work with and look for tables, islands, chairs, and other furniture items that are better suited to the scale of the room. One dining table trick is to go for rounded edges, which feel softer and take up less space. Slim storage cabinets are a great example of modern furniture that can save space and make the space feel elegant.
Don't forget the accessories and fixtures either! Items like chandeliers or art pieces can easily overwhelm the space when they are too big or even too detailed for the dining room. If you're still thinking about the sentiments behind your bulky piece, try and find a way to modify or repurpose it in a way that allows you to keep it. You may be able to get it resized or remade into something else that fits better into your new design.