Consider This Before Buying Paint Online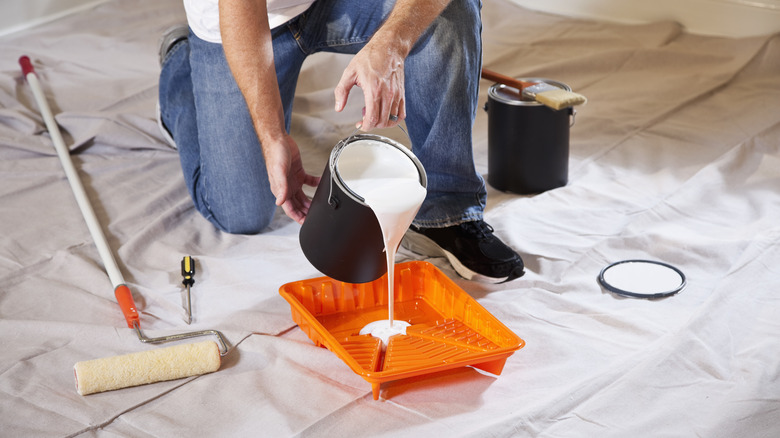 Kali9/Getty Images
Nowadays, just about everything is available to purchase online. According to data from Fundera, a small-business financial resource by NerdWallet, 16% of purchases are completed via the internet rather than through in-person stores, and this wave is only expected to grow in the coming years. Home improvement supplies are no exception to this rule, though there's one specific item that tends to give online consumers pause before adding to their cart: paint.
Online shopping is oftentimes more convenient and boasts a wider variety of products than in-person shopping, but, when it comes to major decisions like choosing a paint color for your home, buying a can of paint without seeing it in person can feel risky. Thankfully, however, many paint brands understand this struggle and want to ensure you feel confident and comfortable with your purchase. By taking advantage of their tools and doing a bit of research for yourself, you'll be able to order your paint online without worrying about — or regretting — your decision once it's already on your walls.
Sample ahead, if possible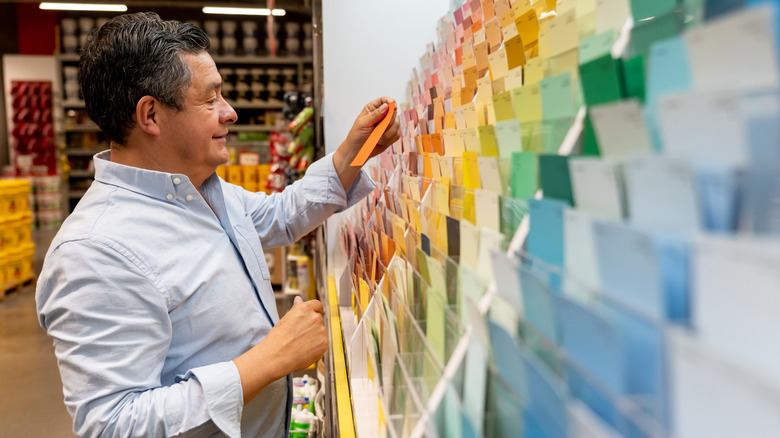 Andresr/Getty Images
The biggest issue when it comes to purchasing your paints online is that you don't have the ability to see how it looks in person. Color displays on our devices are great for viewing photos or videos, but, regardless of their quality, your paint will likely read differently on your walls than it will when you're looking at a screen. To combat this, the simplest solution is to find a way to view the paint in person.
If your brand is available in stores, try to head to the hardware store ahead of time to pick up a few samples, then narrow down your decisions and order once you get home. If it's not, however, you can always check to see if the brand carries sample-sized cans or swatches that you can order to test out on your walls.
Additionally, many brands like Sherwin-Williams are venturing into the VR space to help you better visualize what a color might look like on your walls. The color likely won't read exactly the same, but it can still be helpful in getting a better idea of what you're buying. Some companies, like Behr, even offer video consultations with an expert that include mailed physical samples after the call.
Confirm the brand's return policy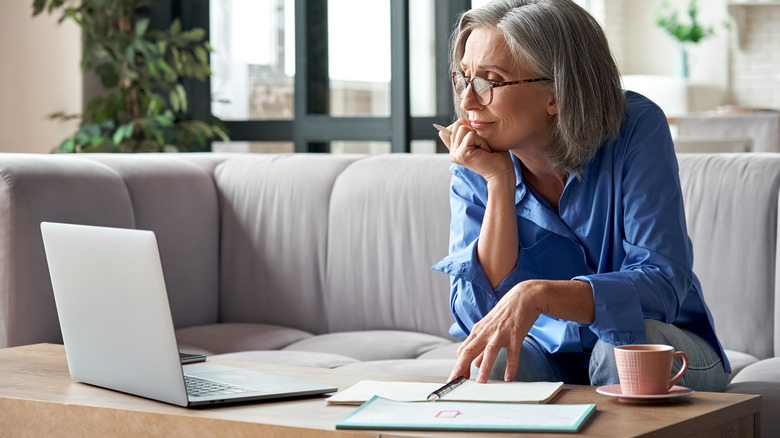 Ground Picture/Shutterstock
Even with all of these tools and strategies in place, though, there's still a chance you won't like the trendy paint color you ended up selecting online. To prepare for the potential of this happening, check your paint brand's website for a return or refund policy before placing your order. Most brands and stores aren't willing to process returns on already-opened paint cans because the product has been unsealed and is no longer sellable, so keep an eye out for options that allow returns, provide exchanges, or have a hassle-free refund policy in place in case you're not satisfied with your online paint purchase for whatever reason.
Buying paint online can be a bit scary, but, as long as you take the proper steps to prepare and do a bit of research, it's not much different than heading to your local hardware store. Choosing a paint color either way presents a bit of a risk, but above all else, it's important to remember that you can easily swap your color with a new coat of paint if you're not satisfied down the line.