How To Decorate Your Mantel According To Joanna Gaines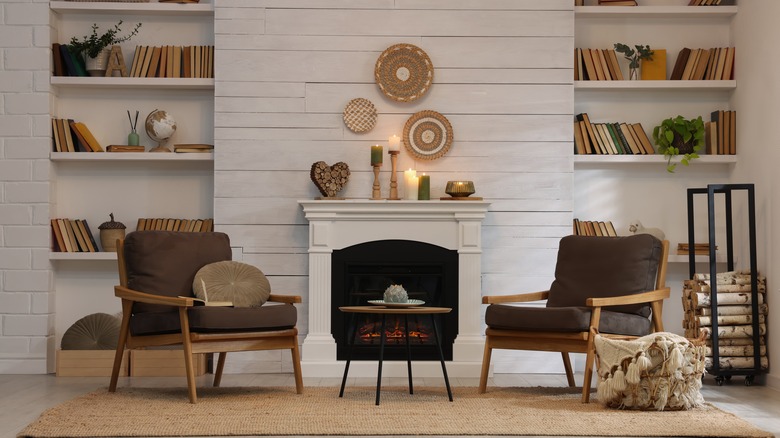 New Africa/Shutterstock
No matter what season it is, having a well-decorated mantel really ties a room together, but sometimes it's difficult to get the right look. Joanna Gaines, an interior designer and co-host of HGTV's "Fixer Upper," has put together a lot of gorgeous mantels during her remodeling career and has shared many tips. One of her biggest recommendations is to embrace the beauty of plants, whether they're real or fake. "Plants or faux greenery add life and movement to your mantel. I typically like to stick to one type of stem, even if the vases are different," she said (via Southern Living).
Gaines also explains that it's good to start with a larger piece that draws your attention, like a unique statue or mirror, and center your other decorations around that. From there, you can add a more personal touch. "If your anchor piece seems to be dominating the mantel, layer other visually interesting details in front of it, such as family photos, artwork, or more personal items, like framed handwritten letters, kids' drawings, or a favorite quote," Gaines noted.
More tips for decorating your mantel like Gaines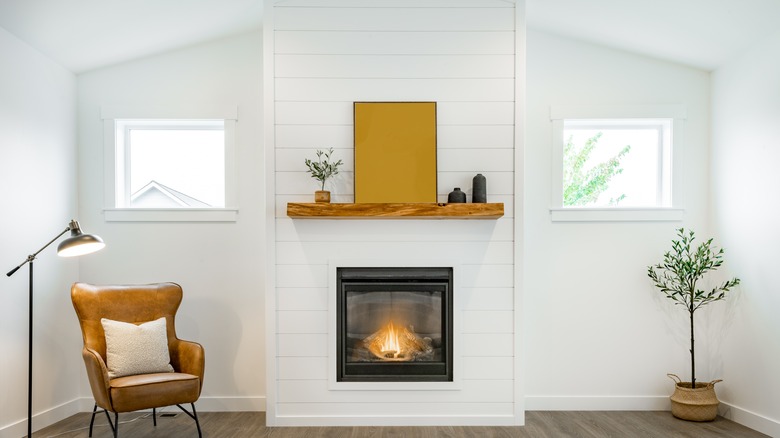 Sheila Say/Shutterstock
Rather than lining your framed pictures or artwork neatly along your mantel, it can be more visually interesting to stagger them, with larger pieces in the back partially obstructed by smaller ones in the front. This prevents your decorations from looking too uniform and will help draw your eye. In addition, even if it's not Christmas, adding a wreath to the center of your mantel is a great way to begin decorating. Wreaths and flowers create a beautiful yet simple focal point that won't distract from your other decorations.
Gaines also often adds candles, hardback books, and vases of flowers on each side of the mantel to frame the decorations in the center. While it's important to have your favorite photos and memorabilia on your mantel, overcrowding the space can make your decorations look cluttered and takes your attention away from each piece. Leaving a little empty space can make your mantel look more balanced and cozy.