A Viral IKEA Salad Bowl Sink Hack Is Confusing TikTok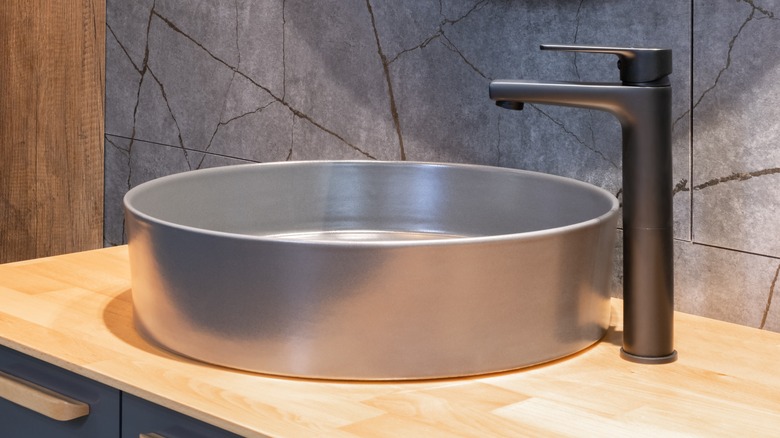 Matveev Aleksandr/Shutterstock
We may receive a commission on purchases made from links.
You know those trendy sinks that look like a bowl has just been placed on a countertop? They are called "vessel sinks," and they're often made of ceramic or glass, adding contemporary style and class to your home. You can also find them in luxury natural materials like marble, natural stone, and polished wood, or concrete, copper, and stainless steel for a more industrial vibe.
These high-end sinks can be pricey, though, so it's no wonder that people like to get creative to see if they can recreate the look. And who doesn't love TikTok for its random yet utterly genius home hacks? These clever DIY tricks don't always impress the public, though, as we see in this instance, where a viral IKEA salad bowl sink hack posted by TikTok user Gemma @adventures.withwalt has sparked a long stream of confusion in the comments section, with some people questioning the durability of the DIY sink.
Pros and cons of the IKEA vessel sink hack
The bowl used to make the DIY vessel sink in question is the RUNDLIG serving bowl. Made from bamboo and clear lacquer, it has a natural and minimalistic look. IKEA notes that bamboo is a hardwearing natural material that is easy to care for. However, the retailer advises not to use metal utensils that can scratch the surface of the bowl, and this is indeed one of the concerns that commenters have:
One commenter said, "Cool idea. Unfortunately won't last." Another commenter pointed out that the bowl isn't waterproof, saying, "Good luck, I have this salad bowl, outside of it got wet once and peeled like crazy." The trick, as the TikToker explains, is to waterproof the bowl yourself. A commenter recommends using epoxy for long-lasting protection, while another suggests buying a few extra bowls ready for replacements — which is a great idea as these budget bowls are dirt cheap.
Comments about the coating getting scratched are also shot down by others who point out the fact that it's being used as a hand basin, not a kitchen sink, and generally, the feedback is positive, with plenty of commenters showing genuine interest and offering their praise.
How to make a DIY IKEA bowl sink
If you're thinking of jumping on the bandwagon to try this cool hack out, the TikTok user shares easy instructions on their website adventureswithwalk.co.uk. You'll need a circular drill bit to fit your plug, waterproof sealant, and a plug hole and pipe connection. It's as simple as drilling a hole into the bottom of the bowl and applying several layers of the sealant, including the edges of the hole, to prevent water damage and mold. Fit the drainage underneath so that the bowl is fixed to the surface, and you're done!
On her blog, Gemma says, "Many people were quick to point out the potential downsides of using a salad bowl as a sink. They suggested that it would grow mold, disintegrate, or that the white coating on the outside would peel away. However, we can confidently say that our sink has held up well and is still looking as good as new over a year later!"