The IKEA Trick That Will Help You Customize Your Outdoor Rug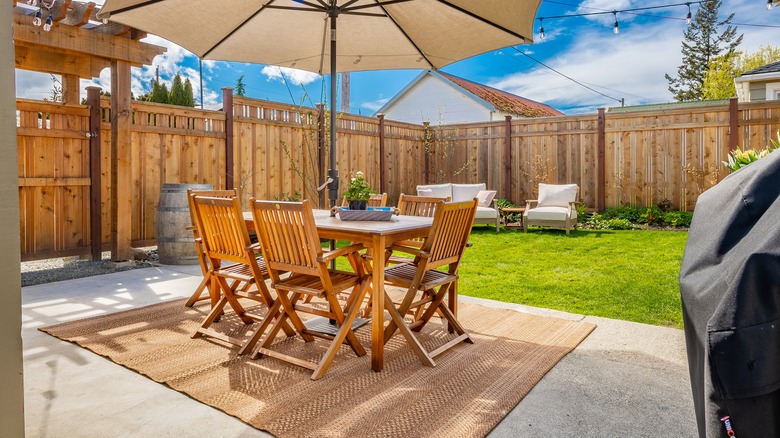 Sheila Say/Shutterstock
We may receive a commission on purchases made from links.
Rugs make any room feel complete and cohesive when used correctly. However, they can make a space feel dull when not, especially in outdoor areas, like patios and porches. Luckily, customizing them can take the room to new levels. If you don't know how to do so without breaking the bank, IKEA is a great place to start. The Swedish store offers many home decor and furniture items for all kinds of spaces, including plenty of rug options to revamp your outdoor patio with little to no effort. 
After purchasing a plain jute rug from IKEA, you can add some personal flair by painting — or even spraying — shapes and patterns onto them. Doing this will personalize your rug to fit your home. Similarly, using jute is an excellent idea; it feels good under your feet, adds an earthy vibe to your patio, and is affordable and easy to customize. 
Follow the steps
To get started, choose one plain jute rug from IKEA, like the Lohals Rug, a paint color, some geometric patterns stencils, and a small paintbrush or sponge brush to complete the hack. After gathering everything, place the rug on a flat surface and brush out any dust or debris it may have on. Now comes the fun and equally scary part of the hack; place the stencil on, creating a pattern or design you like. You can use simple-shaped stencils like moons and stars or geometric alternatives like the 16-Piece Geometric Stencils from Amazon.
After deciding on a pattern and attaching it to your rug, add some color by using a paintbrush or sponge brush. Choose acrylic paint to cover big, simple shapes or borders and fabric paint if you're going for detailed pattern stencils. Play with different colors, shapes, sizes, and patterns to achieve the desired look for your exterior rug. You can also get a big rug and shorten it to fit your space better by cutting, weaving, and knotting the rug's ends. Customizing it will turn a plain rug into a focal point everyone will talk about.
Make your jute rug stand out
Customizing a jute rug is one thing, but knowing how to decorate a room to make it stand out is entirely different. Thankfully, you can layer some jute rugs to change the room's vibe; if you want a natural, country vibe, layer a large plain jute rug under a smaller heavy-patterned one to make the patterns pop. But, if you want your custom-patterned jute rug to be the main star of your outdoor area, create patterns with various colors to get everyone's attention. Also, place the rug on light floors to accentuate its design, or put the rug over a dark-colored floor to frame the rug's pattern; remember to put a rug pad underneath to prevent excessive shedding.
Customizing jute rugs is easy, affordable, and a great way to transform your outdoor areas quickly. If you're looking for a gorgeous exterior rug or an easy DIY project to give some flair to your patio, this one is an excellent segue into more complex tasks without breaking the bank or following too many steps. The choice is yours!