Provide Privacy Where You Need It The Kitchen With A Handy Curtain Hack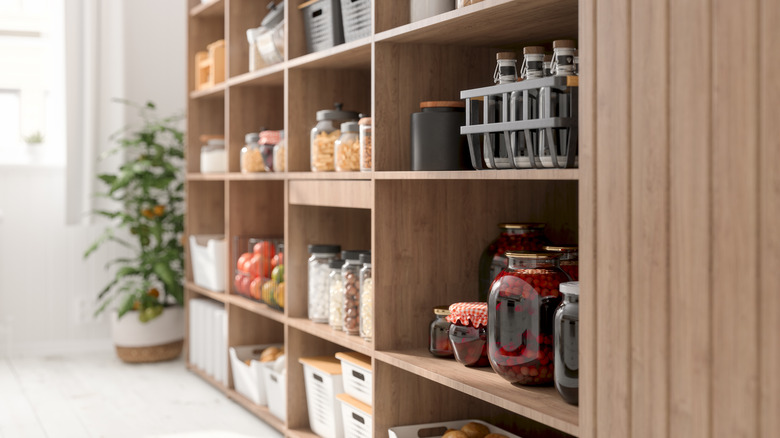 Onurdongel/Getty Images
Often when people begin to undertake a kitchen renovation, the first thing they decide to get rid of straight away is the current cabinetry. These can often look super outdated and cheap, so it makes sense that they'd be the first thing you'd want to go. But this is also an enormously expensive undertaking, and if you're a renter, it's not likely to be allowed. So what to do when you've got less than attractive kitchen cabinets or open shelving that puts your messiness front and center of your kitchen?
Just add a curtain. This is a simple, affordable DIY that not only gives you a lot more privacy in your kitchen cabinets and cupboards but also adds a ton of character to the space. Using a tension rod and a fabric of your choice, you can totally transform the look of your kitchen, whether you're a homeowner or a renter. 
Getting the look for your kitchen
The great news is that this is a pretty easy DIY project to carry out. First, remove the cabinet doors with a drill. If you don't intend to rehang the doors at any time, you can also remove the hinges. If you are renting, however, just remove the cabinet doors and find a place to store them. Pro tip: label the doors with tape and a marker so you can easily remember which ones hung where when it's time to move back out, or else this can be a tricky puzzle. 
With the cabinets gone, you just need a tension rod, the fabric of your choice, some hem tape, and possibly some curtain clips/rings, depending on the look you're going for. Measure the height and width of the cabinets you're going to hang curtains over and add a few inches to each side when cutting the fabric, as this will allow you room to create a hem and some gathering details. Using hem tape, gather about a 1/2 -inch of double-folded fabric and fold it along the tape, then seal it with iron; this is your bottom hem. Repeat on the two sides to give a polished look (and the top when using curtain clips). If you are hanging the fabric directly from the tension rod, make a larger pocket with the hem tape so it can easily slide on and off. With the fabric attached, install the kitchen rod, and voila! You have a stylish upgrade in your kitchen. 
This DIY can work for any aesthetic
While the curtain-covered kitchen cabinets are most often associated with rustic cottagecore or French country aesthetics, they really can work with just about any style. The three major factors to consider are the tension rod and whether it will be visible, what fabrics you're using, and how many cabinets you want to use this hack on. If the tension rod is going to be visible, consider buying in the same hardware finish you have elsewhere in the kitchen, such as gold, matte black, or stainless steel, but of course, you can mix and match. If it Isn't going to be visible, then you shouldn't feel too limited by color or material. 
You also need to decide how many cabinets you want to give the curtain treatment because it should factor into your fabric choice. Doing it on each one could look a bit busy, so if you plan to do so, go for a solid, textured neutral, but go as wild as you want if you're just making curtains for one or two cabinets. Fabric choice is probably going to have the most impact on how this design works in your kitchen. Traditional florals work well for more classic kitchens, while an array of bold abstract fabrics would fit nicely in a funky, eclectic cooking area. Spend time really dialing in on the look you want to achieve in your kitchen overall, and make sure the fabric reflects that design style.