The Small Furniture Change That'll Make Your Bland Kitchen Ready To Appear On HGTV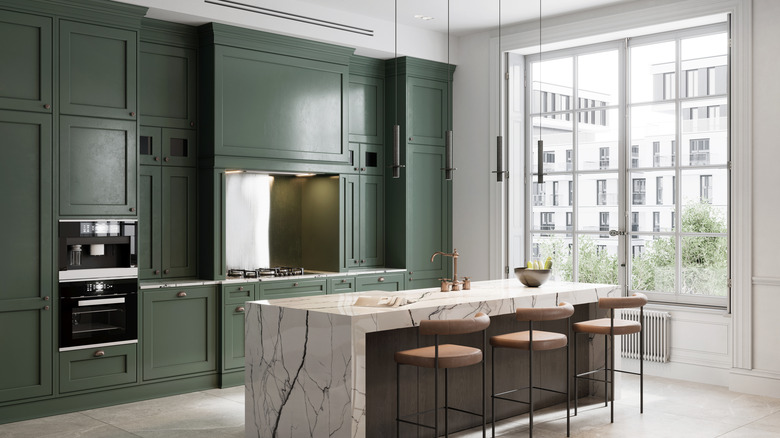 Alvarez/Getty Images
We may receive a commission on purchases made from links.
Counter bar stools might go unnoticed in a kitchen but they're a huge part of the experience for anyone that sits and gets entertained in the space. If you have an island that is dedicated to hosting, eating, preparing food, or just gathering, it's no question that quality chairs are a functional solution that can also improve kitchen aesthetics. Selecting the right stools for an island involves considering every angle, including style, structure, comfort, and functionality.
Let's start with style and comfort. Your bar stools should complement the overall style of your kitchen and blend harmoniously with the surrounding space. By avoiding bulky or clunky stools, they won't take up too much visual space at the counter. Backless or low-back bar stools are great for this because they create a more open and spacious look and are easy to tuck away. Comfort is also a necessity, however, and features like backrests, footrests, armrests, and padded seats often make stools more comfortable so you'll need to balance both.
Structure and functionality
Sheila Say/Shutterstock
Height is a big part of functionality because the stools shouldn't be uncomfortable or painful for anyone to use. Some stools are height-adjustable, which makes them usable for different users. When they are versatile in height and style, their functionality is increased because you can get more use out of them beyond the kitchen, from work desk chairs to outdoor seats. They can also be swivel or stationary. Swivel stools provide flexibility and ease of movement, allowing people to turn easily, while stationary stools are more stable but need more effort to move.
Another important part of structure and functionality is being sturdy and durable. Bar stools should be strong enough to hold up a lot of weight and made of materials that can withstand wear and tear, especially if you want to use them around the house. In addition to being highly durable, all their parts (seat cushions and frames) should also be easy to clean and maintain.
How to get new bar stools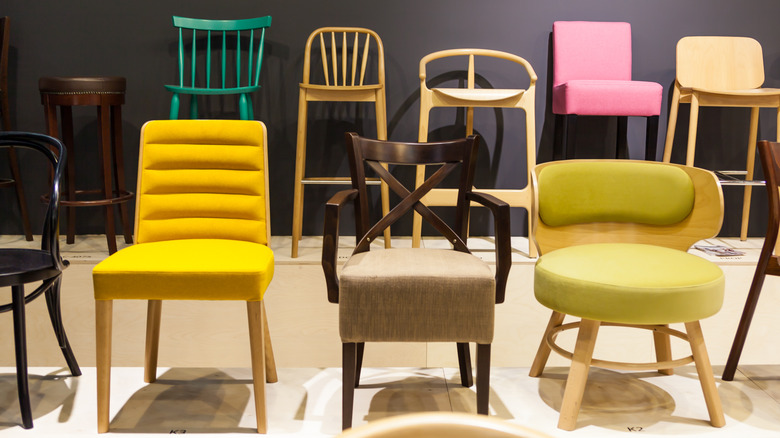 Kvitka Fabian/Shutterstock
Because they're such a small furniture change, it's wise to browse for affordable yet quality options. IKEA, Walmart, Target, Big Lots, Amazon, Wayfair, Overstock, and eBay often offer a range of budget-friendly bar stools. You can also check out your local thrift stores and consignment shops for used stools and might luck out with some high-quality pieces.
One great option is the two-piece Alpha Home bar stool set which has a sturdy steel frame and comfortable, yet stain-resistant fabric seat. They're available on Amazon for $120. Another is the Fondren Upholstery set of sleek stools with back and footrests. They are currently on sale at Wayfair for $160. A cheaper method is to DIY or repurpose existing stools. This gives you a lot of creative control and allows you to create unique, affordable stools for your space. Check online for many free bar stool plans that you can use to make yours from scratch, or upgrade an old stool or chair by upholstering or reupholstering it.