Painting The Trim In Your Kitchen Can Take The Room From Boring To HGTV-Worthy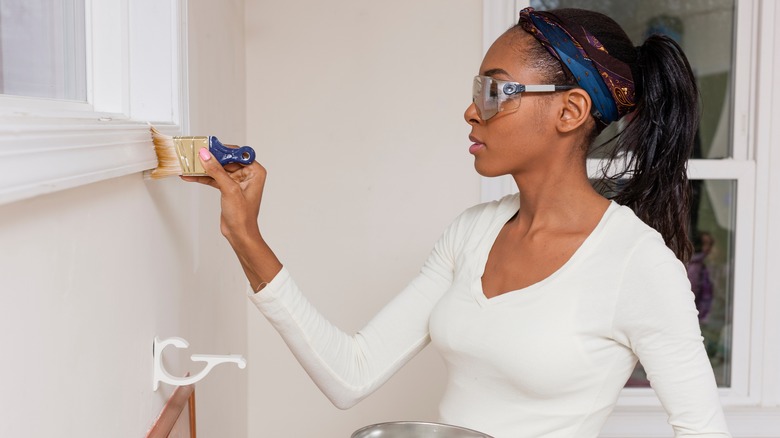 Image Source Trading Ltd/Shutterstock
Because the kitchen is primarily a utilitarian space that's used for cooking and eating, it can be difficult to give this room a unique design. While you could paint your cabinets an interesting color or go bold on the floor, maybe you want to do something even more unexpected. If so, consider painting the window trim, doorways, moulding, and millwork a vibrant tone. HGTV suggests using a rich and dramatic medium blue shade while keeping the walls white. 
There are a few benefits of painting your kitchen trim blue, starting with the fact that it's cheaper to update just your trim than it is to cover your cabinets or your walls. Further, there are so many ways to personalize this look. You could introduce contrast by choosing a lighter paint color for the walls, create a monochromatic space by painting everything blue, or add cohesion by matching the kitchen cabinets to the trim. Finally, this will draw attention to the architecture of your home, which could be beneficial for those with unusual features like an arched doorway or window panes. 
Choosing the right blue paint shade
Aleaimage/Getty Images
HGTV's suggestion of a medium blue shade is a perfect one for many different homes, as it will create the right amount of interest without appearing too overwhelming. If you're ready to paint your trim this color, you'll need to find the right shade. It's important to purchase this paint in a semi-gloss finish, as this will be easier to clean than a matte or eggshell finish. Further, while it depends how large your kitchen is and how much trim you have, most spaces only require 1 gallon to cover all the trim in the room.
The first option, and the one that HGTV suggests, is Randolph Blue by Benjamin Moore, which is described as rich and unforgettable. A similar color is Wipeout by Behr, but this shade may be just a smidge darker. Turkish Tile by Sherwin Williams is even deeper, which will add a bit more drama and moodiness to your space. When choosing the right paint shade, bring a swatch of the color of your walls with you, so that you can see how the colors play off one another and if they contrast enough.
How to make blue trim work in your kitchen
Hendrickson Photography/Shutterstock
Because painting your kitchen trim blue is such a unique design element, it's important to only follow through with this idea if you have a certain home style. Perhaps you live by the beach and love a coastal look, in which case this color is obviously a great choice to pair with white and green hues. For those who adore loud maximalist or eclectic styles, this could work well when mixed with other bold colors like pink or green. Because some modern farmhouse kitchens have blue cabinets, including blue trim as well could elevate your kitchen style. And, those with mid-century modern features could also utilize this design element, while including other dramatic colors like brown or red. 
Another concern may be the size of your kitchen. If you have a particularly large space and you really want to make an impression, creating an all blue, monochromatic look may be up your alley. For those with cramped kitchens, however, a lighter tone on the walls with blue trim will keep the space feeling roomy. Finally, you'll also want to consider the amount of natural light your kitchen gets. The more light you have, the darker you can go with the colors of cabinets and walls, as the windows will brighten the space.