The Tell-Tale Sign The Property Brothers Use To Spot A Cheap Kitchen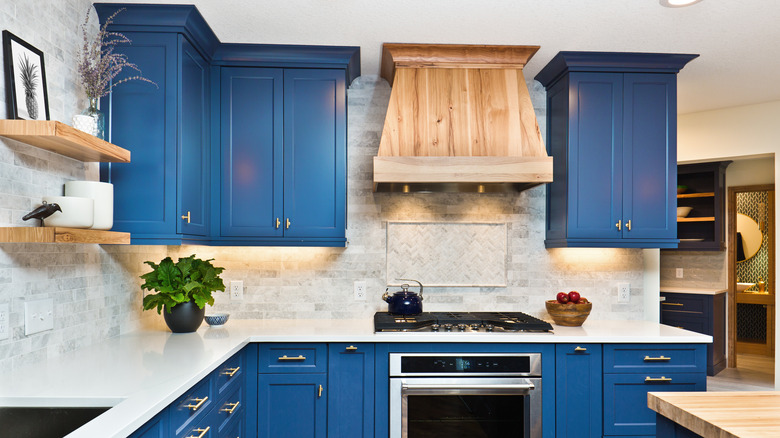 Yinyang/Getty Images
When house hunting, ensure everything is sturdy, stable, and intact. While older homes won't always have brand-new appliances or updated features in the kitchen, they should still be manageable to work with. HGTV's design experts, The Property Brothers, recommend looking at drawers when viewing a house. If you pull a drawer open and it comes flying out, then it's a cheap setup. The kitchen is the most used room in a home, so you don't want a cheap design.
Moreover, carefully examine cabinets to ensure they're well-built. Replacing kitchen cabinets is expensive. If you're saving money to buy new furniture, kitchen appliances, or simple décor, you'll have to wait to make those purchases if the kitchen needs new cabinets.
The price will vary depending on what type of kitchen cabinets you want to install. For example, semi-custom kitchen cabinets can range between $150 and $400 per linear foot, and installation and materials costs between $3,000 to $8,000. However, for fully custom cabinets, the range is between $500 to $1,200 per linear foot, and the cost of materials and installation is between $12,500 and $18,000. Of course, the price will also vary on who installs the cabinets for you. Although, it's vital to give them a thorough check when looking at a house.
Drawers and cabinets shouldn't be crooked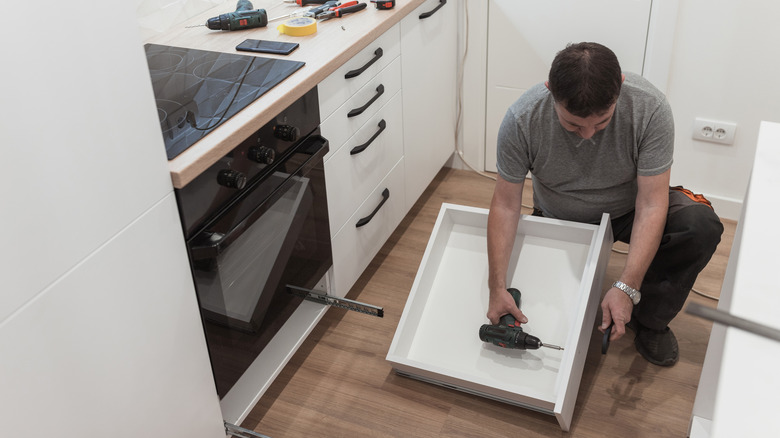 Dobrila Vignjevic/Getty Images
During one of the "Property Brothers'" episodes, "Emma Robert's Makeover," Jonathan and Drew Scott made significant changes to actress Emma Robert's aunt Mela's house. The brothers immediately recognized the house as a "quick flip property" by looking at the drawers and cabinets. They were slightly out of place and fell out when pulled out. Drew noted, "Every drawer is crooked or discolored." Even though loose drawers can be fixed with a few screws and better rails, you still hope you wouldn't have to do extra handy work on a home for sale.
Some homeowners who make improvements around the house before selling them will take the cheaper route and hope no one will notice. If homeowners don't make the changes, they'll sometimes hire the cheapest contractor to install everything for them. While the sellers save money, the buyers are stuck with fixing mediocre drawers and cabinets.
On the other hand, let's say the cabinets or drawers are sturdy and don't fall out when they're opened but have discoloration — a new paint job will spruce them up effortlessly. It's the least arduous DIY task that's suitable for anyone. A fresh paint cabinet makeover will elevate the kitchen's interior. You won't even remember what it first looked like.
Ways to improve cheap cabinets or drawers
Brizmaker/Getty Images
While Jonathan and Drew Scott recommend keeping a close eye on drawers and cabinets, keep in mind that there are a few ways to improve them if the house you're looking at is the only one in your budget. We mentioned repainting the cabinets for a fresh look, but adding interesting features can help elevate their appearance. For example, if you enjoy the cabinet's color but the hardware doesn't match or looks cheap, swap them out. Opt for a different style, like mushroom knobs or handles, in brass, nickel, or matte black finish to complement the cabinet's tone.
If your cabinets aren't salvageable and need to be replaced, consider installing cabinets with glass inserts for an elegant look. Choose plexiglass, frosted, textured, or transparent glass for the cabinets. They'll give you and guests a sneak peek inside the cabinets, showcasing any dishes or glasses on the shelves. Plus, they open up the kitchen rather than making it appear closed off. DIYing cabinets with glass inserts are for intermediate to advanced DIYers, so if you're a beginner, you'll want to hire a professional to install the custom cabinets.