The Only Time HGTV's Emily Henderson Approves Of An Accent Wall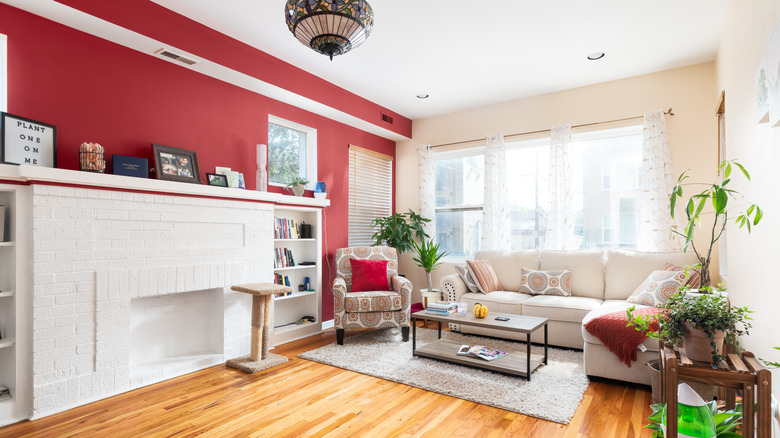 Hendrickson Photography/Shutterstock
If you want to establish an accent wall, there may be only one suitable time when HGTV's Emily Henderson would approve of it. Known for her blue-driven color schemes and eclectic layouts, the crafty designer has a keen eye for accentuating specific design elements when and where appropriate. Whether it's done with paint or paneling, enhancing just any section may not be the most practical approach. In her ongoing design blog, Style by Emily Henderson, she explains, "An accent wall must warrant the attention, it needs to be a focal point, not just randomly placed." Although an emphasized wall creates visual interest while adding volume to confined spaces, a room can appear off-balance if a certain color or texturedominatesg the scene.
So, when is the right time for an accent wall? Depending on the structure of a room, highlighting the focus of the space is the best place to start. While the initial wall you see upon entrance may be an ideal candidate, notable architectural features can help to magnify it. Henderson continues, "My two favorite places for accent walls are behind a bed or in a niche." Different ways to showcase these areas might be through various colors, tones, and textures. Whichever wall you give attention to, Emily Henderson would agree upon a structurally significant one with eye-catching elements.
Architectural highlights should be full center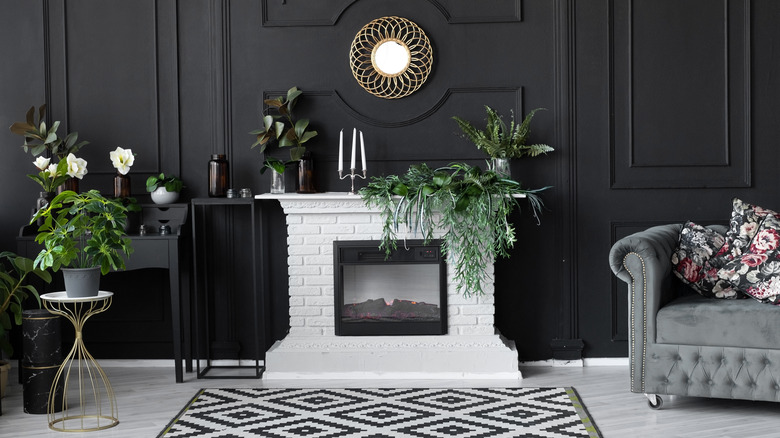 Margaret Gus/Shutterstock
Emily Henderson wouldn't choose just any accent wall to display. The only time she might see it worthy is when structural details are the high point of a room. "Using paint to highlight an architectural feature like a fireplace, a special room shape, molding, etc. will always get a thumbs up from me," she says (via Style by Emily Henderson). Whether it's brick or concrete, give your fireplace a makeover by coating the facade in a vivid white with a dark, contrasting color like navy, green, or black on the wall behind it. In a bedroom, Henderson might install a headboard wall with vertical slat wood panels to draw focus to the area. Painting wall molding or trim a compelling color like chic charcoal gray would also stress attention, while a rustic sage green would magnify kitchen storage or prime living room walls.
Niches and corners are exemplary areas to emphasize. A breakfast nook with recessed seating is high on Henderson's list as an optimal place to add an accent color. For a modern, sophisticated appearance, coat the alcove in a deep navy against the surrounding light walls. However, you could showcase warmer colors like orange, yellow, or pink for a more lighthearted vibe. A corner wall could be a tranquil reading corner painted in a cool green shade amidst plants and an armchair. Also, make an extended partition a feature wall by decorating it with your favorite artwork or framed photographs.
A bold accent color isn't always necessary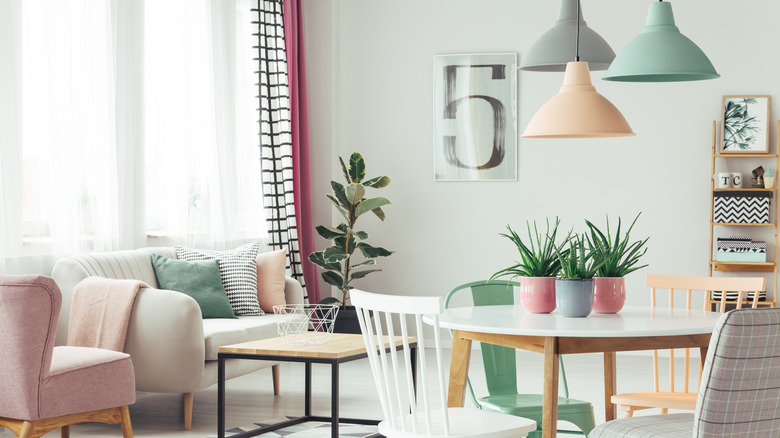 Ground Picture/Shutterstock
While a splash of color instantly grabs your attention, Emily Henderson likes an accent wall that provides sensible contrast rather than a big statement. "This is a general pet peeve – when a random wall is painted a bold color for seemingly no reason other than to be different," she explains (via Style by Emily Henderson). While vibrant colors are captivating, you can designate a hue that sets the tone for the entire room using the 60-30-10 color rule. With this method, identify what your main wall color is along with sizable furniture and rugs of a similar hue, then add complementing colors through accessories and décor accordingly. Whatever color scheme you select, the accent wall should lead the other elements into a favorable comparison.
Additionally, consider any adjoining areas when accenting your wall. Henderson explains, "If you can see multiple rooms from one vantage point – be sure to select colors with that in mind." If the view from the living room flows through an archway into the kitchen or elsewhere, you can ramp up that wall for an alluring gaze from a distance. Light or dark, the defined color will help integrate the juxtaposing colors of the connected rooms. With impressive hubs and pleasing paint colors, you can acquire an exceptional accent wall — Emily Henderson style.