The Shiplap Alternative Fixer Upper's Joanna Gaines Absolutely Adores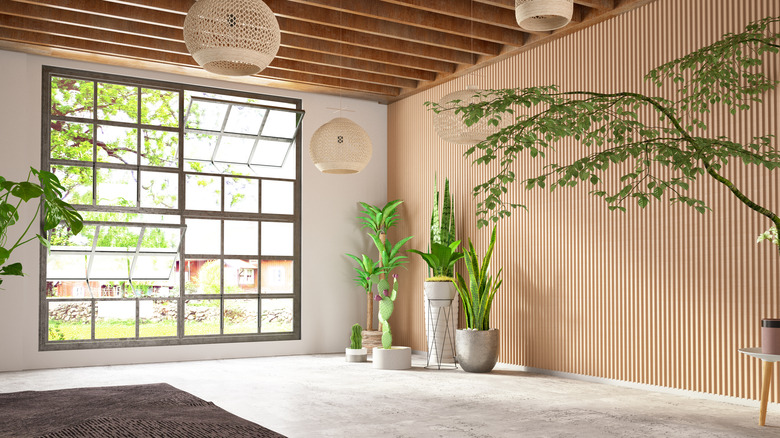 Asbe/Getty Images
Now you may be thinking, "Why would anyone ask for an alternative to shiplap? Is shiplap going out of style?" Not necessarily, but shiplap is slowly sliding away from the position it once held in home remodels. The wall trend was popularized by Chip and Joanna Gaines' hit show, "Fixer Upper" and became a huge phenomenon. But, as is the circle of life, all trends must come to an end. The classic horizontal shiplap walls may not be at the peak of popularity anymore, but residents and designers still love to inject their interiors with some playfulness and texture, including Joanna Gaines. Enter "skinnylap," Gaines' name for her new go-to material for filling up bare wall spaces. 
Skinnylap follows a similar slatted board design to shiplap, but the individual planks are about half the width of standard shiplap, giving them a more ridged and "skinny" appearance. Here's where Gaines is opting for skinnylap over shiplap and how you can get the fun and modern look in your own home. 
Skinnylap is the new shiplap
Skinnylap is essentially a thinner version of classic shiplap, a wall design made by stacking interlocking planks. Like shiplap, skinnylap is made of wood, can be installed vertically or horizontally, and is easily paintable or stainable. Shiplap panels can vary, but they are typically either 5.5 or 7.5 inches wide. Meanwhile, skinnylap is only about 1 or 2 inches wide. 
The thin, narrow planks can look somewhat similar to beadboard from a distance, however, the two materials are not the same. Beadboard is a type of wall paneling often sold in sheets, while skinnylap is constructed from individual thin boards. Joanna Gaines explained the style in an Instagram post saying, "'Lath' is a thin flat strip of wood where they use a series of pieces to form a foundation for the plaster of a wall. This wall was inspired by the idea of what you find behind plastered walls...Chip calls it skinny shiplap, I like the idea of calling it shiplath."
You may not want to cover an entire space in skinnylap, lest the strong texture start to make you feel a little dizzy. Joanna prefers to use skinnylap on feature walls and around certain features like large windows, stairwells, and fireplaces. When installed vertically, this modern wall material brings and unique texture and adds height to the room.
Secure your own skinnylap wall
How much will it cost you to create your own Gaines-esque skinnylap wall? Compared to drywall or regular shiplap, skinnylap can be more costly per square foot. You'll need several 1" by 2" boards, which cost around $1 to $2 each, depending on the length and type of wood. Luckily, it's relatively easy to find lots of skinnylap boards at your local home improvement store, like Lowe's or Home Depot. Take your time to shop around until you find a good deal and wood quality that you like, especially if you plan to leave the wood unpainted. 
You'll also need some basic tools, including a stud finder, miter saw, and a reliable nail gun. If installing your own skinnylap seems too complicated, you can also get a similar look by using a lookalike wallpaper. Home Depot even carries a skinnylap wallpaper from Joanna Gaine's own brand, Magnolia Home!
While skinnylap has gained traction with Joanna Gaines and her followers, your style doesn't have to match hers to make this material work for your home. The finish is extremely versatile for a variety of aesthetics; paint it all black for a contemporary look, get moody with jewel tones, or stick to classic white for a timeless vibe. For an earthy, Bohemian, or Scandinavian feel, skinnylap looks amazing when rubbed with a warm stain or even left unfinished!