The Type Of Room HGTV's Emily Henderson Won't Paint White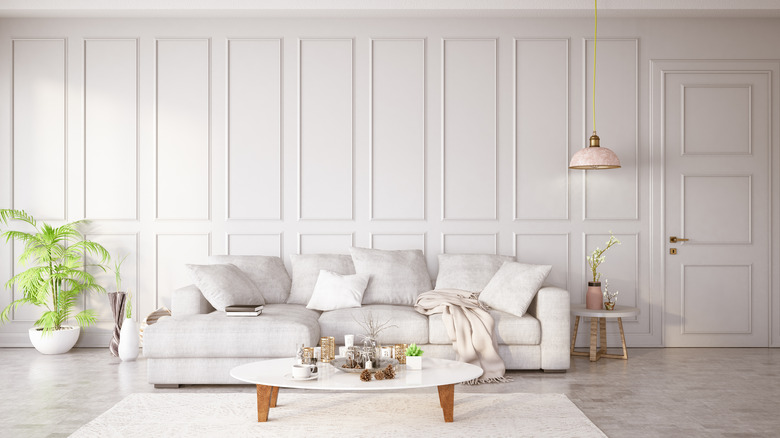 Asbe/Getty Images
White paint has always been a safe bet for the home. Whether you plan to sell and are looking to increase home value and buyer interest, or you're looking for a goes-with-everything color, white tends to be a great choice. Although white is often chosen for how it brightens a room, this isn't always the case. Emily Henderson, founder of Emily Henderson Design and host of HGTV's "Secrets of a Stylist," advises against white paint for darker rooms in the home. "The sad truth is that rooms with more natural light can be both light, medium, and dark," she wrote on her blog. "But rooms with very little natural light can feel really "dead" and cold with just white paint on the walls and no light bouncing around."
Henderson also points out that many people believe a room will naturally feel larger in a coat of white, but with rooms that don't receive enough natural light, this doesn't hold up. "In photographs, we can make any room look really bright like the sun is just flooding them with light (and we do), but it's very often not the case," she said in a separate post. "White paint thrives in bright rooms (like my living room and bedroom), but without that light bouncing around, nothing happens."
Painting dark rooms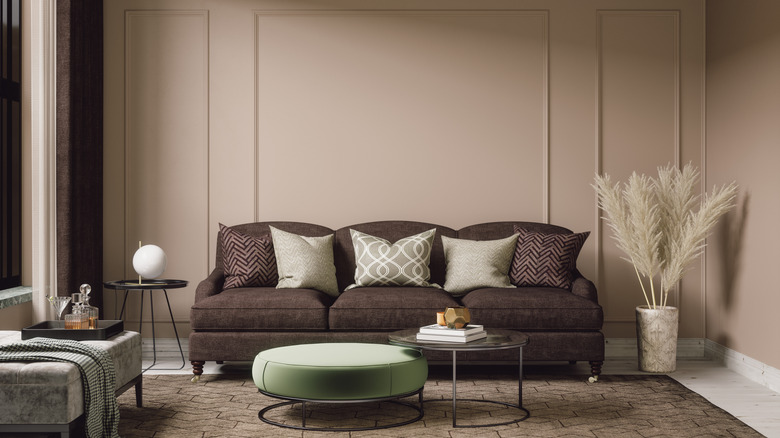 Imaginima/Getty Images
Henderson notes that a great way to assess if a room is too dark for white paint is to ask yourself if that room needs a light on for most of the daytime to see well. If the answer is yes, that space is not getting enough light to pull off stark white. This could be because a room doesn't have windows, is north-facing, or maybe a giant building or tree is blocking the sun from shining through. But, just because Henderson doesn't advise white walls for these dimmer areas doesn't necessarily mean you have to choose dramatic shades like maroon red or navy blue; it can simply mean warmer neutrals – think greiges and creamy beiges. Benjamin Moore boasts a vast selection of neutral tones such as Pale Oak, Manchester Tan, and Gray Owl.
As you shop around for a color to change the white, keep other room elements in mind. You'll still want to choose something that complements the furniture, décor, and hardware. "This is a reminder not to design in a vacuum," Henderson wrote. "You like mauve? Great, me too. But a mauve paint color next to a medium-toned wood floor can either compete and look muddy or create a lovely cocoon-like feeling — either way, it's important to see the two colors next to each other." For a more colorful take, consider olive greens, blue greys, and pale pinks and yellows, like Benjamin Moore's Dry Sage, Beach Glass, Proposal, and Windham Cream.