HGTV's Emily Henderson's Curtain Rod Rule Is Easy To Follow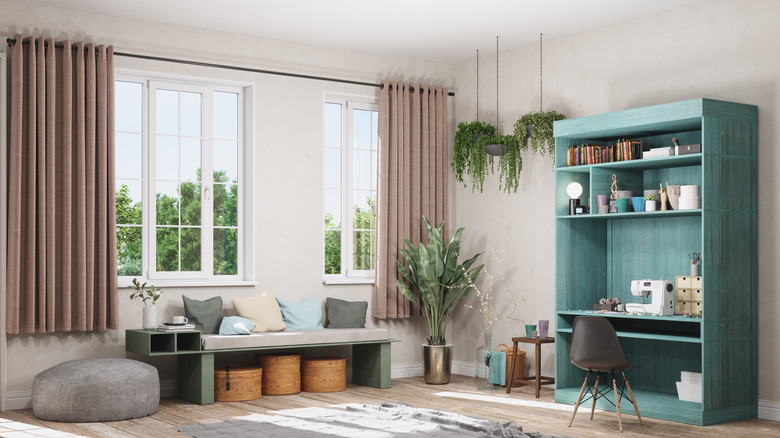 Onurdongel/Getty Images
We may receive a commission on purchases made from links.
Experts will always stress how important the details are when it comes to designing your home. Larger elements like the furniture and color scheme might be what you focus on first, but the small accents are what really pull the room together. Take, for example, your curtains. Hanging on either side of your windows, these details can bring color, pattern, and texture to the room. Interior designer and HGTV star Emily Henderson believes you should be putting just as much thought into your curtain rod.
With a variety of style options to choose from, choosing the right curtain rod might feel overwhelming. However, Henderson's rule streamlines the process. "When in doubt, go simple," the designer wrote on her blog, suggesting white, black, brass, and silver finishes. "Stay away from crazy curly wrought iron stuff unless you live in a Scottish Castle (or an old Hollywood home), and fancy finials are only your friend if the style of your house can handle it." For most people, a simple curtain rod without lots of fussy details will be the best option for their homes. The sleek design is timeless, so you won't feel like these details with go out of style in a few years. And neutral finishes allow the curtain rod to blend in with any aesthetic and highlight most curtain designs.
Choosing a curtain rod
While Emily Henderson suggests choosing a design that's on the simpler side for curtain rods, you still have plenty of options. Neutral finishes like black and white will work well with a variety of styles. For a sleek look, choose a black and simple option with straight end caps, such as the Zeerobee curtain rod from Amazon, which will add an understated modern touch that grounds the space. On the other hand, white can provide an airy effect and even blend into walls painted with a light hue. Brass and gold finishes add a bit of glamor, while silver feels more traditional with just a hint of shimmer. 
Though your curtains rods should remain simple, that doesn't mean you have to stay away from unique details. Consider rods with a decorative ball on the end for something a little more interesting or rods that curve towards the wall, which can look more industrial and modern. Mixing metals is another way to create a visually interesting detail while keeping the style simple. For example, the Kenny white curtain rod from Ace Hardware has gold brackets and details that elevate it with subtle, glamorous details.