The Unexpected Reason You'll Want To Cover Your Windows In Aluminum Foil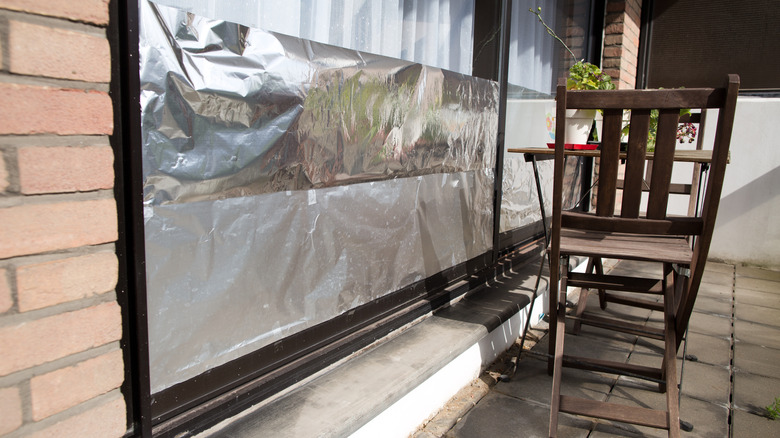 CRM/Shutterstock
Heat waves can leave us feeling lethargic, combating cramps, or facing life-threatening situations like heat stroke, whether we're inside or outside. To avoid this, people have tried various methods to cool down their homes and themselves, a list that includes taking multiple showers, drinking more H2O, cooling the roof with water, using fans and air conditioners, painting walls with cool colors, and covering outside walls with foliage.
However, there's a more affordable and accessible way to beat the heat. The Federal Emergency Management Agency (FEMA) recommended an unexpected but simple solution: "Use window reflectors such as aluminum foil-covered cardboard to reflect heat back outside." It turns out this everyday household product is useful even outside of the kitchen. So why not try this hack to cool off your place? You'll need cardboard boxes, a few rolls of aluminum foil, and duct tape to make your own heat-blocking contraptions in a pinch.
How to use aluminum foil on your windows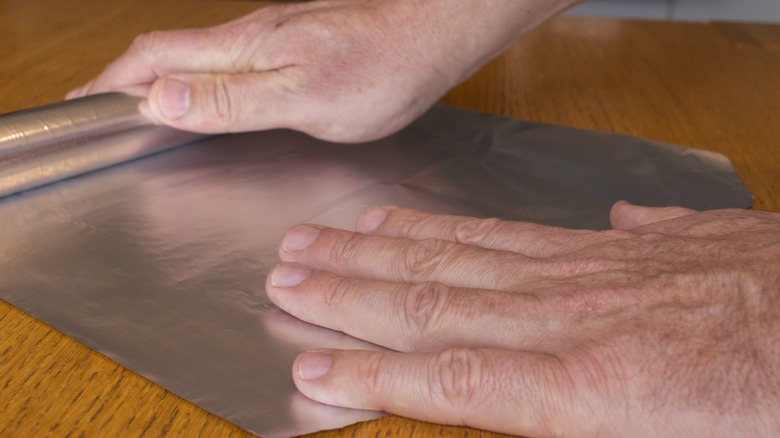 Below the Sky/Shutterstock
These sunlight reflectors may not look aesthetically pleasing on your windows and may give your house an odd appearance, but they can save you from sudden hot temperatures. It's best to use them on windows that receive direct sunlight during peak hours. Making them is as simple as grabbing a cardboard box, cutting it to the size of your window, lining it with aluminum foil (shiny side out), and securing it with clear duct tape. Then, place the reflector.
Some suggest setting the reflector between your window glass and the shades or curtains, while others recommend sticking the foil-covered cardboard to the outside of the glass to stop the glass from overheating due to the foil reflecting the heat directly onto it. Either way, the cardboard provides an extra layer of insulation between the aluminum foil and the inside of your house, keeping the heat down even more.
Why does aluminum foil work so well?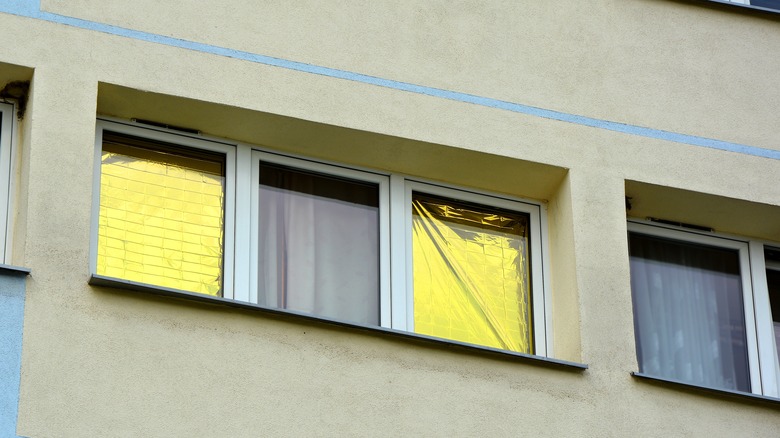 Gold Picture/Shutterstock
Aluminum foil works on windows to keep the heat out, similar to how it prevents a turkey from burning before the middle finishes cooking in an oven. It is important to note that aluminum foil is designed to withstand temperatures up to 1220 degrees Fahrenheit, making it safe for use on windows. Even the hottest U.S. summers cannot prevent aluminum foil from doing its job.
Using aluminum foil can also help prevent your electricity and running water bills from rising on hot days. You can reduce the need for frequent showers or turning on the AC and fans as often to keep yourself and your space cool. However, remember not to cover your windows completely and leave some spaces to allow light to enter the room. 
If you experience severe heat waves in your area, keeping these DIY heat reflectors on hand can be an excellent addition to your heat control system for when temperatures become unbearable.