How To Determine What Style Of Fence Your Home Needs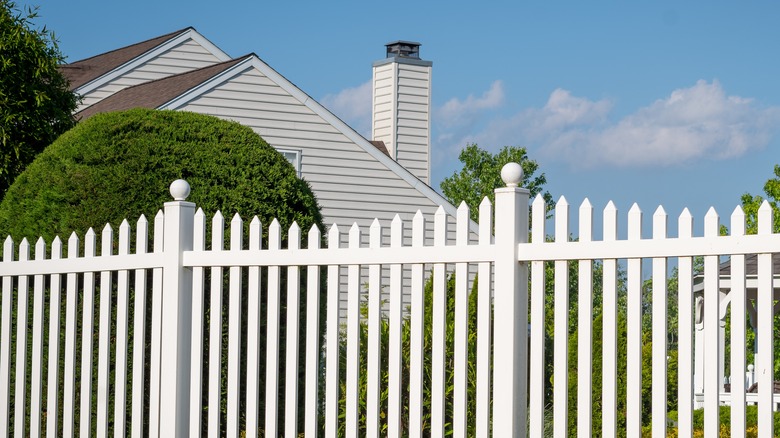 Victor Yarmolyuk/Shutterstock
A fence is more than just a boundary for your property. It acts as the walls of your outdoor space, adding beauty to your home, increasing its value, and serving many functions beyond the standard privacy and security it offers. When considering the right fence style, it's best to keep it simple and in line with your home's needs.
Thinking about why you need a fence is crucial for determining what style you should select. Do you want to improve privacy around your property? If so, consider the fence's height in relation to the surrounding terrain, accounting for any slopes. Additionally, think about solid barriers like stockade or vinyl fences. Conversely, for aesthetic reasons, consider decorative metal or picket fences.
Another purpose you might have is keeping pets and children safe. A fence is your first line of defense in this type of situation, and you will feel more comfortable if you're confident in its ability to maintain security. Therefore, consider a fence that is at least eight feet tall and sturdy, with materials like wrought iron or steel being your best bet. Add privacy slats if needed. Of course, there are many aspects to take into account beyond its primary function when choosing a fence for your home.
Factor in style, maintenance, and climate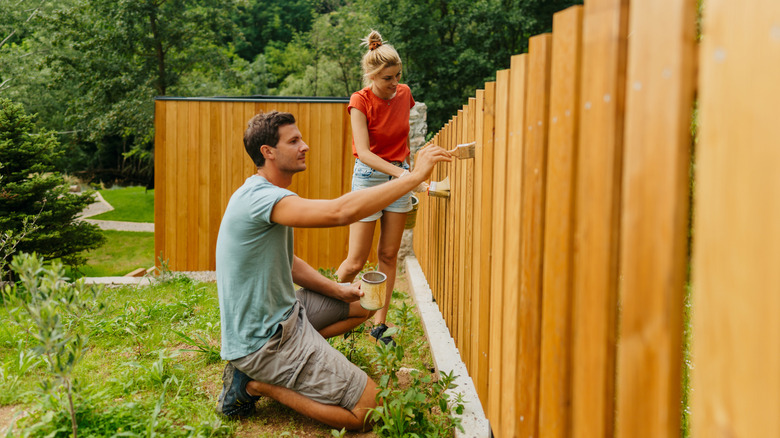 Aleksandarnakic/Getty Images
When choosing a fence, it's important to consider the style of your home. The architecture of your house should significantly influence the type of fence you select. A mismatch can detract from the overall aesthetic of your property. For instance, if your home features traditional or colonial architecture, consider a classic wood picket fence. Alternatively, modern homes might look best with a minimalist-style fence like vinyl. Houses with Victorian or other elaborate architectural styles can benefit from ornate fences like wrought iron.
You'll also want to think about maintenance. Different fence materials and styles require varying levels of care. Wooden fences, while beautiful, require regular painting or staining to prevent weathering and rot. Vinyl and aluminum fences need minimal maintenance but may not offer the same warmth and natural look as wood. Determine how much time and money you're willing to invest in fence maintenance. This will guide your choice of material, which may, in turn, influence the style of fence you choose.
Before making any decisions related to your property, consider the local climate. Climate can affect the durability of your fence. For example, wood fences might not be the best choice in wet environments as they rot more quickly. Metal fences can rust in regions with high humidity. However, if you're looking for the best all-weather fence, look no further than a vinyl fence. Unlike its counterparts, vinyl can withstand all kinds of weather.
Don't forget about your community laws and budget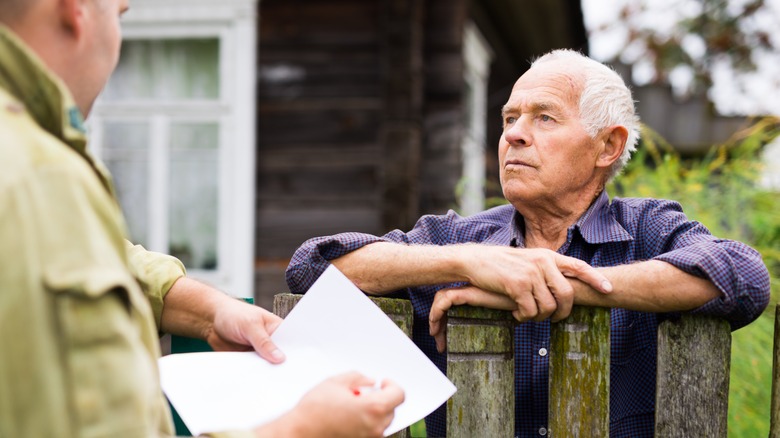 Caftor/Shutterstock
It is crucial to be aware of local zoning laws and homeowners association (HOA) regulations. These can undoubtedly restrict the types, heights, and placement of fences. Do your due diligence before choosing a fence style to avoid any legal complications down the road. This scenario happens too often, and you do not want to be the butt end of a joke, especially if you have a neighbor always looking for a way to rat you out!
Lastly, your budget will undoubtedly play a significant role in the style of fence you choose. Generally, materials like wrought iron and composite fencing are more expensive than wood or vinyl. Additionally, ornate styles or custom designs will typically cost more than simpler, traditional fence styles. Note that while some materials may be cheaper upfront, they may require more maintenance in the long run, increasing the total cost.