What Are The Different Types Of Wooden Fences To Consider?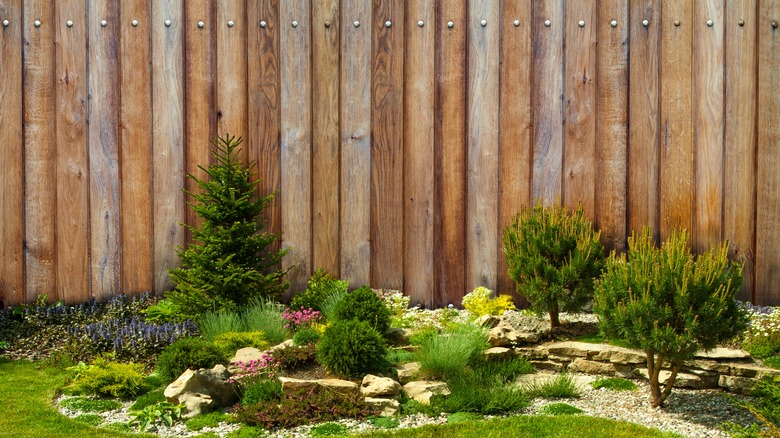 Andrey tiyk/Shutterstock
Fences have more purposes than just marking a property line and keeping people, animals, or objects out of the yard — or in. They add to your privacy since not everyone wants to see what the neighbors are doing. In some cases, they can provide a trellis for your favorite decorative greenery. They also add a bit of personality and your unique sense of style to your backyard.
Which is why choosing from an assortment of woods can pose a challenge when there are so many beautiful and sturdy options available. While the most common types include fir, cedar, and redwood, according to Outdoor Essentials, there are other great choices you'll encounter while browsing your local lumber yard or home improvement center.
In the meantime, we take a look at some of the different types of wooden fences you can consider. Each one has its own traits regarding color, texture, durability, and function.
Redwood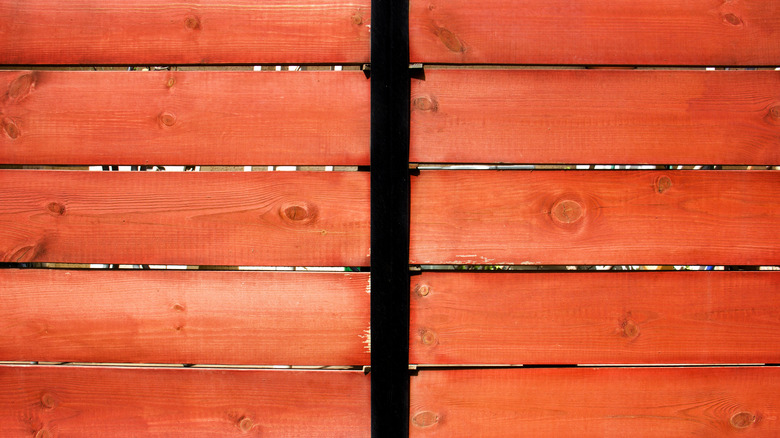 Alexander Komraz/Shutterstock
Redwood ranks among one of the most popular materials for wooden fences (and decks) since it's counted among the sturdiest building materials (via Forever Redwood). Once you install a redwood fence, you shouldn't have to worry about it warping or shrinking because of how well it keeps its shape.
In fact, one piece of advice is to opt for the heartwood grade, which comes from the center of the tree's trunk and possesses the redwood's trademark brownish-red tone. Not only is this part the hardest portion of the tree, but it also naturally repels insects and doesn't rot as easily as other materials with proper maintenance, per Humboldt Redwood Company.
Another advantage of a redwood fence is that you can apply just about any type of finish. The only drawback to using redwood is its high price tag, although you can choose to use the outer wood instead of the heartwood grade.
Western red cedar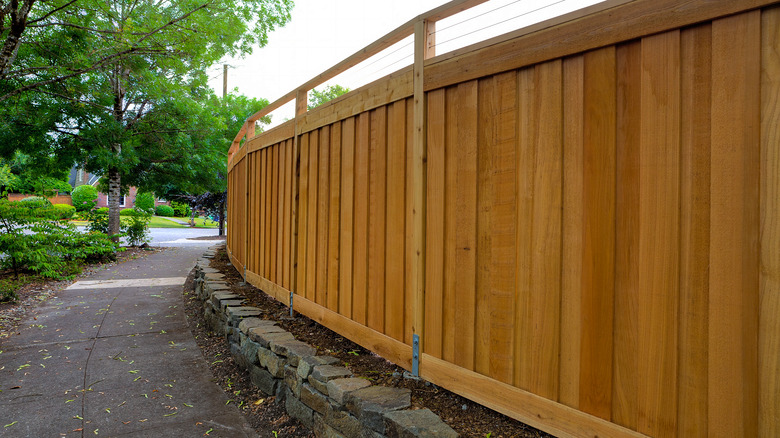 Thye-Wee Gn/Shutterstock
Cedar is an excellent mid-priced option for a wooden fence. Western red cedar is a type that's not as costly as redwood but is more expensive than pressure-treated wood. It contains naturally produced oils that repel a wide range of insects, making it an excellent choice for outdoor use. It also proves to be an ideal selection for wooden fencing when combined with treated pine.
By itself, however, it retains its naturally attractive tone when stained, and if sealed properly, it resists fading and decay that's brought on by direct sunlight, per Summit Fence. Otherwise, paint adheres well to this type of wooden fence and provides extra, long-lasting protection.
If left untreated, the cedar will fade to a grayish color, which still possesses some aesthetic appeal, depending on your preferences. All in all, a well-installed Western red cedar fence can last up to 20 years and requires little maintenance aside from repainting or re-staining every few years.
Composite wood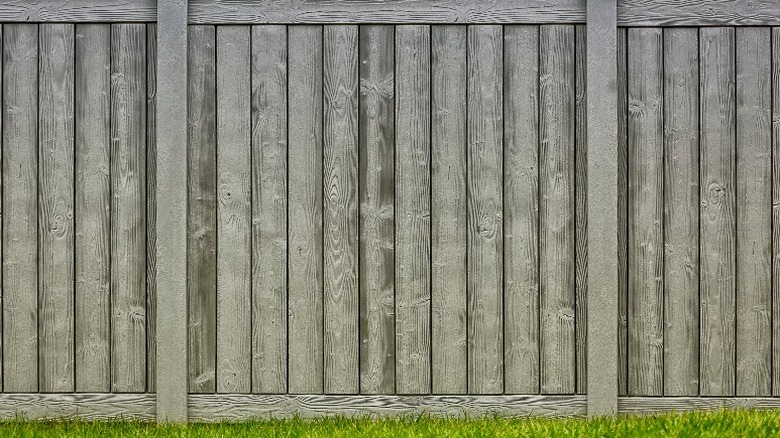 Genotar/Shutterstock
If you're looking for an option that leaves less of a carbon footprint, then composite wood presents a viable option, according to Bravo Fence. Composite wood is one of the most environmentally friendly options for wood fencing. It consists of wood fibers and recycled plastic which contributes to its sustainability.
Another advantage is that composite wood is less prone to warping, fading, or aging over time than its natural wood counterparts. You won't have to be concerned about splintering or having to paint or stain this material either. Plus, the plastic component makes it less attractive to termites and more UV-resistant.
Moreover, this material can imitate the texture and appearance of many different types of wood due to the manner in which it's manufactured. As far as cost goes, composite wood is comparable to other wooden fencing materials, so you don't necessarily save a lot of money, but you might come ahead with minimal long-term maintenance.
Pressure treated wood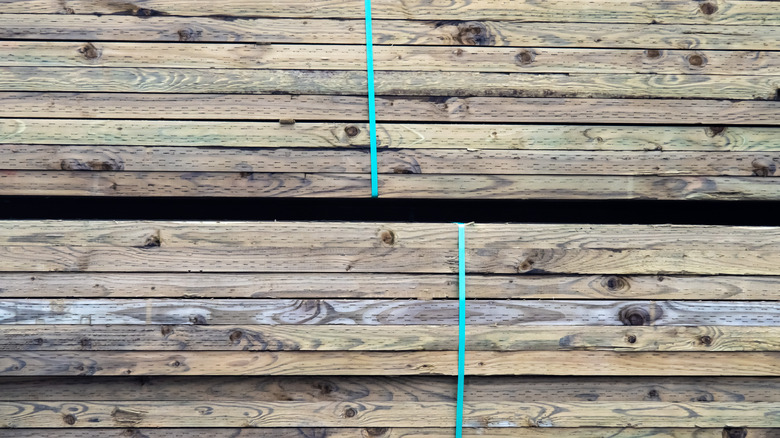 sockagphoto/Shutterstock
Pressure-treated wood is another option to consider for a wooden fence. Depending on the grade and type, it may have a yellow to light green hue. However, pressure-treated wood also can be color-treated to look like redwood or cedar.
The treatment process involves using extreme pressure to apply a combination of water and preservatives onto the wood. This solution helps to extend the wood's longevity, explains The Home Depot. This process not only makes for a long-lasting building material, but also one that's more resistant to rot, termites, and decay. In fact, the rationale behind treating the wood in such a manner is to help the wood last longer when partially buried in soil as in the case of fence posts.
Likewise, if you're contemplating staining or painting your fence, you might need to wait a few more days since pressure-treated wood arrives at the store still wet from the treatment process. Another trait to keep in mind is the wood may shrink somewhat after a fence installation.
Douglas fir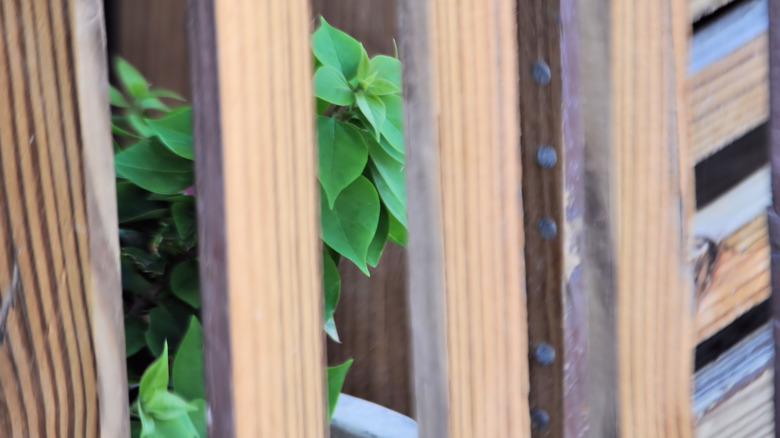 CaptainCody/Shutterstock
You may have seen many wooden fences that have a light brown color. That's because that particular characteristic of Douglas fir, along with its hint of red or yellow, makes it a popular choice among homeowners. It's also renowned for having straight, even grains with sporadic knots that some believe adds to its aesthetic appeal.
If, however, you happen to choose Douglas fir to build your wooden fence, you may opt to apply a sealant in order to prevent the wood's surface from graying, as stain readily adheres to Douglas fir.
Note that Douglas fir also has a naturally low resistance to decay and rot, should you decide to leave it untreated. Likewise, you can purchase fir pickets that have already come painted or finished. Regarding the cost, Douglas fir is another mid-priced option, cheaper than cedar wood or redwood.
Pine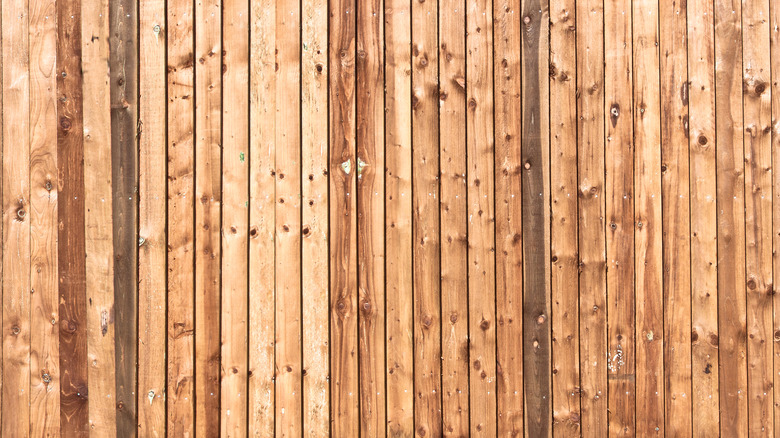 Elena Zajchikova/Shutterstock
Another common option for wooden fencing is pine. It's one of the least expensive options if building a fence. As a matter of fact, pine averages about $10 to $20 per square foot, which makes it easier for a homeowner to stay within a budget. Plus, you'll find that pine is quite easy to work with if you're planning on installing the fence yourself.
In addition to unfinished pine, you can also find a variety that's already pressure-treated. The chemicals make the wood more resistant to insects, moisture, and other weather-related hazards. Thus, this particular kind of pine might work best for fence posts. Nonetheless, if you're looking to achieve a specific aesthetic, you can easily stain the planks with any tone and also add to the longevity of your fence (per Liberty Fence & Deck).
Unfortunately, pine does have its drawbacks since it requires regular maintenance for staining and sealing. In addition to the periodic refinishing, you might need to paint the pressure-treated type because the treatment sometimes discolors the wood to a greenish tinge.
Cypress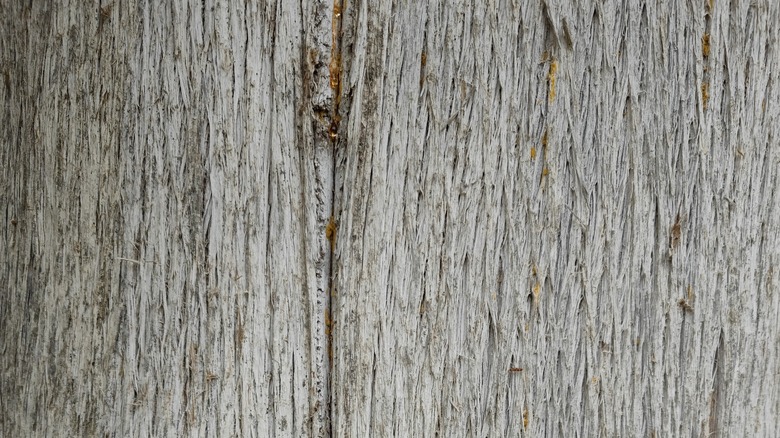 StyleCore/Shutterstock
Cypress, yet another popular choice for wooden fences, can make up your entire fence, or you can combine it with another wood — typically, pine — as noted by Paramount Fencing. Because cypress contains the preservative oil cypressene, it's also naturally resistant to insects; note, however, that this quality is not fully developed until a cypress tree reaches 75 years of age.
Cypress also gives you another rot-resistant alternative for outdoor wooden fencing. As is the case with other types of wood, if you can obtain the heartwood, then your cypress will most likely have the true qualities of insect and rot resistance. Another variety to look for is the "sinker cypress," which gets its name from having fallen into the river and sunk during the early part of the previous century.
However, this type tends to carry a high price tag. Although cypress proves to be resilient, staining and sealing your fence will still prolong its lifespan.
Tropical hardwood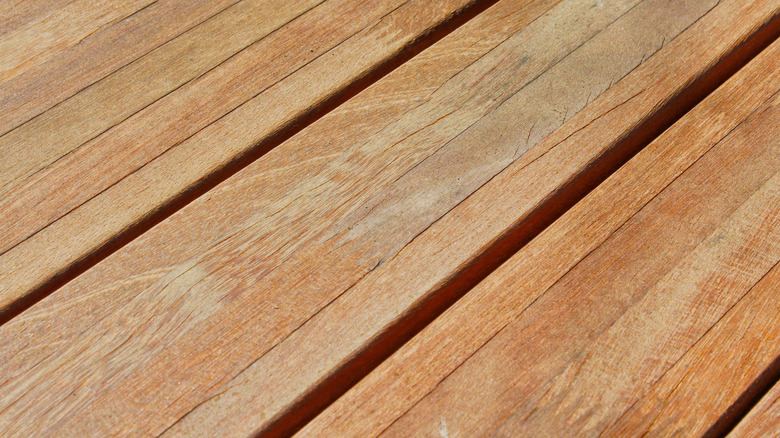 Krigerix/Shutterstock
Tropical hardwood comes in a variety of densities, weights, durability, and distinctive features. The choices include Red Balau, Brazilian walnut, and Cumaru (via Nova USA Wood Products).
The colors, textures, and grains greatly vary as well. For instance, the Brazilian walnut bears a light brown tone with dark brown or reddish grain, while Cumaru comes in shades ranging from light honey to reddish brown, making tropical hardwood a versatile choice for many outdoor settings.
One perk to installing this type of wooden fence is its longevity, which, according to Nova, lasts for 50 or more years. Applying stain and sealant every three to five years ensures its protection against the elements. Plus, tropical hardwood carries a Class A fire rating due to its natural fire-resistant qualities.
The downside to using tropical hardwood would be the price tag. The challenge of sourcing this type of wood, combined with its traits of durability and fire resistance, makes for an expensive building material.
Factors to consider when choosing a wooden fence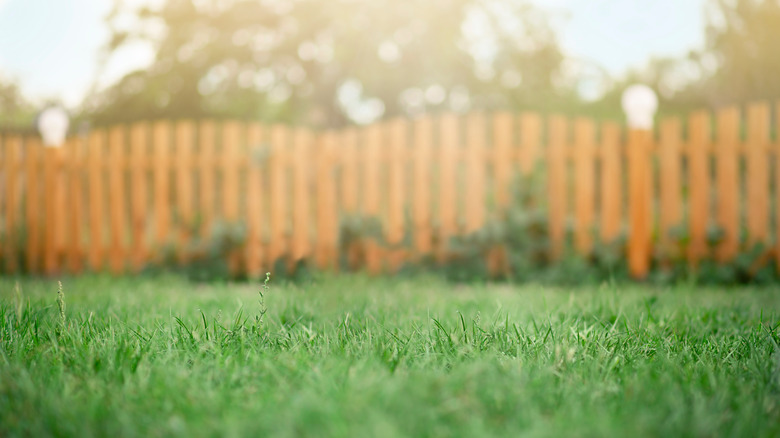 Evgeniya Nosko/Shutterstock
Any of the choices mentioned above would provide years of protection and beautification for your backyard. At the same time, other factors could affect your decision. As noted by Summit Fence, consider your local climate. If you live in an area where the temperature has a wide range from one season to the next, this can impact the longevity of your fence. Thus, choosing the type of wood that can withstand harsh conditions would be a prudent decision.
Another factor to consider is the type of insects that live in your area. Some locations are more vulnerable to termites, for instance, than others. So you might consider opting for a wood that has a natural resistance to bugs.
Finally, your budget will come into play. While a limited budget might eliminate some of the sturdier choices, you can also look at the long-term savings that come from low maintenance and a building material that lasts longer.