HGTV's Emily Henderson Reveals The Formulas She Follows For Making A Bed
Svetikd/Getty Images
Figuring out how to make your bed takes time to perfect. You want your comforter and pillows to feel cozy, and the overall look should fit your room's interior. There are many different comforters, pillows, and bed sheets to choose from that can affect how your bed looks and feels. You can stick to the basics with a comforter and a couple of pillows, but creating a luxurious bed takes more than that. According to stylist Emily Henderson, there are four formulas you can follow to make your bed feel cozy, inviting, and aesthetically pleasing. And they all involve the bed essentials, such as bed sheets, comforters, duvets, and pillows.
When it comes to styling your bed, don't be afraid to mix decorative pieces with functional ones to add interest. The patterns, prints, and colors you place on your bed are an excellent way to showcase your personality and make your room your sanctuary. Luckily, you can use Henderson's simple formulas to create a bed that's both stunning and comforting.
Always have more than two pillows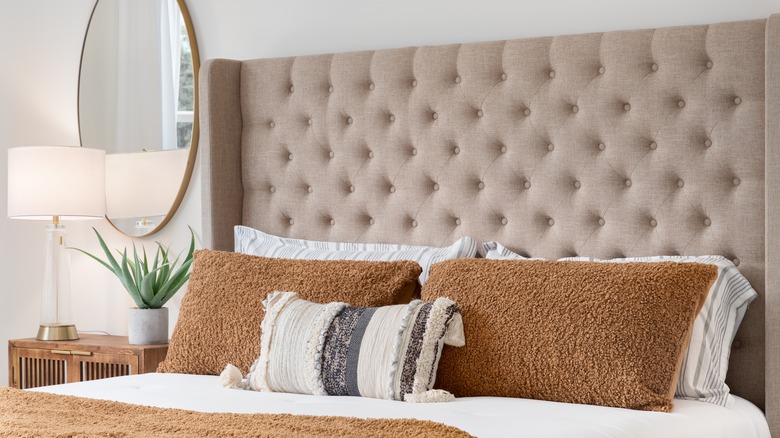 Hendrickson Photography/Shutterstock
One way to make your bed cozy is with a foundation of carefully chosen pillows. Henderson points out that you use your bed in two ways: sitting against the headboard and sleeping, so you always want to start with four pillows layered on your bed. This also creates balance and makes your bed look fuller. So, when you're leaning against the headboard, you want a pillow on the firmer side to support your back. As for your sleeping pillows, choose a softer style that's cozy and supportive for your sleeping position. 
Once you set up your four base pillows, you can place a long lumbar pillow in a contrasting color in front of them for a minimal yet decorative look. This leather one from Target can make a statement on light bedding. If your bedding is darker, you can play off it with a lighter-hued one like this World Market option. However, if you want to take your pillows to the next level, add a small decorative pillow or two in front of the lumbar pillow. This allows you to add an additional layer of color and pattern for a custom look.
On the other hand, instead of using a lumbar pillow, you can layer different geometric-style pillows like circles and squares in front of your base pillows. Vary the sizes of the pillows, such as one large, one medium, and one small for a more custom feel. You can even purchase curated sets on Etsy to take the guesswork out of mixing and matching. And, since you can get throw pillows for a steal, these are a perfect way to switch up the look of your bedding when you want. 
Layer your comforter with a throw blanket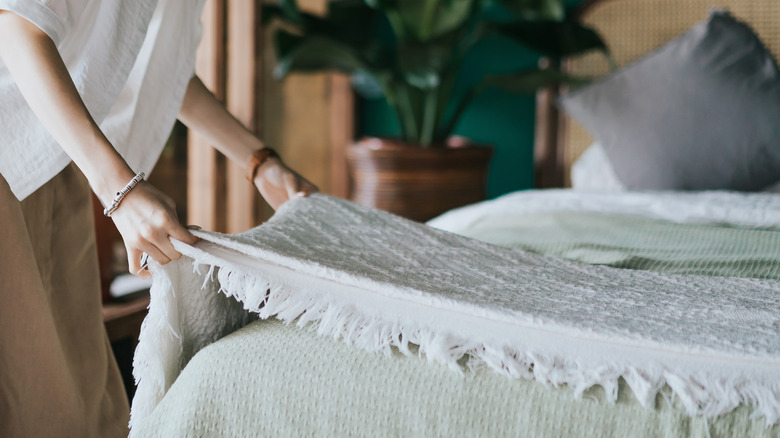 Asiavision/Getty Images
Bed linens should also have layers to give them texture and depth as well as to make them more functional. Henderson suggests always having at least two types of blankets — a fluffy and a flat one — when styling your bed. Not only do these more your bed look more thoughtfully laid out, but they add flexibility to accommodate changing temperatures through the seasons. For example, in the winter, you'll want an extra blanket nearby for colder nights, but in the summer, your comforter or duvet might be enough to keep you warm without overheating you. 
You can choose between a comforter or a duvet with an insert for your fluffy component. To make your bed look extra plump, an option like the Buffy Cloud Comforter from Amazon creates a neutral base. Or, use a duvet and a textured color like this velvet one from West Elm to make your fluffy layer extra luxe.
As for your flat component, you'll want to add a folded throw blanket or quilt to the end of your bed. This adds both texture and shape to the fluffy component. If you enjoy neutral bedding, add a vibrant-colored throw blanket like a bold plaid or ikat print, or keep it monochromatic and match your fluffy layer's hue for a sleek look.