Easily DIY A Room Divider With A $20 Ikea Hack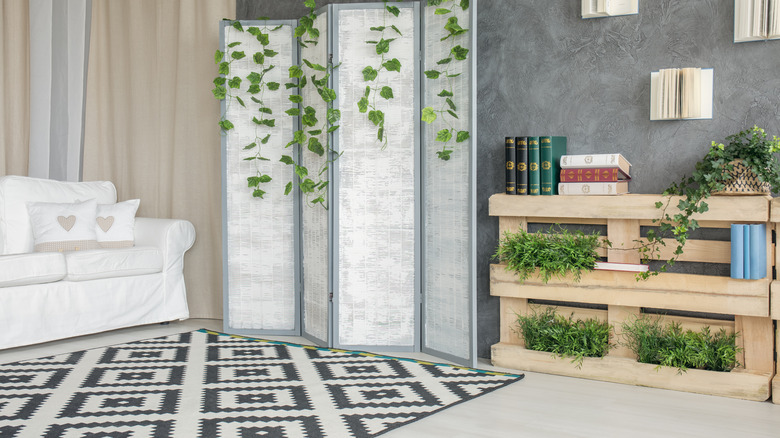 Ground Picture/Shutterstock
Room dividers can often be a stylish and attractive solution to both filling in and partitioning off spaces in our homes. Dividers come in all sorts of design styles, dimensions, and materials, from intricate wrought iron or wood to delicate Asian-inspired paper and bamboo screens. While a great addition to any room, dividers can sometimes be costly, with heavier wood models running in the hundreds of dollars. A recent YouTube DIY short, however, offers a great and inexpensive design hack incorporating shelving elements from Ikea that is both easy to create and highly functional.
Youtuber Shayna Alnwick of @theflippedpiece recently unveiled her DIY trick for using Ikea's pre-built Ivar shelving sides to make a simple screen framework covered in burlap. The sides, usually meant to provide vertical support for the Ivar wood shelves, when hinged together, stained, and covered in burlap, make the perfect room divider that you didn't know you needed. With each Ivar side costing around $20-$25, the total project budget creates a beautiful screen that looks much more expensive than its low price tag.
Making your Ivar room divider
Shayna Alnwick begins by purchasing three Ivar shelf sides and staining them with her favorite wood stain. Using a staple gun, she affixes loose burlap she has ironed to the outer edges with a staple gun. Simple hinges allow the shelf sides to adhere together to form a folding screen, which she then augments with similarly stained wooden dowels for hanging jewelry, scarves, purses, and other smaller items. She places the dowels easily in the existing pre-drilled holes that would normally hold the shelves for the Ivar. You can also make them more secure with wood putty.  
The new divider looks great in a corner, providing a bit of depth to the room and rounding out the space, while creating additional storage both on the wooden dowels and tucked behind the screen. The nature-inspired burlap fabric and the earthy stain of the wood make it a perfect complement to the neutral walls, and a great addition to a dressing room or bedroom.
Customizing your room divider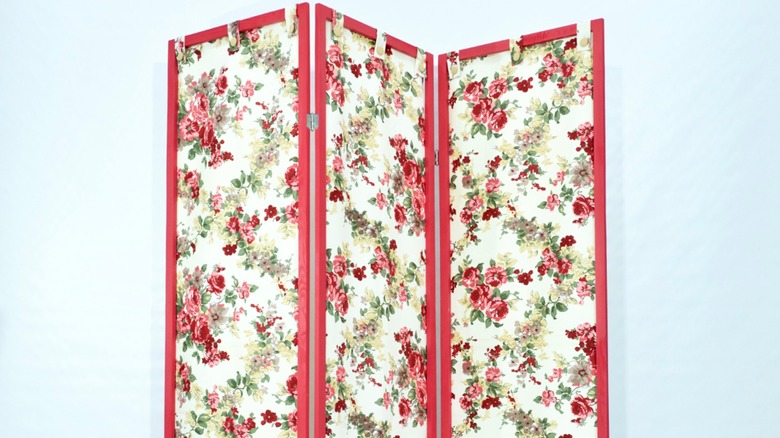 Pavel Malitskyi/Shutterstock
Use your Ivar DIY room divider as a corner piece or to divide spaces, such as an office nook or separate dressing area, or even to create a definition between existing seating areas. It's also a great small-space solution in studio apartments and multi-function rooms. The Ivar frames can be stained or painted your desired color and outfitted with the fabric of your choice, meaning that the simple framework can fit pretty much any design aesthetics you can imagine. By increasing the number of frames, you can easily adjust the length of the finished piece to your needs. 
These screens are also great for privacy, either for shared rooms like dormitories, or in front of windows you do not want to use other types of window coverings on, particularly if you live on the first floor in a high-traffic area. With some water-durable materials in terms of stain and fabric, they also make a great project for dividing outside spaces like balconies or porches that need additional privacy or shade.