Where HGTV's Famous Cousins Look To Make A Small But Impactful Change In A Home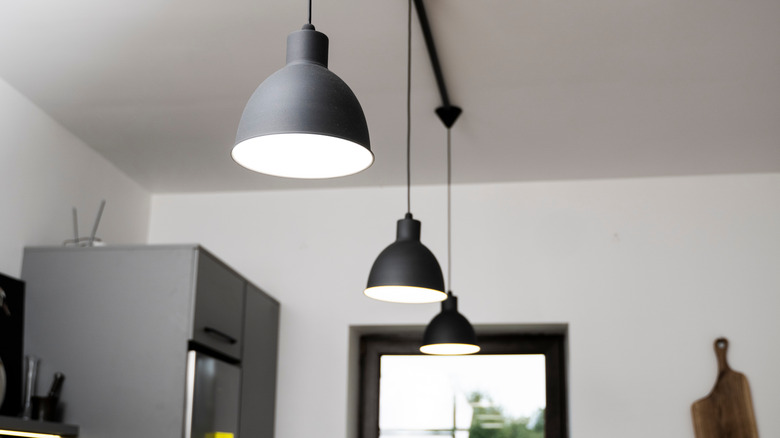 Volodymyr_Shtun/Shutterstock
Sometimes the home projects with the highest impact are the ones that are the easiest and most inexpensive to orchestrate. If you're looking for an instant transformation that doesn't involve expensive renovations or furniture purchases, you might want to look right overhead. According to HGTV's famous "Kitchen Cousins" Anthony Carrino and John Colaneri, one of the most dynamic changes you can make to a room is changing up the lighting, both in the variety of illumination sources and updating existing fixtures.
While paint may be the first thing most designers look toward for easy and inexpensive transformations, a point reinforced by Carrino, Colaneri suggests homeowners don't forget about lighting. Discussing his cousins and co-host's recent renovations in The New Jersey Digest, he says, "You come into Anthony's apartment, and I mean the visual interest, you see the beautiful furniture and rugs and everything but your eye is going up. You're looking at a light that is so unique and you're looking at the Edison bulbs. You want to create this aura that is out of the realm of your house. Chandeliers and pendants are almost like art now. It's not just a source of light, but hanging art that is so unique."
Get creative with lighting
Different lighting can not only update a room's look and make a design statement but can also affect how walls and paint colors look even without changing those factors at all, particularly during nighttime hours. You may also want to think outside the box when it comes to what kinds of lights you choose. John Colaneri says: "Just because you're in the kitchen or dining room doesn't mean you have to use the old, basic lighting fixtures that you see in every home. Do something different. There are hundreds of thousands of places to go on the internet to find lighting. That's something that can make a big impact on a room."
This can mean switching out an overhead ceiling light for a stylish pendant or chandelier that commands attention. It can also mean creating zones of illumination with a mixture of table lamps, wall sconces, and floor lamps. Other inexpensive changes include dimmer bulbs, new shades or glass globes, or spray painting lighting fixtures with more updated colors like black or bronze. You can also dramatically alter the scale of available lighting to add a bold focal point or add a decorative ceiling medallion to existing overhead lights.