The Simplest Way To Bring Your Kitchen Lighting Into A New Decade On A Budget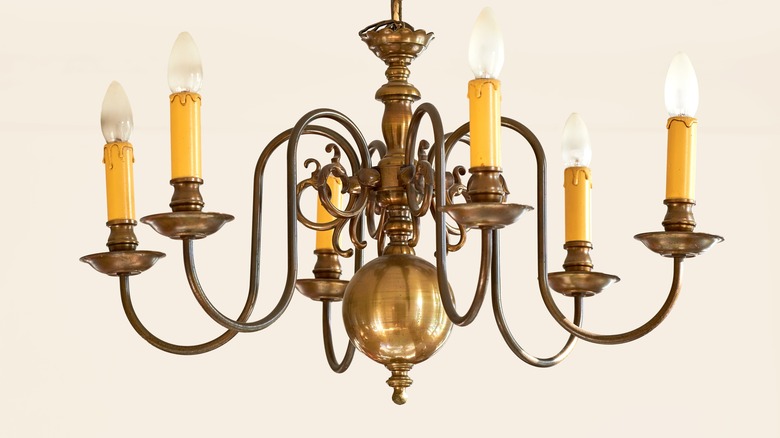 PeopleImages.com - Yuri A/Shutterstock
Whether you are doing an extensive renovation or just a small refresh, budget-friendly alternatives to costly replacements are always a welcome addition to any homeowner's arsenal. Perhaps the simplest solution to outdated or unsightly lighting fixtures is not replacing them entirely, but simply updating them with spray paint, bulbs, or shades, to modernize them for today's décor trends. Luckily, you can update an existing fixture for almost nothing with some inexpensive spray paint and a few key adjustments.
Kitchens and dining rooms often sport the oldest and most outdated lighting fixtures in any home, an element sometimes neglected when other kitchen elements of a room like paint, backsplashes, and appliances are updated more regularly. Nothing screams '80s and '90s construction like a garish brass chandelier above the dining room table or an uninspiring globe light in the kitchen. These forgotten and neglected elements, however, can often have a big impact when bought into line with modern design trends, making your space stylish from top to bottom.
Transforming outdated fixtures with paint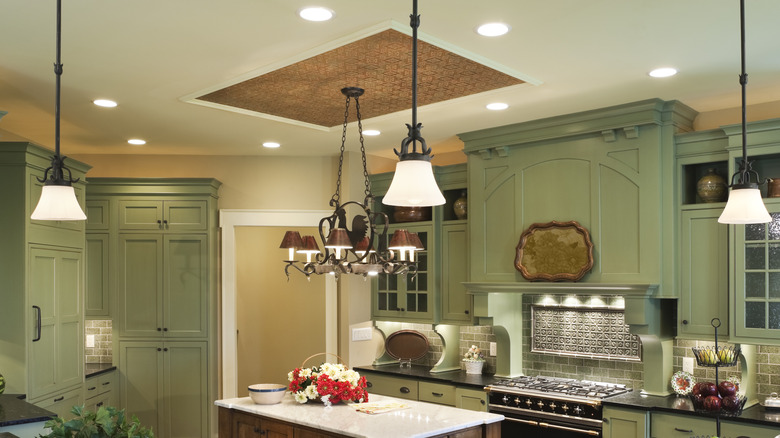 Jimkruger/Getty Images
If you're looking to give your overhead lighting fixture a new look, don't underestimate the impact of a couple of coats of spray paint. Begin by disconnecting the power and removing the fixture from the ceiling. Place tape over the electrical sockets and any other part you do not want to paint, then apply 1-2 coats of your color. While metals and neutrals are timeless, don't be afraid of other colors that may fit your décor. A previously brassy chandelier can look stunning and avant-garde when painted a bold color like hot pink or bright orange.
While many older dining room fixtures feature standard candelabra bulbs, try swapping them out for trendy Edison bulbs for an industrial farmhouse look. You can also replace them with globes or cylindrical bubs for a fresh and contemporary look. Add draping crystals to an austere brass chandelier for instant glamour for more romantic and boho-designed spaces.
Other tips for refreshing lighting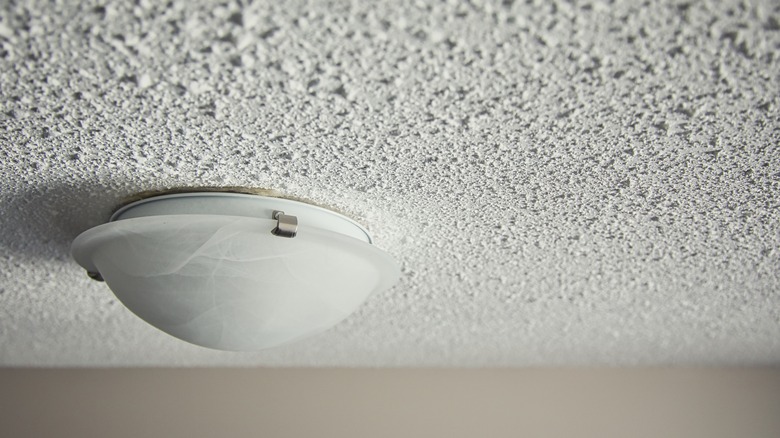 MC Media/Shutterstock
You can easily update other light fixtures with a fresh coat of paint, including pendant lights, globes, and wall sconces using the same technique on the metal accents. For best results, use a light spray and thin coats to prevent streaking, running, and dripping. Allow each coat to dry before applying the next. An anti-rust paint like Rust-Oleum will keep your lighting fixtures looking great for longer, particularly in high-moisture areas like bathrooms.
While many vintage fixtures come in overly shiny brass or gold accents, a coat of spray paint in pewter, silver, and matte black or gray can instantly make any old fixture look stylish and new. You can also change a shiny brass fixture into a more aged and antiqued look beauty by using an aged brass shade of paint to darken it. Textured or faux stone finish paints are another great way to add more variation and depth to the room.