The Clever Way Bravo Star Jill Zarin Prevents Chair Scratches On Her Wooden Floors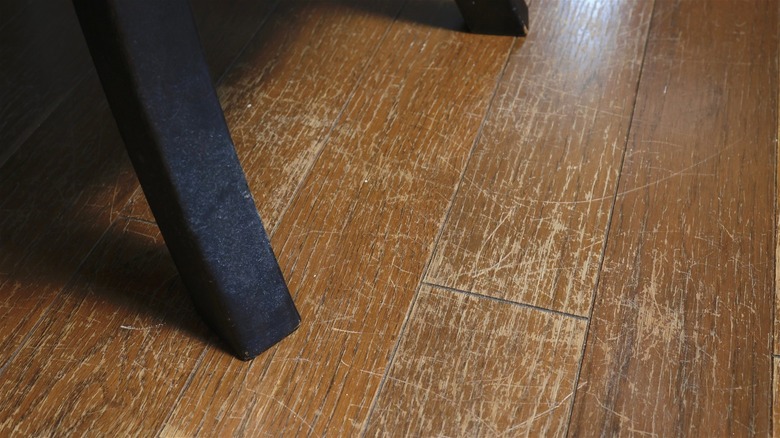 umaruchan4678/Shutterstock
Scratches, marks, or dents that mar the surface of wooden floors can occur due to various reasons, like impact from heavy objects, using the wrong cleaning products, and dragging furniture across the floor. To prevent this, you can use soft and gentle cleaning tools and place rugs and mats in high-traffic areas. Another good precaution to take, as demonstrated by Jill Zarin in this TikTok post, is to attach "booties" or "slippers" to your chair legs.
Using leg covers on furniture legs to prevent scratches is very helpful because it reduces direct contact with the floor and allows you to move your furniture around freely. It helps to have floor protectors on all your furniture including sofas, chairs, and tables since they move frequently and have the potential to leave scuffs. There are many kinds of protectors out there, from pads that stick to the bottom of the leg, to full covers.
Types of furniture leg covers
Jill Zarin uses stylish yet simple knitted furniture socks that match her chair legs. They range from $20 to $23 on Amazon for a pack of 32 pieces and come in different colors so they can blend into your space. While these are elastic and flexible in size, note that they should always be snug enough to stay on the leg without slipping. Some other common types of leg covers are felt pads and furniture gliders. Home Depot has packs of both containing 108 pieces for around $15, which are available in various sizes.
You can also DIY your own covers by fastening pieces of fabric to furniture legs. Aluminum foil is another simple house item that can be placed under your sofa or chair so it glides effortlessly. Leg covers can wear out over time so ensure you're checking them and replacing them as necessary. Some, like the knitted sleeves, should also be washed regularly.