How To Turn A Vintage Typewriter Into A Stylish Planter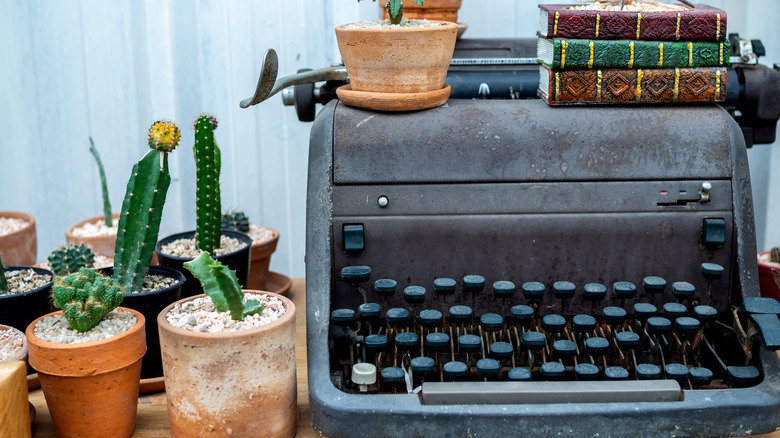 Techa Tungateja/Getty Images
Vintage charm is one trend still hovering at the top of the charts since reclaiming its fame in 2020. As you browse thrift store shelves for unique finds, it's easy to envision all the different ways you could incorporate even the smallest of knick-knacks into your décor. As a plant lover, your eyes might catch on teacups, watering cans, and old candle holders for possible planters, but have you ever considered a typewriter?
Typewriters have a vintage romantic glamour, and using one as your next creative planter will surely give your space an innovative and one-of-a-kind look. It's an incredibly easy way to elevate your plant's style, and you really only need a typewriter and some potting supplies to make it happen. There are plenty of divots and crevices that small plants and succulents will fit snuggly into. Typewriters may not be the most commonly found item when stopping in at second-hand stores, but if you shop estate sales, antique shops, and pond shops frequently enough, one will make an appearance. You can also turn to sites with preowned items like eBay, Etsy, or Chairish to locate one if the stores in your area are coming up empty.
From typewriter to planter
Once you have found the perfect typewriter for your DIY planter, you will also want to gather a pair of scissors, a waterproof lining for the potting area, rocks and soil, and of course, your chosen plants. Before you begin prepping the typewriter for transformation, give it a nice cleanup. If it was found second-hand, it likely has a lot of dust and grime that should be wiped away. Next, decide precisely where you want your plants to settle in the typewriter; the paper rest and type bars are great options. Depending on where you plan to place your plants, you may need to remove some parts to make more space. If you prefer not to dismantle any parts of the machine, that is perfectly fine too, and you can work around it.
Use your scissors to cut the waterproof lining to the needed shape and size of your planting space. This can be made up of anything that will help keep water and dirt from trickling into the machine, like a plastic bag, tin foil, or even a piece cut out from a tarp. With the liner in place, begin potting your plants, adding soil and rocks. Since this is an unconventional planter, the rocks will help with the needed drainage. Remember that the upkeep of your plants in this unique pot may differ from that in ordinary setups. You may need to water less and keep a better eye on root growth.
Preserving your typewriter
Typewriters have a timeless beauty and are often coveted objects. With how challenging they can be to find in a second-hand shop and how expensive they can get bought new or used, consider preserving the typewriter. Planting natural plants in a typewriter will cause long-term deterioration, even with preventative measures like plastic linings. Dirt will cake into the keys, and water will eventually rust portions of the machine. If you want a typewriter planter but are worried about the damage it could cause, you'll be happy to know there are many other alternatives to living plants.
You risk water damage even with freshly cut flowers as the stems leak. So, visit your local craft store or browse Amazon for faux florals. Fake flowers are looking more and more realistic these days, and people likely won't even be able to tell the difference. When placing fake flowers in your typewriter, it is best to cut the stems as short as possible rather than jamming them into nooks and crannies of the typewriter, possibly damaging keys and other hardware. Styrofoam blocks make great bases for faux flowers and can be painted to look like soil. You can also glue on some moss for extra measure. Wood flowers are another trendy option, giving an entirely different aesthetic. Wood florals can take on many shapes, sizes, and colors, looking charming with vintage décor. Lastly, consider DIYing flowers with tissue paper, pipe cleaners, coffee filters, and other crafty materials.