The Staging Accessory HGTV's Emily Henderson Finds In Her Backyard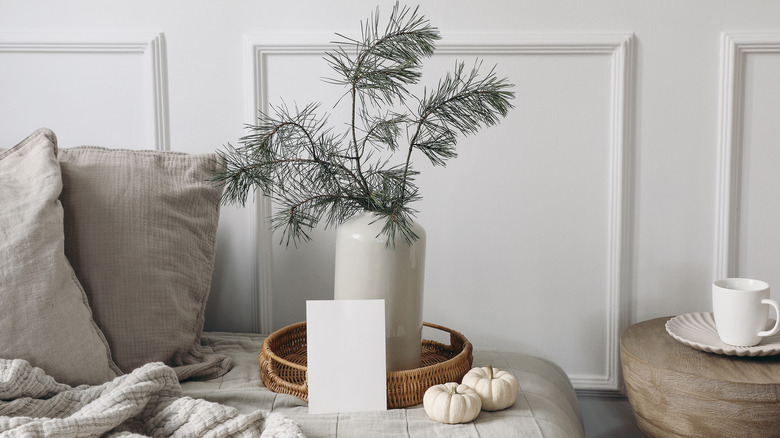 Tabitazn/Getty Images
Of the many staging accessories HGTV's Emily Henderson uses to style spaces, there's one she finds in the convenience of her own backyard. While capturing images for her many inspiring layouts, the offbeat stylist has a go-to prop which comes at no extra cost. "I've been styling with backyard branches for over a decade – flowers are often just too expensive for our shoot's prop budget," she explains in her lifestyle and design blog, Style by Emily Henderson. Often displayed in minimalist style vases, Henderson likes the aesthetic of tree branches, which can add natural grace to any space.
So, how can you decorate with this simple element? Depending on your backyard, there most likely should be a handful of tree branches to help beautify your home. You might set the scene with common green branches from maple, manzanita, or oak trees. However, you could exhibit these and other bare (or dormant) types to showcase their distinctive shapes. Whether grand or small, a singular branch can bring a touch of the great outdoors to your interior. Whatever types of branches you can access, there are a variety of ways to decorate with them just as Henderson does.
Make a statement with asymmetrical branches
From hardy manzanita trees to verdant bushes, Emily Henderson considers her backyard branches as practical tools for staging her designs. When selecting branches, aim for branches of different lengths. As the designer explains in her blog, "You are going for a sculptural effect, not a semi-circle of leaves coming out of a vase." With this approach, examine all angles of your chosen branch, especially if there's heavy hanging foliage. Henderson continues, "If you can't find that one amazing branch, get two but ensure that one is shorter and that they don't look symmetrical."
Whatever stems naturally from your resident trees, large and lively greenery is an ideal accessory for your home. Henderson might stage her dining table or mantle with extended leafy branches in clear glass or ceramic vases, which would enliven a neutral setting. For tranquil, peaceful vibes, you might consider aspen, olive, or eucalyptus branches in a metallic vase centered on a wooden table. Additionally, a rural home in the country may benefit from clusters of soft pine or spiny birch branches. With clean shades of white, sprigs of dogwood or magnolia in mason jars would illuminate a small ledge within a bathroom or on a bedside table.
Accurately cut and care for your clippings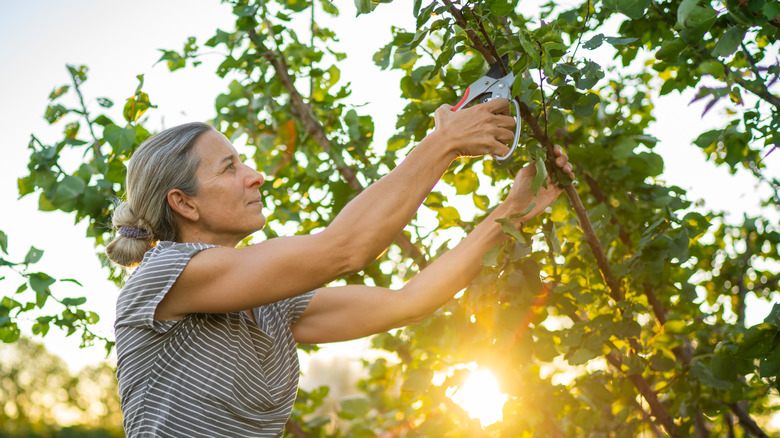 Amriphoto/Getty Images
As a stylist, Emily Henderson knows how to maintain her branch accessories however long they may stick around. Before retrieving your clippings, consider the length before removing them. Henderson advises in one post to her blog, "Clip much longer than you would initially think. This is something I've had to teach to assistants. Make sure you are getting enough stem because you can always go shorter." For your branches to thrive, they may last in water for up to two weeks if the supply is freshened regularly (mostly every day). Additionally, you can carve (or cut) out a small X at the bottom of the stem to help boost your branch's overall hydration.
However long you want to display your favorite branches, some types may also hang around to dry for a rustic look. Within Henderson's personal California chalet — just one of the many stunning homes owned by HGTV stars — the designer likes to hold onto some of the same branches for quite some time, as she explains in her blog. "The whole mountain house is covered in backyard branches – and some can last weeks and then dry out, lasting months!" she writes. While most tree foliage eventually dries and withers, the transformation can be something new and beautiful to showcase. Resourceful and free, tree branches are organic staging accessories that may never go out of style.