HGTV's Emily Henderson Makes A Case For Lifting Your Curtain Rods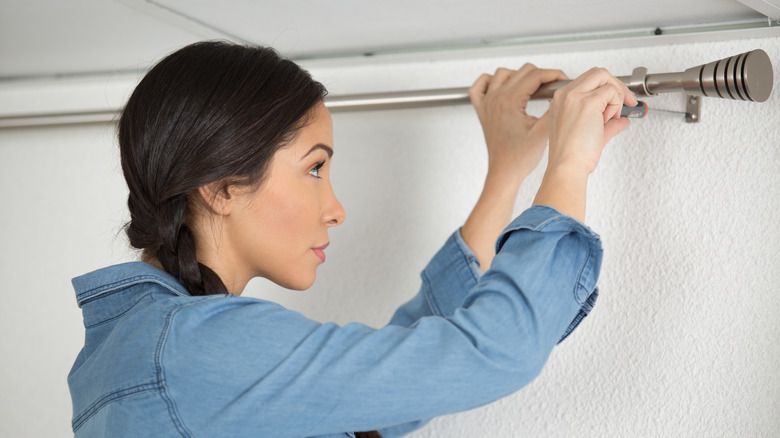 ALPA PROD/Shutterstock
If hung properly, curtains can bring a refined and sophisticated look to a room. However, drapes that sit too low can make a room look unfinished, which is where lifting your curtain rod comes in. According to HGTV star Emily Henderson, there's a curtain rod rule that will act as an easy solution for awkwardly-placed drapes. The interior design expert explains on Style by Emily Henderson why hanging your curtain rod a little higher than your window frame is better than installing it directly above.
"It's not just the better way to hang your curtains but at this point we have a 'cultural height' of where your curtain rod line should be, the height where we as a collective people are used to seeing it, and if you get too close to the window sill, and if you have a lot of space to play with, it just stands out in your room," she writes. "Lift the rod, which lifts the eye, which makes your ceilings look higher and your space bigger." Aesthetically, a rod that's hung closer to the ceiling looks more pleasing to the eye, but this rod-hanging trick also has some other benefits.
Lifting your curtain rod can transform the look of a room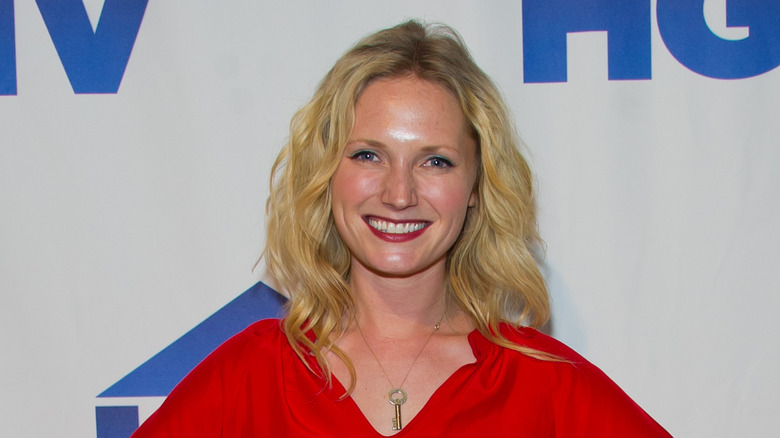 Michael Stewart/Getty Images
Emily Henderson suggests hanging your curtain rod at least ½ to ⅔ of the way toward your ceiling, though this will depend on how tall your walls are. This curtain rod tip is especially useful if you have a small room. Fixing your curtain rod higher will not only cause your ceilings to appear taller and your windows larger, but will also generally make a room appear bigger. It's a great idea if your window is on the smaller side, as it allows you to hang your curtains without cutting off any of your window space. Abiding by this rule will create spaces that look larger and airier without you actually having to do much except hang your curtains higher.
According to Henderson, there are three preferred curtain lengths you can achieve — almost touching the floor, barely touching the floor, and puddling on the floor. The first two options are ideal for curtains made from lighter materials like cotton, whereas the latter will create a romantic and dreamy look and is best for heavier drapes made from thick linen or velvet. Whichever style you prefer, hanging your curtain rod slightly higher will easily create a well-thought-out look.