The Creative Way Joanna Gaines Fixes Planters To A Bedroom Wall On Fixer Upper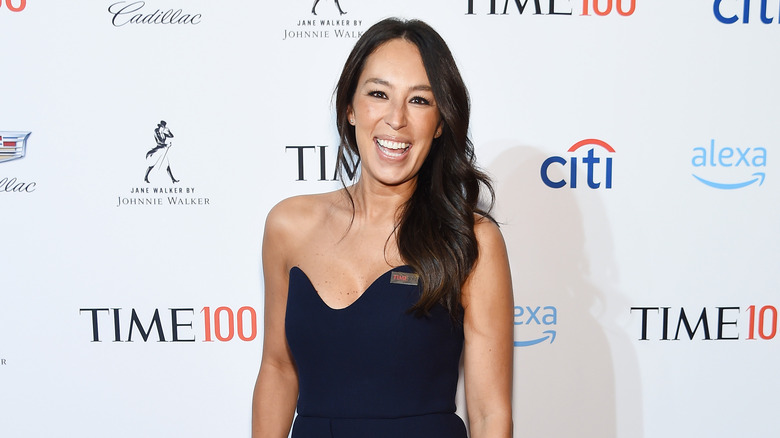 Larry Busacca/Getty Images
When decorating your room, finding pieces that showcase your personality can take some time. If you're having a hard time choosing what to display on your walls, there are many routes you can take, such as artwork, shelves, mirrors, and, of course, plants. Typically, you'd hang shelves on the wall and place your plants on them. However, interior designer Joanna Gaines hung planters without using shelves — instead, she uses antique metal bins to hang directly upon the wall with faux plants inside. The repurposed containers gave the bedroom a gorgeous rustic look.
Not everything you purchase for your bedroom has to be brand new. If you enjoy thrift shopping, you can find some of the best room decor in secondhand stores. In addition, repurposing old materials is an excellent way of adding interest to your space. Gaines suggests getting creative with how you repurpose items. You may be looking for a specific thing to hold plants, but you'll be surprised at how you can turn other random objects into planters too.
Think outside the box
HGTV star Joanna Gaines knows how to reuse vintage pieces in rustic-inspired homes. Her metal bin planters become the focal point of the bedroom she decorates, and while you won't find the exact pieces Gaines used, think outside the box and go decor-hunting in flea markets, antique shops, and thrift stores. Any stylish container you find that can be hung directly on the wall can resemble Gaines' planter idea. However, if you can't find anything in an antique store, Wayfair has a beautiful metal wall planter set that can be hung indoors or outdoors for $69.99. They're a half-moon shape, and they come with everything you need to hang them on your wall. 
Whether you repurpose vintage decor or buy specially-made planters, place them on a vacant wall in your bedroom and fill them with your favorite faux flowers or evergreen succulents. You can display them in multiple ways. For example, hang the metal bins horizontally along your open wall so that it takes up the main area and becomes the statement piece of your room. Or, hang them in a zigzag pattern with two containers on the right and one bin on the left for a fun patterned look.