Turn Basic IKEA Cabinets Into A Built-In Buffet With This Viral Hack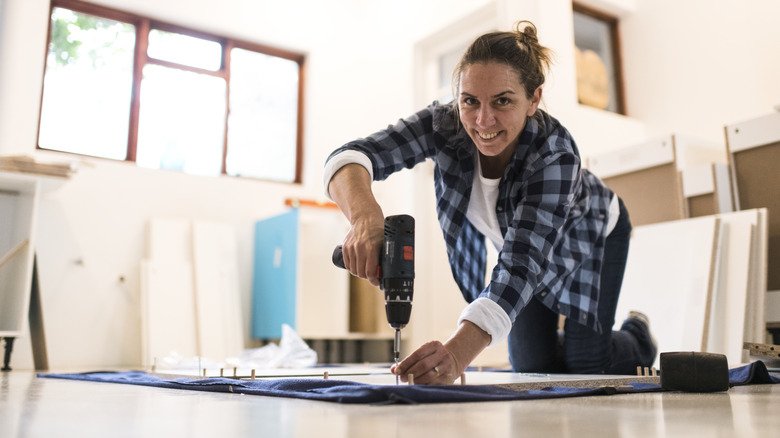 Pixelcatchers/Getty Images
Buffet cabinets are an excellent addition to any eat-in kitchen or dining room. Not only do they add extra space for dinnerware, but you can use them to store games, DVDs, and countless other items. You'll also benefit from additional counter space if you're looking to entertain. Thanks to this viral TikTok hack, you can create a built-in buffet with nothing more than IKEA cabinets and a little creativity (and a few items from your local hardware store). 
You might be wondering about the quality of IKEA's cabinets, but countless DIY projects use real wood products purchased from this retailer. Although you can opt for particle board with wood veneers, IKEA offers pine wood IVAR cabinets if that's what you're searching for. If you don't have an IKEA warehouse close by, you can have items shipped to your home for a flat fee. Before ordering, properly measure the space you're looking to update so you order the appropriate cabinet size. Once you know how big you'd like to make your built-in buffet, it comes down to selecting the best IKEA cabinets to match your personal style. When in doubt, opt for neutral colors to complement any color scheme. After your cabinets arrive, the fun begins.
Assemble your IKEA cabinets
According to this viral TikTok hack, @dedancey.diy purchased IKEA cabinets 30 inches wide by 15 inches deep, but you should purchase the size that works best for your home. You'll also need a base for your cabinets. You can opt for traditional IKEA legs or create a DIY base, so keep this in mind when ordering your materials. If you decide to make your own cabinet legs, you'll want to use 2-by-4s, a common lumber board for DIY projects. You'll also need to install a metal bar across the top of your cabinets, screwed into the studs in your walls. This keeps your cabinets securely in place. 
Once you assemble your cabinets, build and secure into your wall your 2-by-4 base. Next, attach your IKEA cabinets to your 2-by-4s and the metal bar on your wall. If you decide to purchase legs, attach them before securing your cabinets to your wall. After you install your cabinets, you may find that there are gaps between them. This depends on the size of your space and the size of the cabinets you purchase. If you notice any gaps, you can close them using a cover panel purchased from any home improvement store. Just cut the panel to match the measurement of each gap. To secure it in place, add a piece of wood behind the cover panel and screw it in from either side.
Covering your new buffet
By now, your built-in buffet should be coming together, but you'll still need to add some finishing touches and a countertop. You'll have exposed 2-by-4s if you choose to create your own base. If this is the case, measure and cut a painted baseboard and install it, concealing the 2-by-4s. You'll also need to create a top that's attractive and stable. You could use butcher block, but this viral hack opts for faux marble laminate. This step was a custom order from a local home improvement store.
After installing your countertop, you may notice minor gaps between the countertop and your walls. Simply grab some caulk and seal up any gaps. The result is a custom built-in buffet that adds plenty of extra storage space for all your needs. If you're concerned about price as you embark upon these amazing IKEA hacks, this Swedish retailer offers a wide range of affordable cabinets. You'll have a bespoke built-in buffet and tons of extra storage space without breaking the bank.