Choose The Right Tile For Your Space With Emily Henderson's Fruitful Advice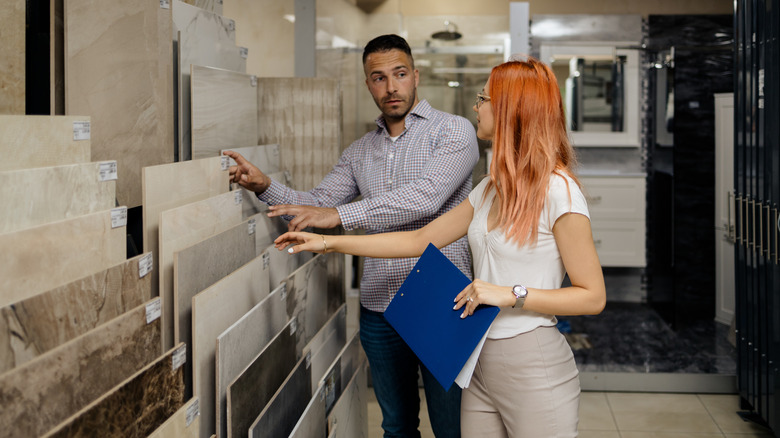 Mladenbalinovac/Getty Images
Stylish tile patterns are a great way to accent a space, but not all tile works for all spaces. In fact, you could be unwittingly sabotaging your space by opting for the wrong type of tile. Luckily, designer and stylist Emily Henderson, one star who chose not to return to HGTV, has some useful advice on how to ensure you're picking out the right tile. Per her blog, Style by Emily Henderson, the interior designer shares a key tip if you're considering using the same tile for your walls and flooring.
You can feel free to use your floor tile for your walls, but rarely can you use wall tile for your flooring. "...Floor tiles are specifically made to tolerate more stress than those manufactured for use as wall tiles," she explains. "Floor tiles, because they're subject to a lot of traffic, both human and heavy furniture, need to be strong and durable to withstand such pressures. And because they're durable enough, no worries if you also want to use them as wall tiles — tile away. And countertops, too."
Choosing the right type and color of tile for a room
In addition to offering general advice regarding tile, Emily Henderson provided guidance on which types of tile are best for which areas of the home. Ceramic zellige tile is ideal for both walls and flooring because of its durability, whereas ceramic subway tile is great for walls but not so much for flooring, as it's thinner. However, porcelain tile, as opposed to ceramic, can be used anywhere, making it a good option for high traffic areas. The same goes for marble tiling, which has a luxe look and is extremely hard-wearing. As for what to avoid, never use glass tile on your floors (for obvious reasons), though glass tile is ideal for high color payoff on a wall or backsplash.
Moreover, in another Style by Emily Henderson blog post, the stylist and designer recommends sticking to a specific color palette when selecting flooring and wall decor. This means picking two or three colors (four at the most) to build a room around. For example, if you opt for pink tile, you should stick to lighter, neutral hues to balance out the brightness of the pink. Conversely, if you opt for white tile, you have more scope to branch out with additional colors in other areas of the room. Abide by these rules, and you'll end up with tile that fits well with the rest of your decor and which won't chip, mark, or stain easily.