This Two-Tone Paint Technique Might Be The Answer To Your Open-Concept Decor Challenges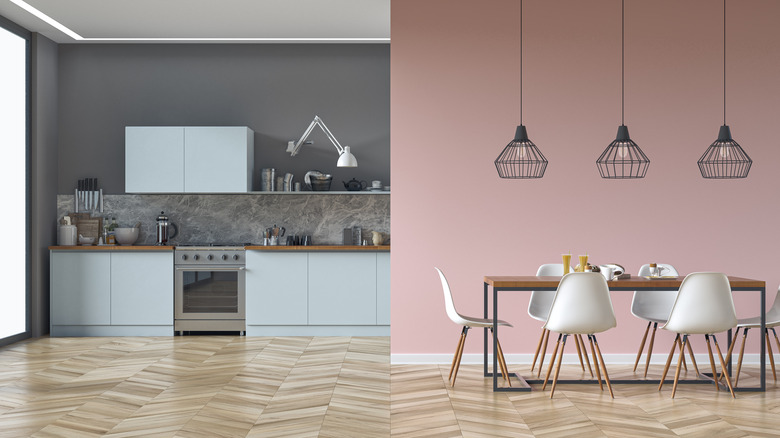 Gladiathor/Getty Images
With many modern homes embracing open-concept plans, homeowners and designers often spend ample time strategizing how best to incorporate color, particularly paint, into these luxuriously open spaces. In a traditional residence, walls, and doors provide boundaries between different rooms, but in an open-plan arrangement, people often must rely on layout, furniture placement, and other visual cues to define smaller spaces within larger ones. Paint can often be a great way to help define and unite separate zones and elements of any larger space, particularly by carrying the same or similar hues through an entire design concept.
In a remodel of her own home, stylist Ashley Whiteside discussed how she used two beautiful colors, a buttery creamy neutral and a striking pale blue, to produce a design that unified two spaces; an entry hallway clad in pale blue and a bright open living space that repeated the blue on the ceiling, per Clare. The repetition of the shade makes the transition between the areas feel seamless and intentional, allowing the large room (once painted a dark navy) to revel in its light-filled, spacious glory.
Using paint in an open-concept space
The goal for using paint color successfully in an open-concept space is to strike a careful balance between defining areas or zones and creating a unity that pulls everything together. Paint is a perfect element to do this since it is easy to change and one of the most budget-friendly transformations you can make. Simply alternating two colors can make a huge impact. In an open-concept space, try grounding a dining nook in a larger space with an accent wall that highlights the table area, then repeat the color in another part of the overall space. If you want to keep everything bright with a lighter neutral, try using a more colorful shade in unexpected places like ceilings, nooks, or the back of built-in shelves to add colors. 
When used in transitional spaces like entryways, stairwells, and hallways, the colors can be carried through to other zones in the home, creating a visual bridge that ties them together. You can also use paint on architectural elements of the room, like arches, doorways, and trim, to separate spaces while still using a unified color palette. Designer Kellie Burke tells My Domain, "To take your paint job up a notch, I suggest taking three neutral colors in the scheme and alternating on the trim, walls, and ceilings to coordinate but separate the zones in an open floor plan."