How Joanna Gaines Transformed A Blank Room Into A Warm Space On 'Mini Reni'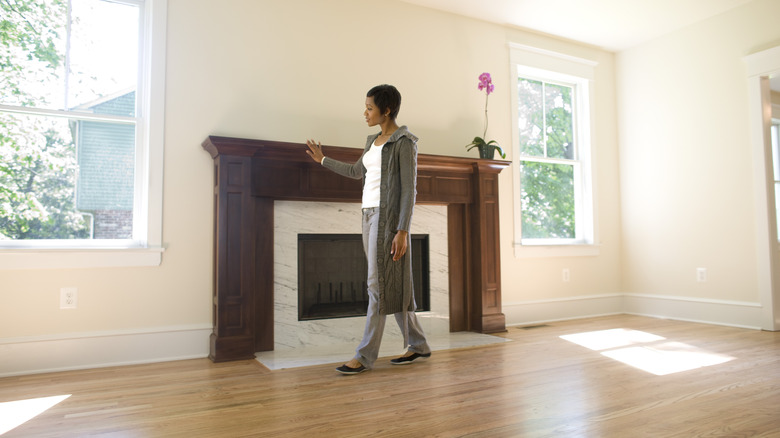 David Sacks/Getty Images
Transforming a blank room into a warm space requires adding elements that make it feel personal, comfortable, and soothing. In an Instagram post, Joanna Gaines shows the before and after of a simple revamp she did on a white living room for her show "Mini Reni." By defining the main wall with panel molding and then including warm colors, rounded pieces, and soft textiles, she was able to bring the room to life and make it a more inviting space.
"Mini Reni" features some of Joanna Gaines' quick and easy projects that are done without any major renovations. With a max budget of $15,000 and a time frame of one week to work on three rooms, this show demonstrates the various ways big home updates can be made without breaking your back or the bank. Some of the main moves Gaines uses to instantly upgrade a home or just one room are new paint colors, fixtures, hardware, and decorative elements like rugs.
How Gaines transformed the room
The first thing you'll notice in the Instagram post is that the entire room looks much softer with green and not bright white walls. The pale sage shade Joanna Gaines chose automatically makes the space feel cozier, while the added architectural details on the fireplace wall make it a focal point. "We knew the homeowner wanted more color and pattern here, so we played up the fireplace and transformed this blank canvas into a colorful, character-filled living space," she says in her Instagram caption.  
Like the paint color, the soft look of the furniture creates visual warmth. The sofa, chairs, and throws look plush and welcoming, while the coffee table books, plants, and flowers make you feel instantly at home. The floor lamp, wall hooks, golden light fixtures, mirror, picture frame, and other décor items make the room look elegant while still feeling comfortable. These touches are a great upgrade from the traditional fan and light fixtures that were previously installed in the ceiling.
How to recreate this look in your own home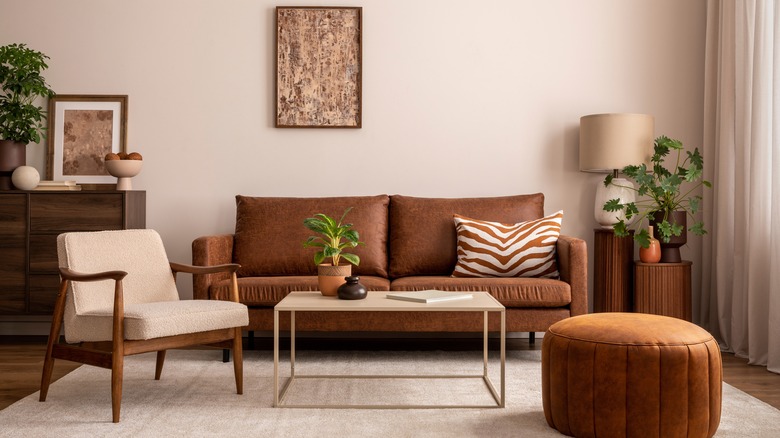 Followtheflow/Shutterstock
To warm up your own space, you'll need to choose the right color scheme, furniture, and elements for ambiance. Wood materials, warm metals, greenery, and rich textures are some of the main elements to incorporate. Choose earthy, soothing colors, comfortable furniture, warm-toned lighting, and cozy accessories to create a sense of comfort. If you don't have a fireplace to highlight, you can still have an anchor point in the room by adding some molding or creating an accent wall. You can also add depth and visual interest to the space by layering different types of design elements in the room like various metals or textures.
In addition to the typical décor elements, you can create emotional warmth by displaying personal items like family photos, artwork, and sentimental pieces so the space feels more intimate and lived-in. Books on the coffee table or on a bookshelf that highlight your interests and passions can contribute to this personal touch, while the presence of real plants and flowers can breathe life into the room.