How Do You Make Your Home Feel Extra Cozy During The Winter? House Digest Survey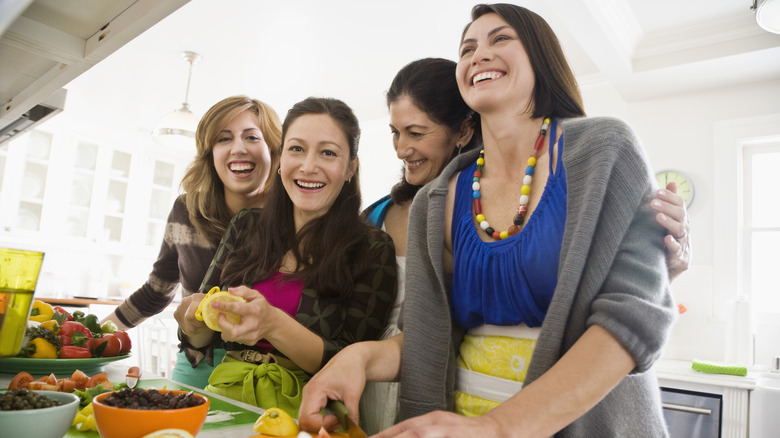 jupiterimages/Getty Images
Winter can be rather meh. Sure, we get to celebrate the holidays, and for some, there's skiing, skating, and sledding. But even those who love winter need to take a break from the sleet, slush, and icy temperatures that affect most of the northern hemisphere from December to March. For some, shorter daylight hours lead to the winter blues. Meanwhile, others are affected by seasonal affective disorder, or SAD, which the Cleveland Clinic describes as a form of depression triggered by the change of seasons.
Fortunately, we humans are a resilient bunch and have learned to treat ourselves by adding elements of comfort that exude warmth and light during the gloomiest period of the year. The Danish have a concept for this called hygge — it's pronounced "hooga" — which is, more or less, a self-created feeling or a mood, according to Denmark.dk. The earliest use of the word in the Middle Ages meant "safe from the outside world." Modern usage reflects this idea not so much as a place, but rather as an experience — shutting out the rest of the world and spending quality time with family or close friends.
Now, hygge doesn't automatically refer to winter activities; time at the beach might qualify as well. It's a flexible concept. In fact, over the past few years, the word/feeling has turned into an interior design trend that centers on creating comforting interiors. So, let's talk about the coziness factor and how people prefer to achieve it.
Layers of warmth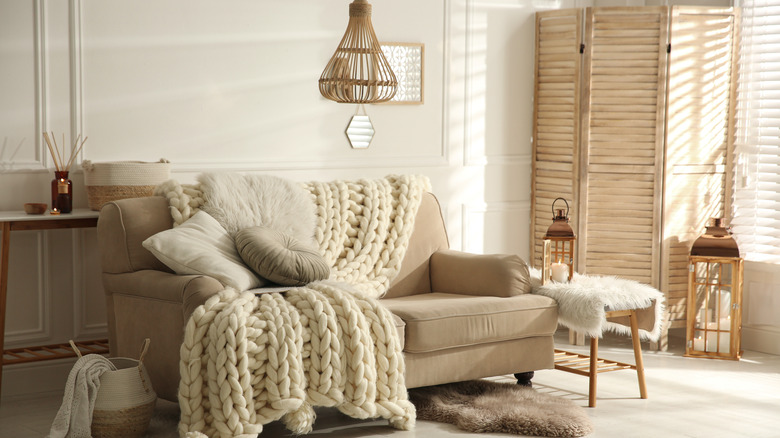 New Africa/Shutterstock
House Digest polled more than 600 people, asking what they do to make their homes feel extra cozy during winter. The top response, chosen by 38% of all respondents, is using throw pillows and blankets to warm up their rooms. Indeed, this is a quick, easy solution loved by professional decorators, homeowners, and apartment dwellers alike. Much like designers measure a number of factors when picking the perfect shade of paint, the choice of color is probably the most important element here.
Say you're starting with a neutral room in white and beige or gray. Adding zippy citrus colors, like yellow, lime green, or pink grapefruit, will liven up the space. You could go with hot tropical colors, like fuchsia and turquoise, instead, or forest colors, vibrant greens, and browns. A palette generator like Coolors.co or a trip to a paint store for sample cards can help in your decision-making.
If that's too much color for you, keep your colors all in the same family and leverage texture to create a cozy environment. While silk and satin are luxurious, even opulent, higher on the comfort factor is anything knitted or nubby, and anything with a woven look or faux fur will instantly warm up any room. The New York Post recently rated its top 10 faux fur blankets. The choices included something for every budget and a variety of colors. Using colors and textures to create an inviting space is the definition of interior hygge.
Lights, candles, and teddy bears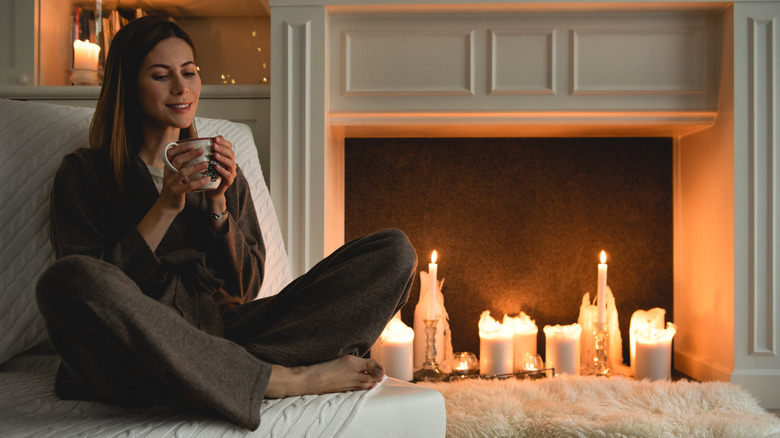 Jolieq /Getty Images
The second biggest feature, chosen by 24.5% of respondents, indicated using a fireplace. If you have a built-in hearth, great. But for those who don't, purchase an electric or LED version or even dedicate part of a room to such a look (via Fireplace Tips). Themes of warmth and light continued in the survey, with 14.6% of voters indicating warm lighting is their go-to. This can get a little tricky since there are so many available options. Bliss Lights offers a great explanation of how to bring warm lighting into your spaces, from bedrooms to great rooms.
Coming in third was candlelight, with 11.6% of the voters saying they use candles to create a lovely, comfortable space. Remember to think about not only their soft glow but also their mood-enhancing fragrance. Meanwhile, 5.5% of respondents enjoy adding plush rugs to interior spaces. This makes good sense, especially if you're adding fuzzy throw rugs onto tile kitchen or bathroom floors, or otherwise adding color and texture to your room by decorating with rugs.
Finally, 5.4% of people said sentimental décor helps create a feeling of coziness. Whether it's a lit menorah, a Christmas tree, or stuffed teddy bears in snowflake sweaters, this is a personal choice, and whatever you use, it should make you and your family feel happier and warmer during a bleak winter evening.