Joanna Gaines' Game-Changing Tip For Choosing An Entryway Paint Color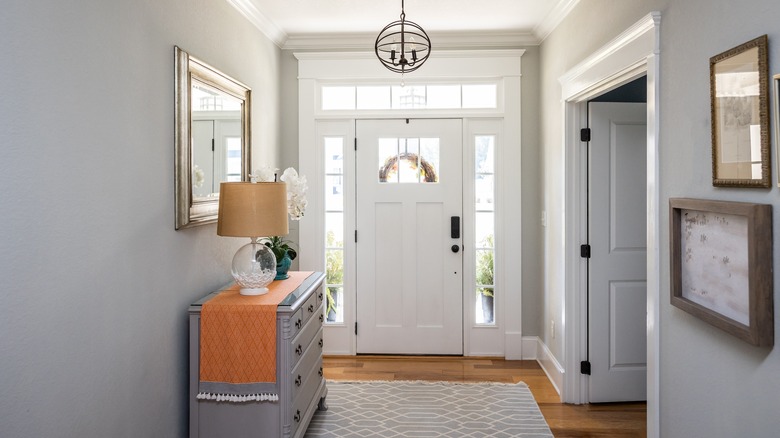 Ursula Page/Shutterstock
When you move into a new home, everything is exciting. You start imagining what furniture, paint colors, and decorations you'll use in the space. One of the most important decisions is what color you'll paint the entryway. This room is the first thing guests see when they arrive, so it should make a great first impression. Co-owner of Magnolia Network Joanna Gaines provides a game-changing tip for choosing the right paint color for the foyer when she says, "You need to think about what feeling you want people to experience when they come inside," per Homes & Gardens. This will help you decide between creating an airy feel with a light color or a softer, warmer feel with a darker color.
The great thing about entryways is that they're smaller than other rooms, so if you want to change the color, you can easily do so. No matter what color you choose, Gaines recommends trying various designs when decorating the foyer. "I really want to challenge people to experiment and have fun," she says. "Experiment in these smaller spaces first." You have room to step outside your comfort zone and try something different.
Go lighter for a calming environment
Most interior designers will advise that entryways be painted with light or neutral colors for an airier and brighter look. HGTV's Joanna Gaines suggests using lighter colors if "you're aiming for a nice inhale/exhale moment" (via Homes & Gardens). For example, paint the walls white and style with a wooden bench, a coat hanger, and a long rug. Using minimal furniture will prevent clutter and make the foyer feel airier.
On the other hand, the entryway doesn't have to be decorated with solely neutral tones. Adding pops of color through the decorations will highlight specific areas of the small space and help you be more experimental. For example, cool tones such as sage green or cerulean blue can elevate an entrance with white-painted walls and wood furniture. Blue tones warm the space, while green gives a calming feel. Warmer colors like yellow and orange also make perfect accent colors in an entryway. Decorate your bench with orange pillows or hang art with yellow hues.
Windows are fantastic for filling any space with tons of natural light. For entryways without natural lighting, professional design experts suggest hanging mirrors on the wall to reflect light from the fixtures, which will illuminate the small space. In addition, install a light fixture with a dimmer feature to adjust the light throughout the day.
Dark tones elongate small entryways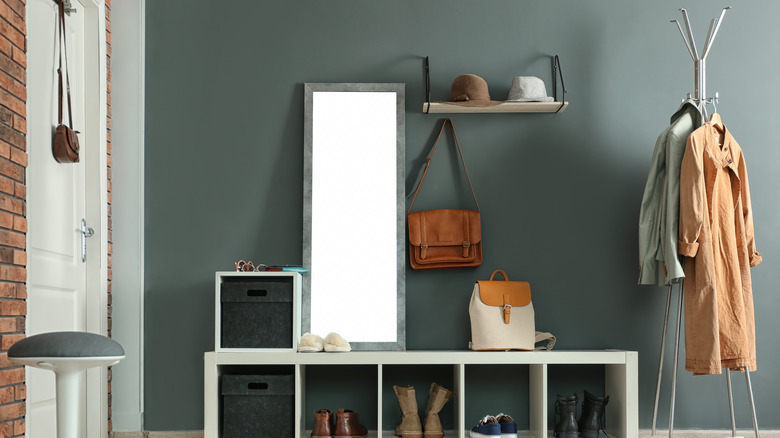 New Africa/Shutterstock
Anyone who walks into a dark entryway notices it right away, since the color is quite a risk. People pay more attention to bold surroundings, as dark halls capture the attention and make guests feel like they're elsewhere. "When you step into a darker entryway, you feel like you're encapsulated in the space," says Joanna Gaines, per Homes & Gardens. "It feels like a warm embrace."
Using deeper tones can be tricky, but you can mix and match dark colors with brighter hues. For example, pair black walls with wooden accents for an elegant look. Or, mix maroon with light gray or white for a seamless contrast. You might think that painting your entryway with darker colors will make your space tighter, but it can actually expand it to feel longer, especially for narrow halls. If your foyer connects to the living room, design the living room with vibrant tones so that the entryway leads to a brightly-lit space. 
If you enjoy neutral tones but want a moodier entryway, opt for dark neutral colors like deep beige or brown. They're ideal for adding depth to a small space. Dig deep into the palette by matching the brown walls with wooden features like flooring, furniture, picture frames, or shelves.