Make Artificial Flowers Look Real With Joanna Gaines' Top Arranging Tips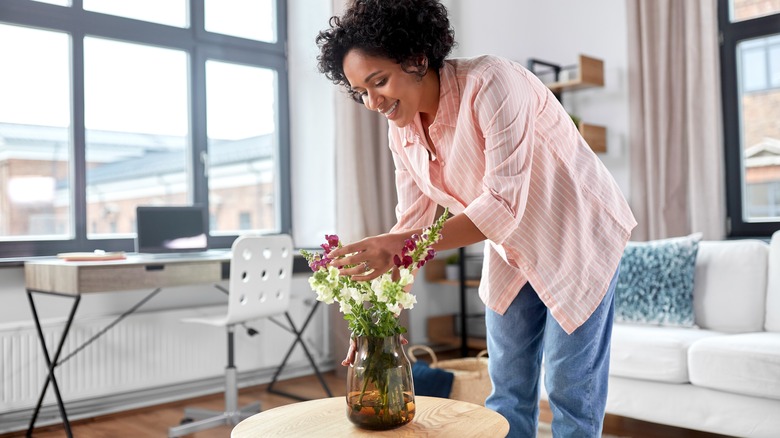 Ground Picture/Shutterstock
Joanna Gaines is a trusted source when it comes to the essentials of home styling. In one YouTube video, she gives some of her best tips and tricks for arranging artificial stems to make them look real. She has always been an advocate for artificial flowers, especially for those with limited time on their hands. In fact, she even sells bouquets of them on her website, Magnolia Market. For her, it's all about choosing quality blooms and treating them like real ones.
She starts by sharing two perks of using artificial flowers, which are that they are low maintenance and allow you to have any kind of floral you want, regardless of if it's in season or not. Using a selection of white flowers with large, thick stems, she puts only a few in each vase to act as centerpieces. "I love how easy it is to create a stunning arrangement with just a few pieces without blowing your budget," she says.
More on making your artificial flowers look real
Her first trick concerns the flower choice. Start by choosing the right flowers by ensuring they closely resemble real ones with their textures and colors. Eternity flowers are an ideal option, as they're a worthwhile investment. Joanna Gaines recommends getting a pack of all of the same kind of blooms and stems because they'll look more realistic than a mix of different ones.
Next, prepare them for the vase by trimming the stems so that they fit properly. "I like to bend the wire where I think I'll cut and then place it in the vase to double-check before trimming," she explains in the YouTube video. After placing the flowers in the vase, fluff out the branches so they don't look stiff, and then add water just like you would with real flowers. "Just make sure you change it out every so often to keep it fresh and clear," Gaines advises. Instead of water, you could also try a TikTok faux flower vase hack, which says to add clear glue for a more permanent solution.