The Renter-Friendly Hack For Updating Your Tile Flooring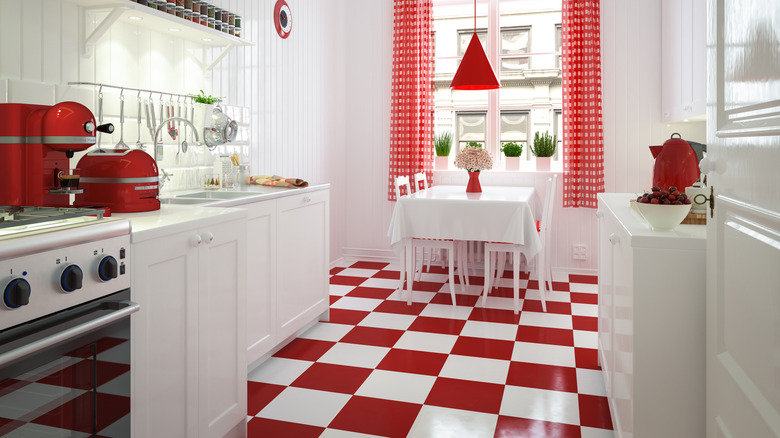 Bulgac/Getty Images
Renovating your rental is intimidating. You don't want to anger your landlord, but you want to live in a space that fits your aesthetic. Part of having your dream home is beautiful flooring. Fortunately, there is a renter and budget-friendly way to give your floors an upgrade.
You need peel-and-stick tiles to change that old ceramic that makes you want to move out. This decorative flooring is known for leaving a sticky residue behind when you're ready to remove them. However, creating a barrier between the sticky tile and the original flooring lends to a pain-free revamp — and that is where vinyl tape comes in.
Use this tape to avoid leaving remnants of the DIY flooring and losing your security deposit. Painters, masking, and electrical tape will leave sticky debris if left for a long time or exposed to high heat. However, vinyl won't. Along with the tape and tile, you'll need grout, tile spacers, parchment paper, a grout float, and a microfiber sponge to complete this no-demo-reno.
Place vinyl tape under peel-and-stick tiles
Here's how to change your floor in a flash with peel-and-stick tiles. To start, sweep the existing flooring and cover it with vinyl tape in slightly overlapping strips. This tape is the key to a renter-friendly DIY upgrade. Next, map your design on the floor with the peel-and-stick tiles. Don't remove the backing and adhere it to the ground just yet. You want to ensure you have enough tiles and the pattern is just right before securing everything.
Herringbone, chevron, brick, and stacked layouts are popular styles for tiling. Use the spacers to keep each piece evenly spaced. You'll need parchment paper to get the pesky corners that require tile cutting, like around beams or counters. Lay the paper on the floor and trace the abstract area. You can configure the tile needed for this remote corner with the outline and cut it to fit.
Once the draft is approved, it's time to peel and stick. Start with the center tile and work your way out. After everything is laid, seal the tile with grout. For this step, you'll smooth the grout into the gaps and wipe off the excess with a sponge. Let it dry, and you have spectacular renter-friendly floors that you can brag about and say you did yourself.