Why Real Estate Agents Caution Against Open Shelving In Your Kitchen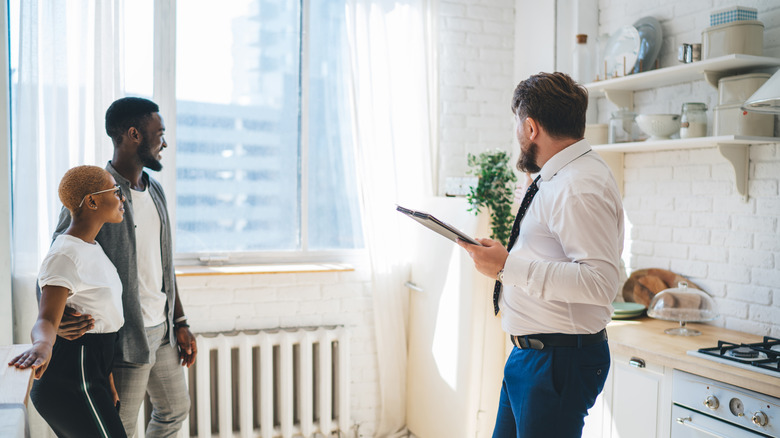 GaudiLab/Shutterstock
If you're thinking about remodeling your kitchen to boost your home's resale value, you may be drawn to the idea of modern open shelving. However, many real estate agents caution against open shelves because every prospective buyer has a few skeletons in their closets — or rather, their cupboards. Further, while they may lend a sleek and spacious look, most people find open shelving to be a little intimidating, especially when it comes to cleaning and displaying their dishware. "Many homeowners that see [open shelving] in new construction question how to use it long-term," real estate agent Maggie Richter told Apartment Therapy. "Cabinets with doors hide a multitude of sins!"
The open shelving trend may have been popular just a few years ago, but it didn't take us long to discover that open kitchen storage can be challenging to utilize. According to a report by Fixr, 53% of design experts now say that hidden storage is the next big trend, supporting consumers' desires for more functional kitchen spaces. Here's why open shelves may make your house more difficult to sell and what you can do if you have your heart set on this look. 
Open shelves scare clients with clutter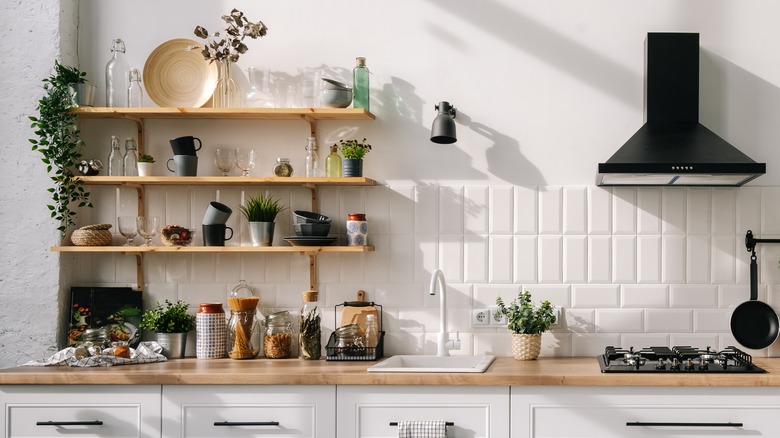 brizmaker/Shutterstock
One of the biggest downsides to open shelving is that it's not very practical for storing plates, bowls, and glasses. "Open shelving gives you less than half of the space that a closed cabinet would give you," realtor Ellen Sykes explained to Apartment Therapy. Open shelves require an immense amount of organization and cleanliness that can feel overwhelming to a potential buyer. Additionally, most buyers won't have a carefully curated collection of monochrome dishware. If you're like most people, your cabinets probably disguise a lot of mismatched mugs, kids' plastic cups, souvenir shot glasses, and cheap plates from your college dorm days — and these simply don't look good displayed on open shelves.  
Cupboards with doors won't just keep your mismatched items hidden, they'll also keep the dishes from collecting dust, spiderwebs, and even insects. In fact, kitchens are arguably the worst room to have open shelves in because cooking stirs up airborne grease that could cause dust in the air to stick to the shelves and displayed dishes. When buyers see open shelves, they're suddenly not just buying a kitchen, they're also committing to buying a brand new set of dishes and dusting three times a week.
Balance aesthetics and storage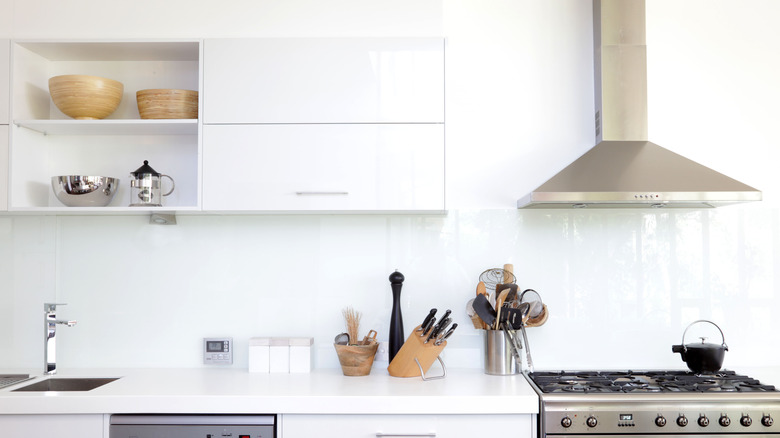 Bloodstone/Getty Images
While open shelving isn't a great idea for most standard kitchens, some rare exceptions could be ultra-modern homes, condos, and luxury apartments where buyers might expect to find more modern touches. Open shelving can work if you have an especially large kitchen with plenty of lower cabinet and pantry storage. "If you're interested in doing it, either for aesthetic reasons, because you like it, or you're trying to make your kitchen look a little more open, do a blend of closed cabinets and open shelves," advises real estate agent Michael Franco (via Apartment Therapy). When it comes to staging a home for sale that already has open shelving, aim for a utilitarian approach with minimalist white plates, clear glassware, and a fair amount of empty space.
Most people would prefer to keep their mismatched dishware behind closed doors, but they may have some vintage plates or handmade pottery they'd love to display. Having just a few open shelves in your kitchen is a great happy medium between functional storage and a totally open concept. Another alternative would be to add a glass panel to one or more of your cabinet doors, creating the same spacious feel but in a less permanent way.