How To Pick The Best Flooring For Your Porch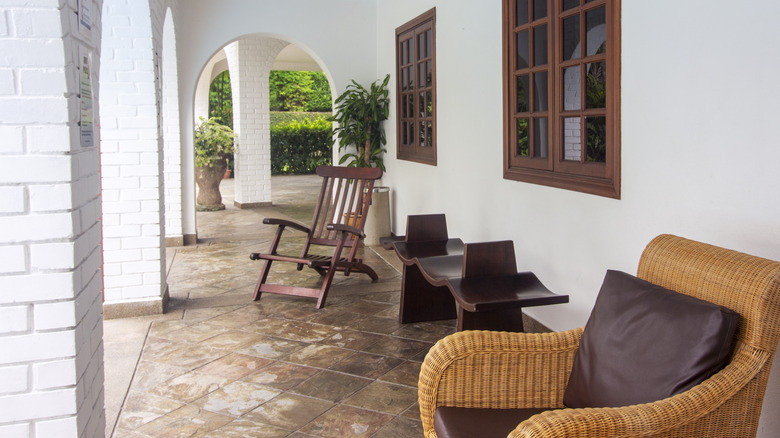 Gahsoon/Getty Images
Your porch is an extension of your home, a place that is typically attached to the structure but with either indirect or direct access to the elements. To pick the best flooring for your front porch, consider your budget and décor preferences, but also think about the elements. Not all materials can be used on a porch, but you don't have to stick with the traditional options of decking or concrete either. If you have a screened-in porch, you may have more flexibility in material selection, but this may still be an area with a higher moisture level and a less climate-controlled environment.
To pick the best flooring for your porch, consider the amount of maintenance you want to do daily and seasonally. You also want to think about safety. Some materials, for example, could be very slick, causing someone who approaches your home to be at a higher risk of falling. It's also necessary to be realistic about your budget. A custom-designed tile porch is certainly going to be a stunning option, but the cost is one that needs to be a factor. Think, too, about how you plan to use this space. Will it be a gathering place for friends or a space people walk through to get into the home?
With many options on the market, finding the best porch flooring may be easiest by considering several product options. Porch flooring can be the start of a transformation for your outdoor space.
Choosing a highly durable porch floor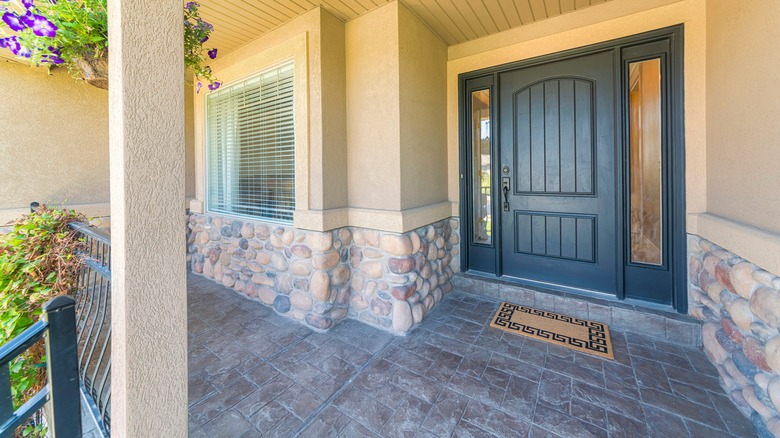 Jason Finn/Shutterstock
When you expect your porch to be exposed to the elements, with or without a covering over it, durability is a must for any flooring option. The elements will cause dirt and debris buildup that needs to be washed away. In this environment, one of the most reliable options is brick. It can be in various colors and placed in numerous patterns, and with professional placement, it can be a long-term, decade-lasting porch flooring option. An even more straightforward option may be to use a cement pad. It's likely to be the most basic option, though you can have it patterned, colored, and cut in a variety of styles to create a more aesthetically pleasing option. You can also choose to install a two-tone pattern, allowing for a border of a different color.
Concrete pavers are a blend of these two options, allowing you to create a durable surface with a more refined look. You can use other types of natural stone outdoors as well. Slate and travertine are elevated options, and while they are likely to cost more, they are durable options perfect for most outdoor environments.
It's possible to use other hard materials in this space, including ceramic and porcelain tile, especially for those porches with more protection, such as screened-in versions. Choose a thicker tile that can handle the likely heavier traffic and workload.
Wood and wood-like products work too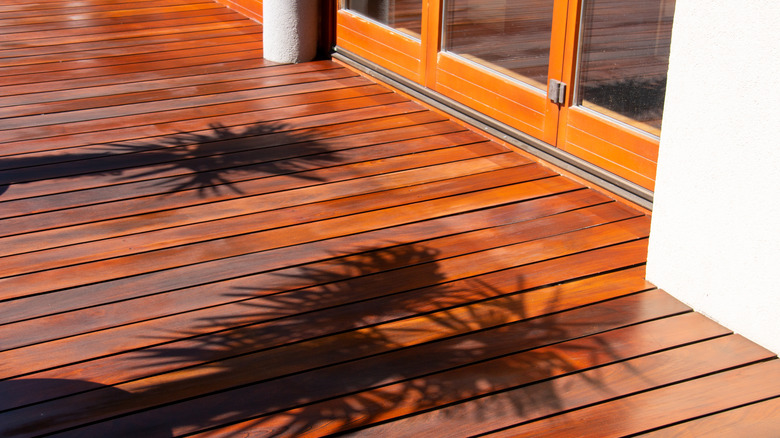 Radoslav Cajkovic/Getty Images
While stone is a hard substance that's durable, it's not the only option for porches. There's something quite rustic and charming about a wood deck-like structure leading up to a home, too. If you want wood planks for your porch, select wisely. They should be pressure-treated whenever possible to minimize the risk of pest infestations and rotting due to the weather. You have numerous wood species options to select from, including redwood, pine, and cedarwood, each with its own characteristics and charm. A Brazilian hardwood can add a rich wood grain, while cypress adds more of a softer tone. Wood allows you to stain or paint it just about any color, but it typically will need to be protected over time with additional staining and waterproofing.
For a wood look without the need to stain or update it, consider composite decking material. Select from products that fit the aesthetic you are using. This material is more expensive, but some products have a long lifespan meaning you are not likely to have to replace it any time soon.
Vinyl flooring and engineered wood are also options for those porches with more weather protection. Consider upgrading to a higher quality product, such as those with a warp-free design meant to be used outdoors. Be sure to check manufacturer recommendations for the use of any flooring material outside of your home, even on a closed-in porch.