The Rule Nate Berkus Lives By When Styling A Stone Fireplace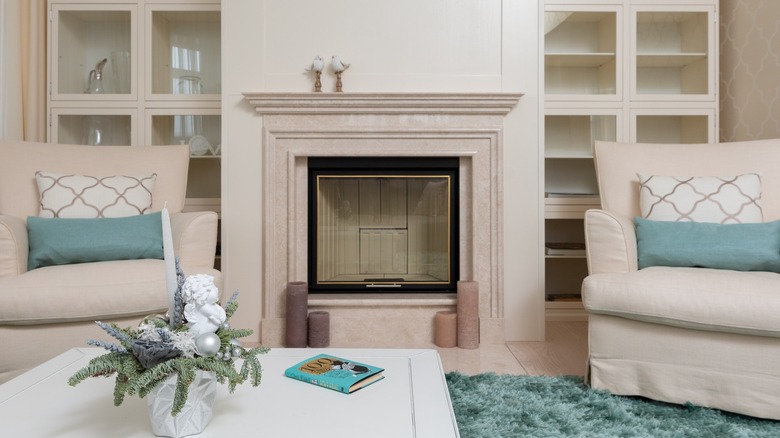 Ryan Mcvay/Getty Images
Fireplaces made of marble and other types of stone provide beautiful focal points in living spaces. Since they make a statement on their own with color and graining, there are times that just a few coordinating accents are all you need to decorate around them. In these instances, interior designer Nate Berkus practices what he preaches by employing a less is more philosophy.
"Less is often more — especially when you have a stone fireplace that steals the show," as noted by Berkus on his Facebook page. The photo he shares with his words-to-live-by message shows a handsome gray marble fireplace and mantle with intricate graining that's accessorized quite simply, and it works. Instead of an elaborate mantle display, he uses a small vase and decorative stone ball in neutral colors on one side of a black and white photograph and a pair of black bird statues on the other. These carefully chosen pieces all complement the extravagant fireplace without going overboard. Following this design philosophy could also help you reimagine your home on a budget, since you won't have to buy as many items. 
Decorating a stone fireplace with meaningful items
When choosing your less is more décor for a stone fireplace, you can draw on another ideal Nate Berkus takes to heart: living with things that tell a story instead of following trends. He exemplifies this on his Instagram, where he shares an image of a collection of vintage pottery sitting atop a black stone mantle with lots of white graining. The collected pottery pieces in tans and browns draw on the brick used to construct the actual fireplace, and because they're small and in simple shapes, they don't detract from the intricacy of the mantle. 
If you're not sure what to decorate your stone fireplace with, look around your home for decorative objects you've picked up in your travels or pull out something you inherited from your grandmother. If you don't have any of those items, think about scouring thrift shops or flea markets with a friend for items that speak to you. They can represent a character in a favorite story or a time period you find intriguing, and because you found them while shopping with a friend, you're building in another story to tell. Just remember to keep it to a minimum, and you too will have a perfectly curated stone fireplace.