Update Your Kitchen Without Breaking The Bank With Ty Pennington's Pro Tips
A kitchen remodel is one of the best ways to improve the look and feel of your entire home as well as increase its resale value. Unfortunately, it's also one of the most expensive remodeling projects to undertake. If only there were some easy and inexpensive updates that could make a big difference on a small budget. Well, it just so happens that mega TV rockstar and designer Ty Pennington has some tips to help you do exactly that.
Pennington has been a fan favorite designer and TV host ever since the groundbreaking shows "Trading Spaces" and "Extreme Makeover: Home Edition." Since then, he has steadily worked on various design and renovation shows as well as in the retail space with his own line of home decor. He knows his stuff, and his three tips for quickly and easily updating a kitchen involve countertops, cabinet hardware, and a tiled backsplash. Those might feel like some ambitious and expensive updates, but Pennington has the tips and tricks to get major changes done for minimal expense.
Spend the bulk of your budget on your countertop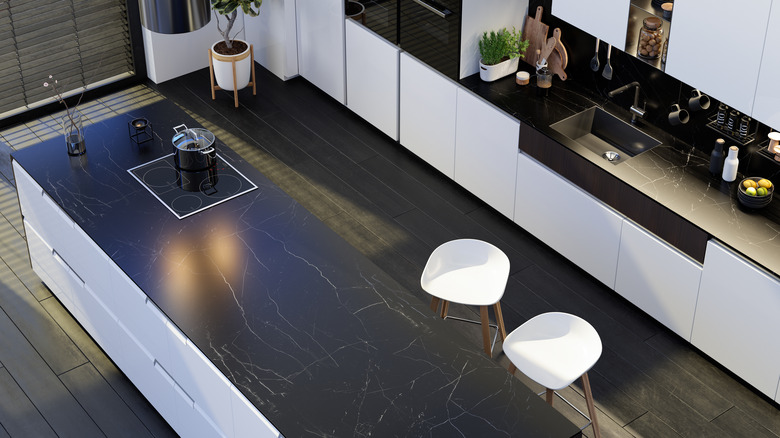 Onurdongel/Getty Images
Countertops can be expensive, but you shouldn't skimp on a cheap material that's going to get damaged or show stains, as this will have to be replaced. Instead, choose a higher-quality material that will last a decade or more. For the most durable and best look at a reasonable cost, Ty Pennington suggests a leathered granite finish. Leathered granite, which is also called brushed granite, is a softer texture than surfaces with a standard polished finish, as it has a matte surface instead of a glossy one. The matte finish hides smudges and stains as well as fingerprints, while the leathered finish closes the pores of the stone to make it easier to clean over other countertops.
The average cost for a new leathered granite countertop made from a single slab is about $3300 installed, but there are less expensive options of pre-formed and pre-cut sections. The trick is to research the options and retailers in your area to get something that fits your space perfectly, preferably with a promotional discount.
Cheat a high-end look with clever details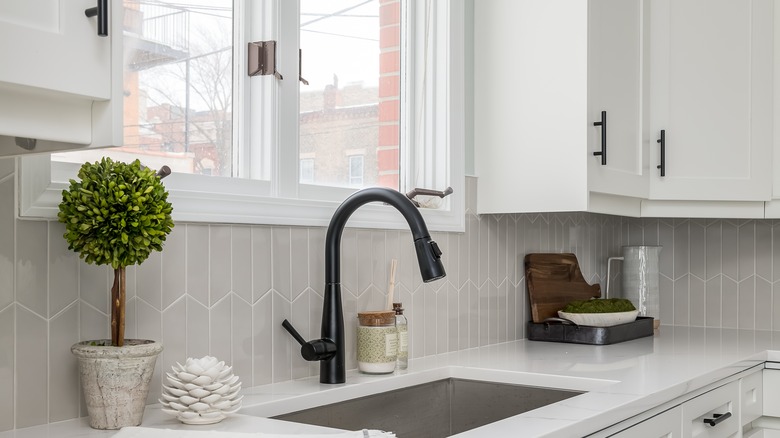 Fio Creative/Shutterstock
Replacing kitchen cabinets can cost a fortune. Avoid those expenses by simply replacing your door fronts, which can be completely changed out for a fraction of the cost. Ty Pennington recommends a classic look with simple lines and a neutral color, then going all out on the knobs and drawer pulls. Whether you go for a modern industrial look or a Victorian shabby chic appearance, your hardware can completely overhaul the style of your kitchen. And the beauty is, you can easily change these any time you want and go from mid-century modern to maximalist in a matter of hours.
The other top trick Pennington uses for a quick kitchen overhaul is magnetic subway tiles. Used as a backsplash, the subway tiles can be rearranged in whatever pattern suits you, and they can be switched out for a new color or pattern any time. Once you install the metal backing, you can have various new backsplash looks forever, no grout required. Make a color block design, a chevron pattern, or whatever else fits your personality. These items are versatile and stylish without being expensive or requiring a long, difficult project to get them installed, allowing you to revamp the look of your kitchen with ease.