Jasmine Roth's Clever Crate Wall Is The Perfect Bedroom Storage System
Storage, especially in spaces like nurseries and kids' rooms, can often be in short supply. HGTV star Jasmine Roth recently presented a fun, vintage-style storage DIY project that is as beautiful as it is functional for her nursery. However, this DIY would also be a great way to make any bedroom feel more personal. By building a shelving unit on a blank wall with vintage produce crates, Roth creates a perfect spot for books, plants, and other decorative accents. It's also a great place to easily and securely stash anything a new mother might need, including diapers, blankets, toiletries, and toys. 
What's great about this project is that it's completely scalable and customizable, as you can incorporate as much wall space and as many crates as you desire. It is also a far safer alternative to bulky and heavy bookshelves that may topple over. Each crate is fastened firmly and securely to the wall on its own. While Roth's shelving unit goes all the way to the floor, you could also use it as a way to free up floor space to make a room look larger.
Creating shelves from wood crates
Jasmine Roth began her wall shelf project by gathering a large amount of vintage fruit crates, which can often be found at thrift stores and flea markets. You can also purchase brand-new ones, if desired. With a light coat of stain or paint, you could make new ones look aged, which would suit those who adore a vintage style. Because Roth's crates were older and not intended for a nursery, she began by power washing, sanding, and adding a clear coat. This not only cleaned the surface, but it also prepared them for installation on the wall.
Before you start hanging, it's important to make sure you like how the crates are arranged. Because of this, determine the size of your crate arrangement, then tape off an area on the floor with those measurements and try out different configurations inside it. Once you've found something you like, start at the bottom and attach the crates to the wall at the studs with large screws and a screw gun. Building upward, alternate the positioning and orientation of the crates for texture and variation. When you've reached the desired height, you can add your useful items and decorations to the shelves.
Benefits of these crate wall shelves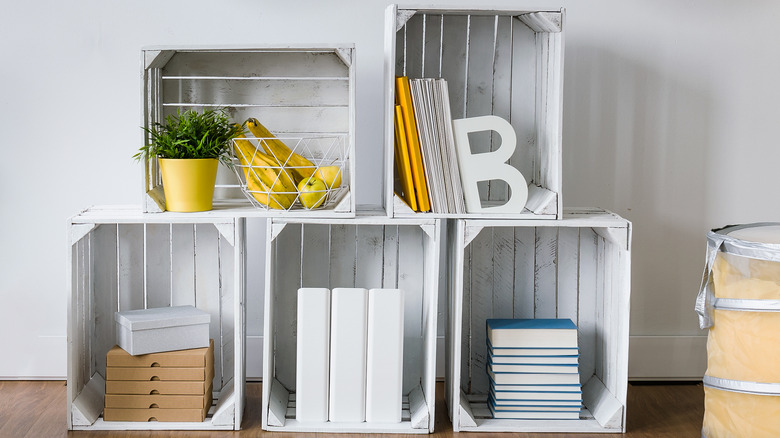 Ground Picture/Shutterstock
These wall shelves function not only for valuable bedroom storage but can also become artwork themselves. Jasmine Roth advises not to worry about imperfections or irregularities found among the vintage crates, as these will only add texture and a sense of motion when they are attached to the wall. You can create simple shapes like conventional bookshelves or work with angles and asymmetry to create a unique wall sculpture. If desired, you could follow in Roth's footsteps and place a mirror or a piece of art in the middle of the crates as well. 
These shelves are perfect for adding a rustic element to cottage and farmhouse-style rooms. While you can sand and cover your crates in a desired natural finish, you can also paint them whatever color works with your space. The vintage feel of the crates is a perfect match to balance out any more contemporary details in the room and could instill a great sense of the past. The placement of the crates vertically and horizontally will also create small nooks that are perfect for highlighting and storing smaller items.