The One Reason HGTV's Drew Scott Avoids Pot Hangers In The Kitchen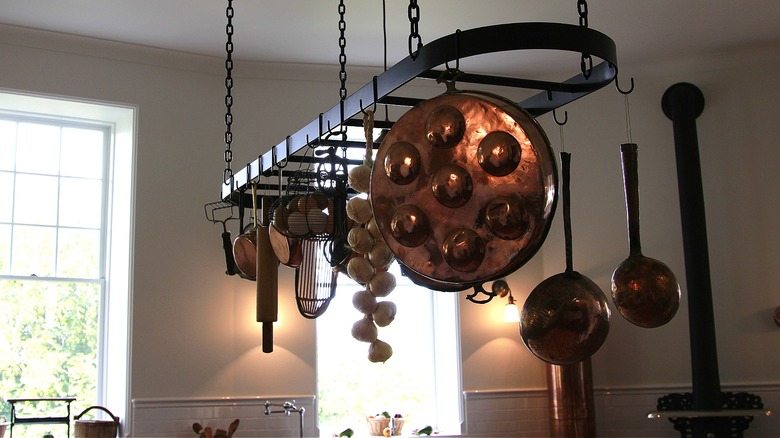 Steve_King_Artistry/Shutterstock
If you're like many people, you have a pot cabinet in your kitchen that's a jumbled mess of lids and pans. It could be one of the most frustrating spaces you have when it comes to putting items away. Your solution to this common organizational problem may be to use a pot hanger, one that allows you to hang your beautiful pots and pans from a ceiling- or cabinet-level height and keeps them within reach. However, HGTV's Drew Scott warns against this idea. His reason? Headspace.
Scott's opinion on pot hangers was made clear in Season 1, Episode 2 of "Property Brothers: Forever Home." While pot hangers can certainly solve many storage dilemmas in the kitchen, they also can create a big problem for headspace. The hangers can easily get in the way when hung above the stove or countertop, and if your solution is to move them higher, this could quickly prove too high to be feasible. This said, hanging pots high from the ceiling may be a good option if you're using decorative pans only; those you'll likely never reach for to actually cook with — or, at least, not do so very often.
Better storage options for pots and pans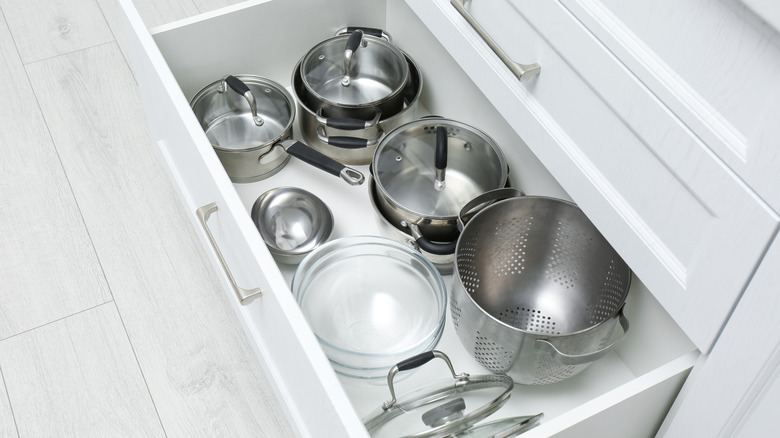 New Africa/Shutterstock
Finding a better storage solution is ideal, according to Drew Scott. Consider the specific layout of your kitchen and how you use that space to ensure you make the best use of it. For example, suppose you have baking sheets and longer pans. In that case, you can stack them on a shelf in the pantry, or if you're reconfiguring your kitchen, consider a pan organizer rack that slides into a cabinet, allowing you to store them on their end. This is also a great place for cutting board storage.
Check out the space under your stove, too. Some kitchen designs allow you to position a long cabinet under the stove that provides ample storage for bigger items. If you're going to comprehensively update your kitchen, make sure to choose cabinetry that fits your pot and pan needs. If that's not in the cards right now, look to add pull-out shelves from existing cabinets that allow you to make the best level of use of all of this space. You can even use deep drawers as a way to store pot lids (you can find lid storage options that work more like a file cabinet).
In a roomy kitchen, consider adding an island or a pantry specifically designed for pots and pans. This is a great way to get a bit of the visual benefit of seeing your pans without them being in your way.
What if you really want the aesthetic of a pot hanger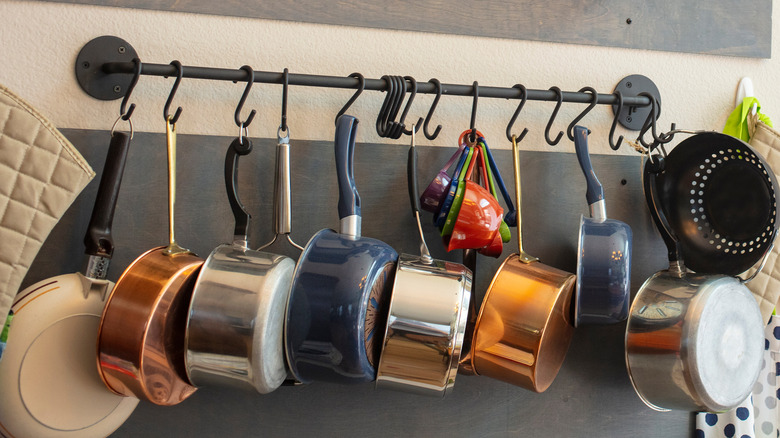 Malisa Nicolau/Shutterstock
Some people love pot hangers, not because they offer more storage but because they create a fun aesthetic. You may want the Julia Child-inspired kitchen, for example, that screams you love to cook. If so, there are a few ways to alter the pot-hanger theme to get generally the same feel without the head-banging risk Property Brother Drew Scott aims to avoid.
One option to organize your pots is to use a pegboard-like setup instead of hanging them. If you have an open wall area, such as one near the stove, you can hang up all of your copper and stainless steel pots to create a fabulous look. You can use a pot hanger with hooks that's designed to be flush up against a wall, too. Alternatively, you can incorporate some freestanding shelves on open walls and use them to stack your beautiful pots and pans so they're still visually present in the space but out of the way.
For those items that are just for décor, consider a pot hanger that's taller and beyond the height of those who work in your kitchen. In spaces where you have a high ceiling, this can work well and eliminate any headspace issues. Another option is to use a pot hanger that's in a different area where you don't generally walk, such as near a bank of cabinets you don't use or against a wall in a corner.