How To Get Emily Henderson's Crate & Barrel Kitchen Look On A Budget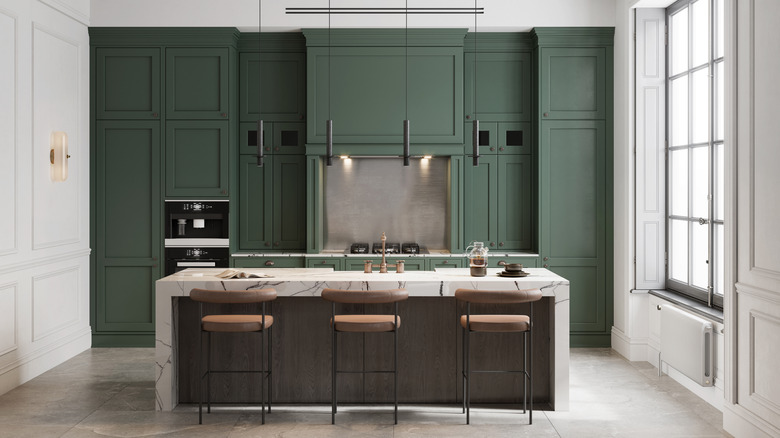 Alvarez/Getty Images
Everyone knows the kitchen is the heartbeat of the home. It's the room where families gather at the end of the day to share a meal, and it's arguably the most used room in the house. It makes sense that homeowners want to style their kitchens beautifully and in a way that represents their personal style. If you follow interior designer Emily Henderson, achieving her Crate & Barrel kitchen look is probably on your to-do list ... budget style. While Henderson used items from Crate & Barrel to stock this kitchen, you can find dupes on Amazon or at other wallet-friendly stores.
This kitchen has a lot of charm due to its contemporary and modern farmhouse blend. There are plenty of warm details found in the gold hardware and Rosemary cabinetry color from Sherwin-Williams, which receive a bright contrast from the marbled island and white backlash. For a playful touch, Henderson added soft pink wallpaper to the top quarter of the walls that features a white and green floral pattern, which ties the colors of the room together. Replicating this look is easy and can be done with a few tweaks for a fresh kitchen remodel DIY style.
Do the work yourself
Within this design, there were a lot of elements that Henderson kept original, including the cabinets and countertops. Replacing kitchen cabinets can be very costly, so the best way to save money and get a new look is to paint your cabinets yourself. This DIY project can take almost a full week, depending on how large your kitchen is and how many cabinets you have to paint, but the elbow grease is worth it to significantly reduce renovation costs. All you need to do is find a shade of green that resembles the Rosemary choice to give your kitchen a makeover.
To complement the new green cabinets, consider updating your kitchen's backsplash to a pattern identical to the vertical shiplap one in Henderson's kitchen, or paint your current backsplash white. The brightness of the white backsplash will contrast the green cabinets for a bright and airy element that lifts your kitchen. Installing a new backsplash tile is another easy DIY project that can be completed within a day, but for the same results with less work, painting the current tile white will do the trick.
Swap for similar items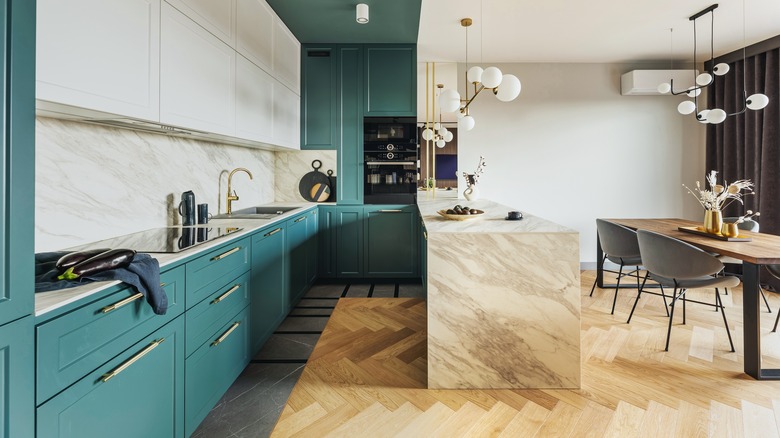 Followtheflow/Shutterstock
Now for the nitty-gritty: the furniture and kitchenware. Crate & Barrel is known for modern home furnishings and decor pieces that can be pricey for some homeowners' budgets, but luckily, there are stores that sell identical items for less. For furnishings and similar items, consider browsing Amazon, Walmart, or Target. These stores have home items that are extremely close in appearance to those you would find at Crate & Barrel without the same price tag.
To keep things as close to the original source as possible, look for items with the same color and materials, such as white or cream-colored Dutch ovens, light wood and white cushioned wishbone dining chairs, and stone flower vases. You'll notice that Henderson continued this color trend down to the kitchen utensils by finding ones with a wooden handle and a white top. As you shop, search for similar utensils with these features to complete your collection and follow her design.