HGTV's Jasmine Roth Reveals Her All-Time Favorite Types Of Countertops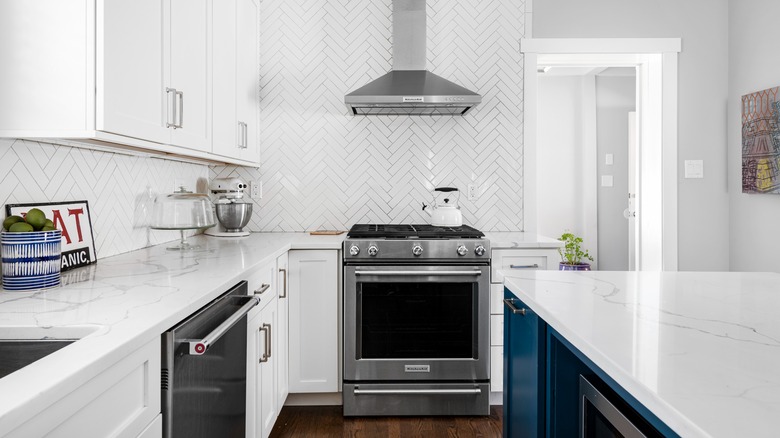 Fio Creative/Shutterstock
Jasmine Roth is known for skillfully fixing other people's kitchen makeover messes on HGTV's "Help! I Wrecked My House." So, when she mentions her favorite types of kitchen countertops, it's a cue to take notice and learn why one type should be selected over another, as this knowledge could help you avoid making a kitchen renovation mistake. What's her personal preference? She highly recommends porcelain, followed closely by quartz. Even marble gets an honorable mention, as well as a little helpful advice to keep it looking its best.
When it comes to her reasons for picking these countertops, Roth mentions that looking good is important from a design standpoint, but their durability and useability has to be a priority as well. "Kitchen countertops: they're SO crucial to the way a kitchen functions, but they're also a huge part of the design," she says via her website, Jasmine Roth. She also learns from her own mistakes, and that's where the advice about taking care of marble enters the picture. Find out more about the countertops Roth favors and why she often chooses one of these types for the kitchen renovations she oversees.
Top picks: porcelain and quartz countertops
The first suggestion Jasmine Roth makes for her favorite countertop choice is porcelain. While it might sound fragile, the latest iterations of this type of counter surface are now trending. They're also often way more durable than stone, according to Roth on her website. She particularly likes options that imitate Calcutta marble with graining printed on, as this will give you a high-end look at a low price. Roth suggests using this material for a self splash (continuing the counter surface material up the wall to form a backsplash) to add a sophisticated touch.
Roth also counts quartz as one of her tried and true countertop faves. She loves it for the beauty it adds to a kitchen, but also ranks it high for being a cost-conscious and durable option. Quartz comes in a variety of colors, and you can readily find options that imitate natural stone, especially marble. The bonus is that you can use it to surround kitchen islands too, for an amazing, coordinated look.
The runner-up: marble countertops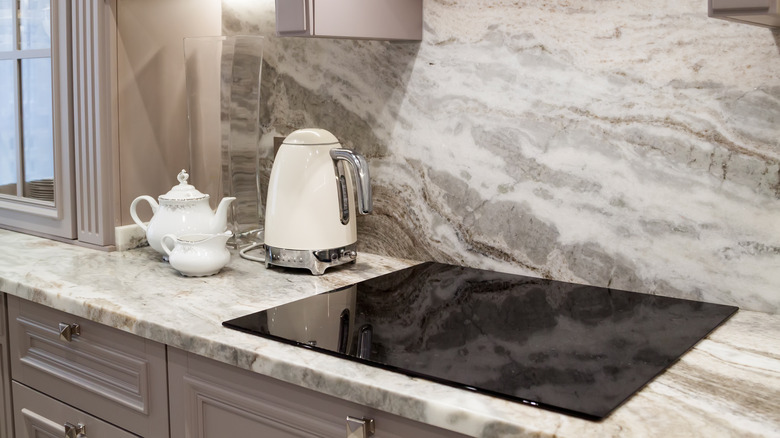 sommthink/Shutterstock
Since Jasmine Roth's first two picks offer options that imitate marble, it's not surprising that she also loves genuine marble for kitchen counters. She admires this material so much that she selected marble countertops for the first kitchen she built for herself. However, Roth and her husband learned very quickly that marble countertops are hard to keep pristine, even when you pamper them in every way possible. Even though they rank high for their overall durability and great looks, marble countertops scratch and stain very easily.
So, how can you live with marble countertops in a kitchen where drips and spills are a given? Roth has the answer for you. On her website, she suggests hiring a stone pro to apply a UV treatment to seal your marble. If you get this done right after the stone is installed, you'll continue to love the look for years to come. However, if marble just sounds like it's too high-maintenance for your busy kitchen, you can explore porcelain and quartz options instead.