The Boozy Beverage That'll Make Your Home Smell Better Than Ever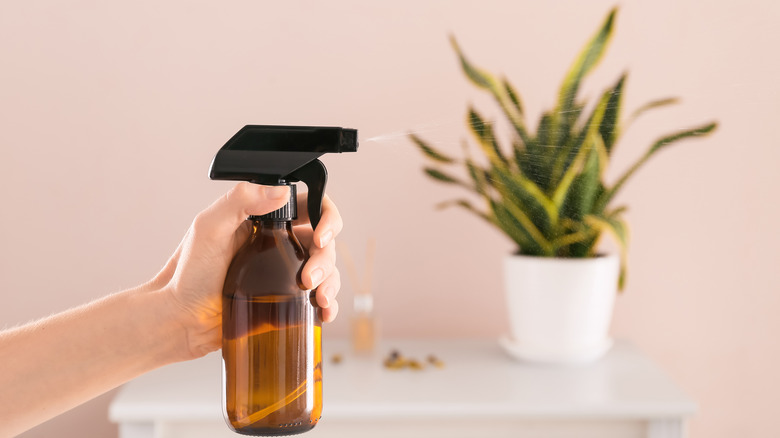 Pixel-Shot/Shutterstock
Everyone wants their home to smell fresh and clean, but sometimes it just doesn't work out that way. Whether you've been cooking a strongly fragranced meal, have plenty of pets that like to leave surprises for you, or live in an older house that's prone to smelling musty, odors are commonplace. However, if you want to get rid of these smells, bypass the traditional room sprays and look to an alcohol cabinet staple instead — whiskey. Yes, the classic booze has a surprising number of benefits, including one of these benefits being a natural air freshener.
Of course, there are plenty of candles, actual air fresheners, and diffusers on the market that can do the same thing. But, as this odor-eliminating trick involves something most people have in their alcohol cabinet, it may actually prevent you from needing to buy an extra product. Here's everything you should know about pulling out a whiskey bottle next time you sniff something unpleasant in your home.
Just a few drops can help a room instantly smell better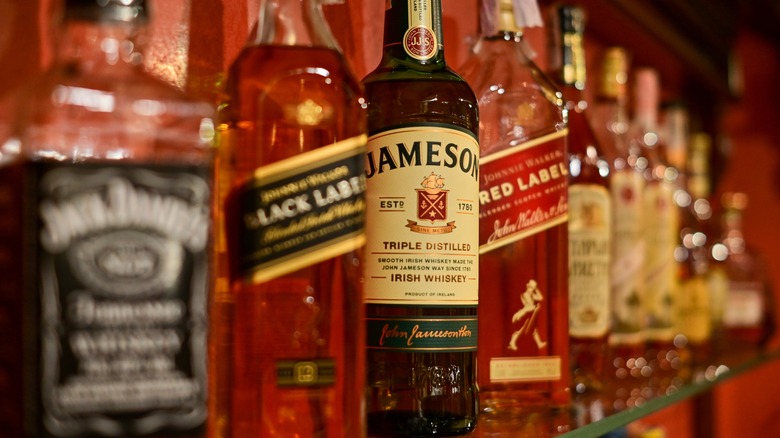 Andrii_Lomovskii/Shutterstock
A super easy way to make your home smell good, you only need two ingredients for this DIY room spray — whiskey and water. To freshen your room in minutes, simply dilute some whiskey with water and shake the two ingredients together in a spray bottle. Then, spritz in the areas you want to smell fresher. That's it! The key here is to not put too much whiskey in the mix, as this will only leave your house smelling like a distillery instead of nice and fresh. 
If in doubt, spray in an area that isn't used as much or that's near a window. That way if you find the scent unpleasant or overwhelming, it will dissipate faster, especially if your whiskey and water mix is too strong. This will allow you to trial and error the combo and adjust it to your liking.
Though using whiskey as room spray sounds a little strange on the surface, the reason it works is that it's a natural disinfectant due to its high alcohol content. This property can help eliminate nasty odors to leave a room smelling clean. Plus, whiskey is a super on-trend fragrance right now. If you want to add a little complexity to the mix, drop in a few drops of cinnamon or clove essential oil to bring out the whiskey's warm notes.