The Garden-Building Space You've Likely Not Thought Of Using Before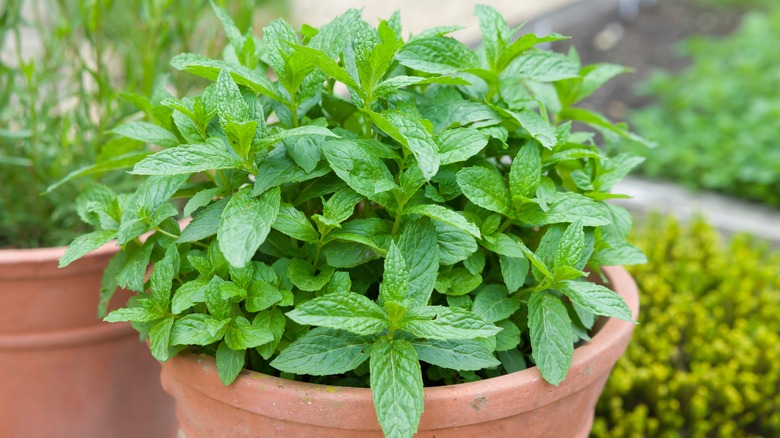 Paul Maguire/Shutterstock
Do you wish you could grow a container garden in your backyard or on your porch but don't have enough room? A lack of space can limit many people from engaging in gardening, but you don't have to tear up your lawn or dedicate your limited patio space to growing all your plants. Instead, place your containers on a portion of your driveway. A driveway garden is a viable solution that is as versatile and functional as you need it to be. Additionally, it's often flexible enough to take down, move around, and accommodate any of your needs.
Planting a driveway garden offers several advantages, especially if you don't use all of your space for vehicles. Not only can you turn this into a space that allows you to grow organic vegetables to save money at the grocery store, but you'll also be adding a beautiful, rather easy-to-care-for element to your landscape that makes a good first impression. Driveways often look boring and dull, but with a few container planters and flowering plants, you can easily transform the space into an aesthetically pleasing and productive property component. More so, since you're using containers for your garden-building project, you don't have to do as much weeding and hands-on work throughout the season. The key to success is carefully choosing the right area of your driveway, then selecting easy-to-grow herbs and vegetables that you're confident you can grow.
How to set up your driveway garden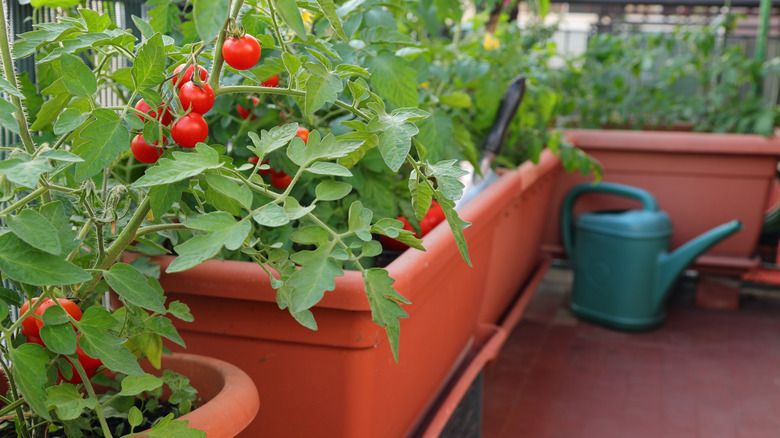 Chiccododifc/Getty Images
Your driveway needs to be accessible and safe, which means you don't want to simply put a few plants in the way of the garage door and hope for the best. Any planters or containers you use will be much heavier once there are large, growing plants in them with wet soil. For that reason, create a driveway garden plan before planting, one that allows you to keep the most important spaces free for your current needs. For example, you could line the sides of the driveway with a few pots or dedicate an unused quadrant in the sun to a few rows of raised beds. 
Another idea is to place the beds in the center of a wide driveway, between where cars normally park. Or, if you have a grassy space along the sides of the pavement, you could place your vegetables and other plants right in the ground. As you consider your options, also think about the amount of space you will lose for the longer-term use of your driveway. You'll need to be able to water this area, keep it clean and free from critters, and properly care for all of your plants. You also want to ensure that your garden doesn't block your view, which would create a dangerous situation for cars.
Caring for your driveway garden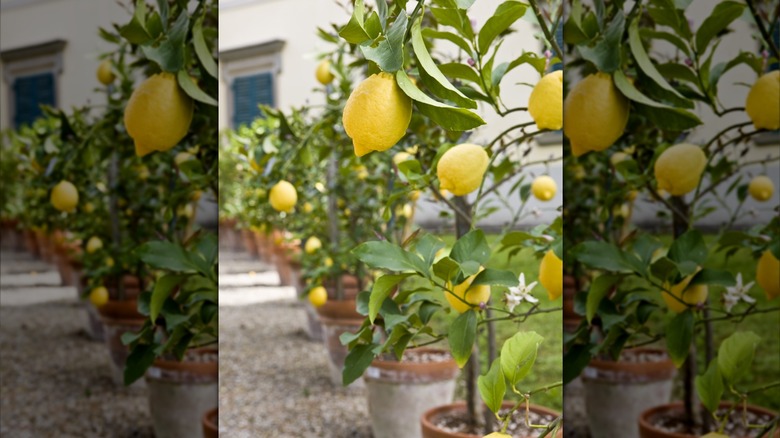 Scoutgirl/Getty Images
When choosing the right raised bed containers, ensure that they have good drainage and enough depth for the type of plants you hope to grow. With deep enough containers, you could grow more than just vegetables but could also plant larger shrubs, rose bushes, ferns, and smaller fruit trees. The key is knowing what grows well in your area and basing your choices on the amount of sunlight your driveway gets. 
Also remember that your plants will attract deer, rabbits, and other animals to the area, so you may want to consider erecting some type of barrier or fencing around the garden. Set up the space as you would any other garden, with access to a hose and an easy walk-through path so you can pick your favorite flowers or vegetables. Then, give them support with nutrient-based soil that's not too clay-heavy, since that can limit root growth and spread. 
Trim, maintain, and weed your driveway garden as it begins to flourish. These areas can become overrun with stray leaves and even grass if you don't keep them weeded well. However, with just a few minutes of plucking and cleaning away debris, it's rather easy to keep containers beautiful and functional. At the end of the season, remove all annuals, and if you plan to use the space again, consider planting some bulbs for the spring. Otherwise, keep the soil dry and clear of debris until you're ready to plant some new items next spring.