15 Inspiring Driveway Entrance Ideas To Make A Good First Impression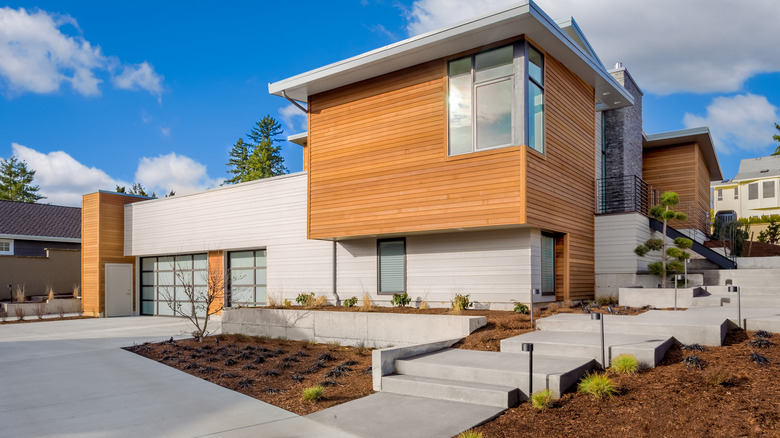 Breadmaker/Shutterstock
Aside from curb appeal, a driveway is a nonverbal welcome to guests that visit your home. It showcases your own personal style, personality, and so many other things about the home you live in. A well-paved and decorated driveway can also increase your home value, something that could be of interest if you are looking to sell your home eventually. According to California Paver Pros, an old driveway with cracked concrete can affect its functionality of supporting cars and foot traffic, which, if neglected, can cost more than you had budgeted for renovations.
Whether you are looking to upgrade your existing driveway, or completely remodel it for looks, functionality, and design we've got some ideas that may help get those creative juices flowing. If you have a limited budget, are great at DIY, or the sky is the limit, check out these inspiring driveway entrance ideas to make a good first impression.
Chic gate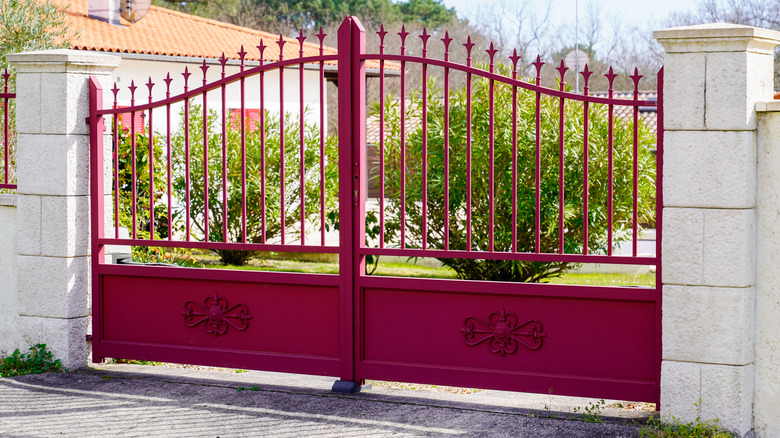 sylv1rob1/Shutterstock
A gorgeous gate that matches your personal home style is a great way to invite guests into your home. You can incorporate a simple design, or even do something custom for serious grandeur.
Flower entrance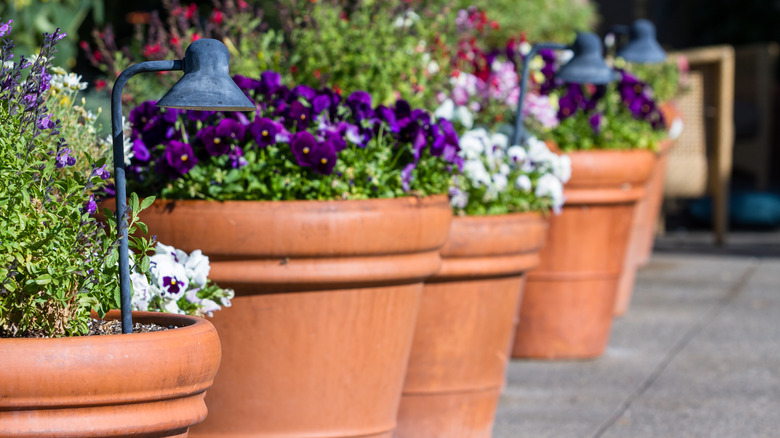 Nature's Charm/Shutterstock
For the inner gardeners, an entrance that is led by flowers is not only beautiful, but adds color, beauty, and even a sweet scent to an otherwise traditional driveway. Roses make a great entrance flower, while flowers like marigolds in October would be a great way to change it up for the seasons.
Cobblestone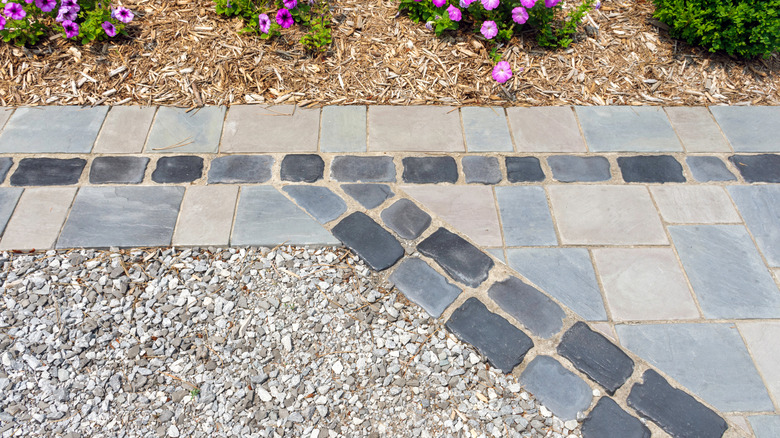 Joanne Dale/Shutterstock
Opt to leave the driveway as-is and focus on the ground. A cobblestone driveway gives an English nod in design and layout while making an impression. Choose various colors to add dimension, or go with a monochromatic look to keep it simple.
Lighted pathway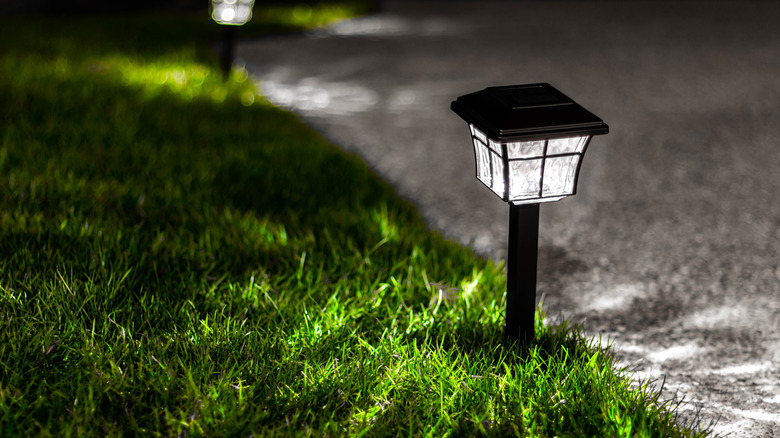 Russell L. Robinson/Shutterstock
Lead the way to the home with pretty lights. There are so many options out there, from solar-powered to motion censored, lanterns to faux candles. Some designs can also be matched to your outdoor furniture.
Trimmed shrubs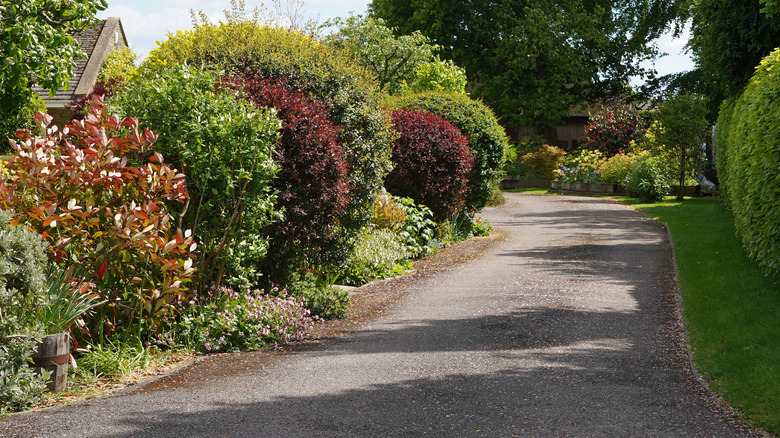 1000 Words/Shutterstock
Keep it clean and simple with a row of trimmed shrubs leading up to the house. Easy to maintain and beautifully simplistic, without looking presumptuous or trying too hard.
Decorated mailbox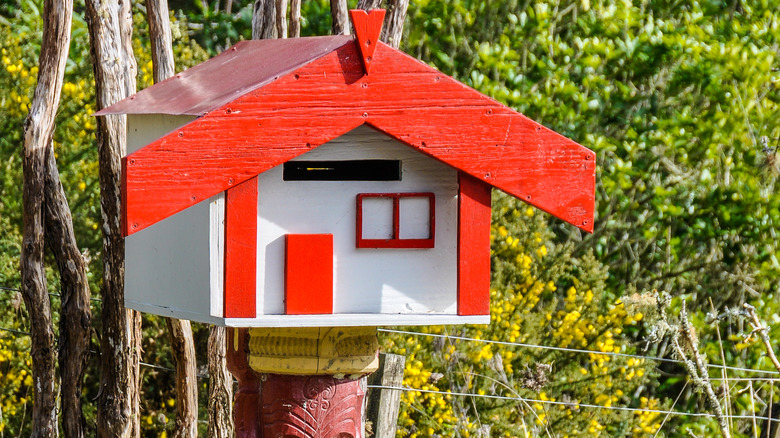 Gabor Kovacs Photography/Shutterstock
We love a decorated mailbox as the driveway entrance because it can showcase so much of the family that lives there. Build a fairy garden on the bottom if there are little kiddos, or paint the mailbox a bright color to offset the rest of the driveway.
Address signage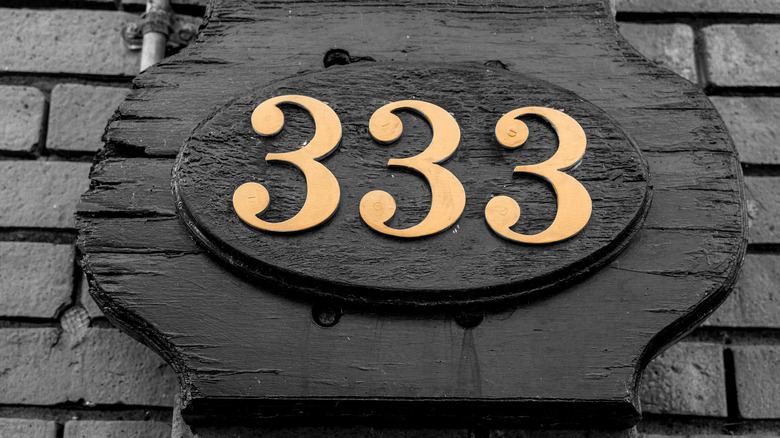 Michael Warwick/Shutterstock
For those that want to display the address and even the family name to make sure that guests know where to park, an address sign as a driveway decor idea is great. Perfect for those that live in a home a bit hidden or tough to find.
Zen entrance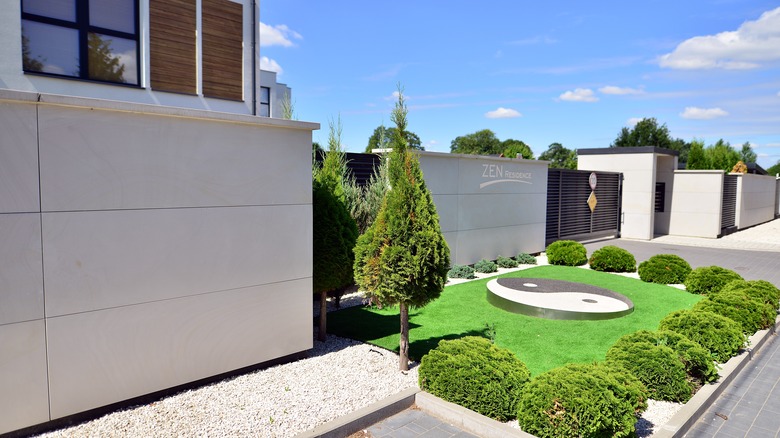 Grand Warszawski/Shutterstock
Bring a sense of calm with a Zen-like entrance. Decorate both sides of the driveway with small pebbles or sand for a neutral and clean look. Keep in mind that this one is a bit more challenging to maintain, due to elements like wind and rain.
Add water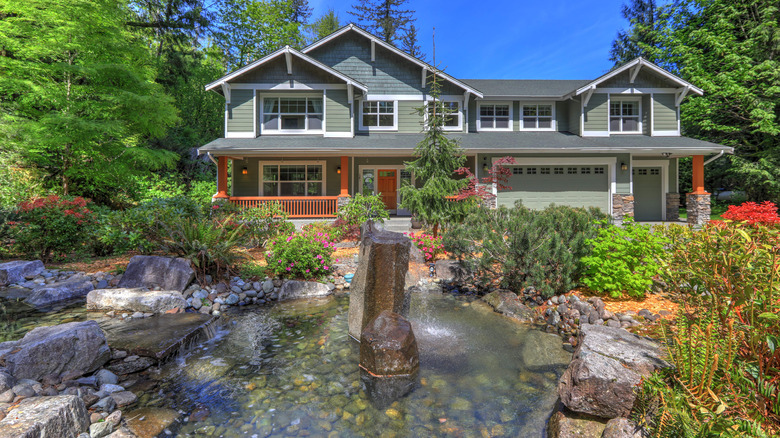 Artazum/Shutterstock
Adding a pond or fountain is an easy way to give your driveway a beautiful entrance without having to change the entire layout. Fountains come in all sorts of shapes, sizes, colors, and designs to fit your taste. A small pond can invite ducks to waddle, which would be a great way to give back to nature.
Shady spot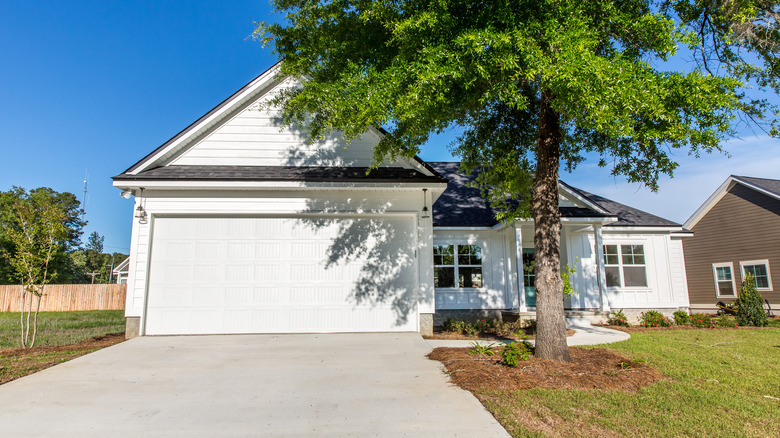 Ursula Page/Shutterstock
A shade tree or two is not only beautiful to look at when entering a driveway, but it also provides functional and much-needed shade for those warmer months. Unless you plan on waiting years for the tree to grow, it's best to buy one already established.
Green space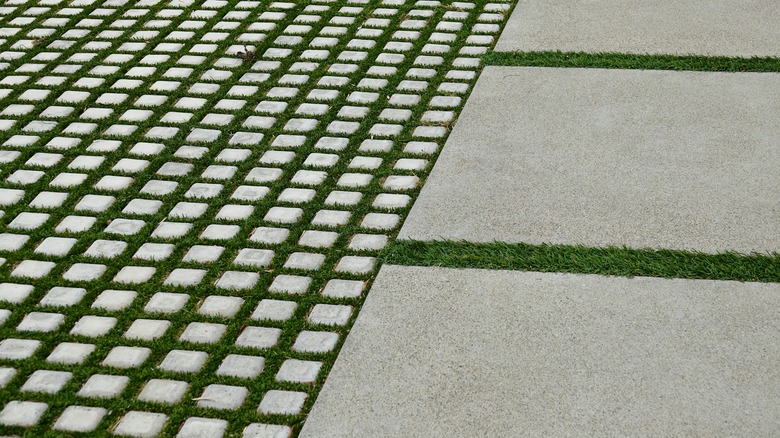 HY-DP/Shutterstock
Lining the driveway with patches of grass is a modern, sleek way to decorate. It adds an element of nature to the outdoor space, is easy to maintain, and has great curb appeal.
Privacy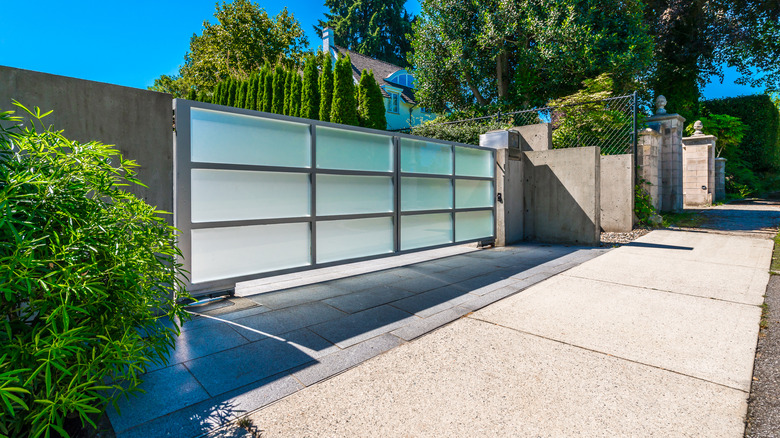 romakoma/Shutterstock
The need for privacy is important for many homeowners, and a gate can easily do that. Opt for a wooden or frosted gate that makes it difficult for people to see through (unlike an open metal gate). While it may seem uninviting, if privacy is the goal, a sleek gate will work.
Evergreen and rocks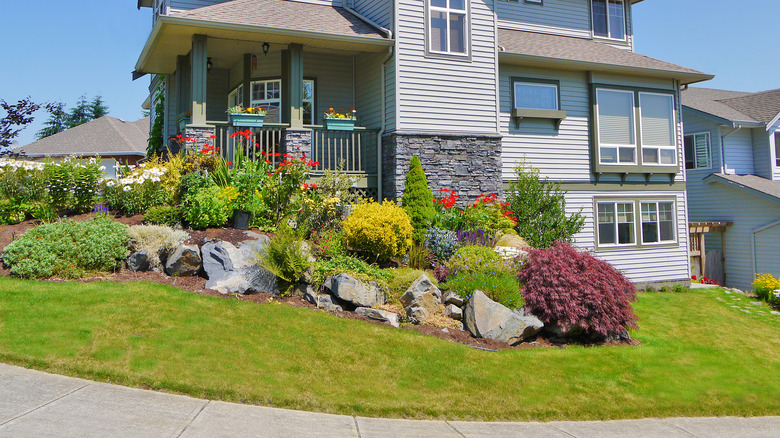 Imagenet/Shutterstock
Landscaping in the form of decorative rocks and evergreen plants and shrubs can give guests the impression of a cool mountain retreat. This option is especially great if you live in a climate that gets cold.
Make it a circle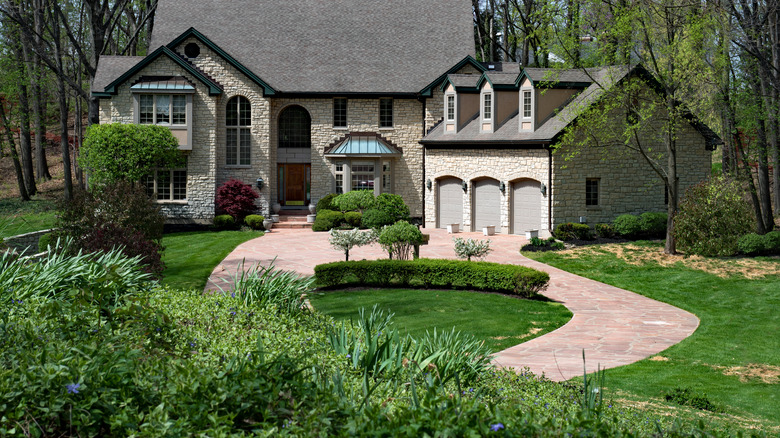 Susan Law Cain/Shutterstock
A circular driveway is a good way to make extra room for parking, especially if you love to entertain. It's also primed for adding beautiful decor items like flowers, trees, fountains, and lined pavers.
Columns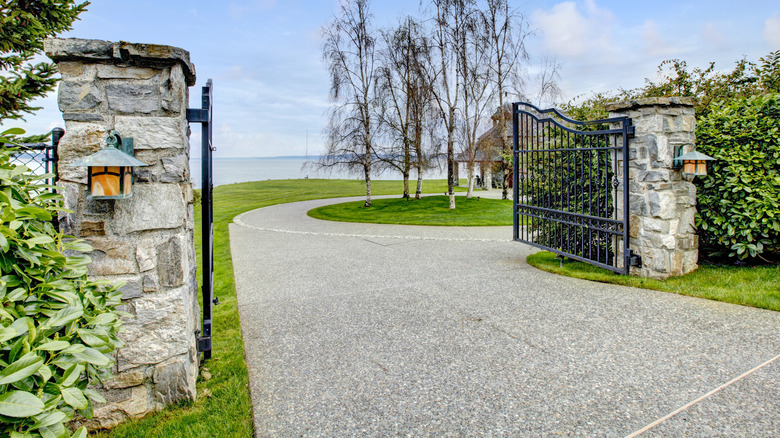 Artazum/Shutterstock
With or without a gate, stone columns leading up to the house make a statement that introduces the house to your guests. Add an address sign, a plaque, or any other decor that fits with your style.