What Are Dummy Doorknobs, And Does Your Home Need Them?
Dummy door knobs, primarily used for aesthetic appeal, are a unique type of door hardware that lacks a locking mechanism. These non-functional knobs serve as decorative elements, enhancing the visual appeal of your home's interior. They are generally applied to paired doors that close in unison, like those seen on wardrobes or cabinets. Available in a diverse range of designer styles and finishes, dummy door knobs can effortlessly blend with your home's interior decor and architectural style. Their design flexibility has made them a favored selection among homeowners aiming to infuse their spaces with a hint of sophistication.
Furthermore, the ease and affordability of installing these knobs make them a compelling choice for non-locking uses in your home. If you're pursuing a cost-effective, chic, and uncomplicated way to boost your home's visual allure, dummy door knobs might be the perfect fit. Despite their non-functional nature, they still play a significant part in establishing a unified design theme, proving to be an optimal selection for areas where the door hardware's primary function is to harmonize with the overall aesthetic.
How to know if your home needs dummy door knobs
Determining whether your home requires dummy door knobs can be assessed through a few key factors. Homes with double doors that close side-by-side, like those on cabinets and wardrobes, often benefit from dummy door knobs. These knobs add a decorative flair to your home without compromising functionality, enhancing the overall aesthetic appeal. For doors that don't require a latch, like closet or pantry doors, dummy door knobs are an excellent choice. They add a decorative touch and facilitate easy access to the contents within, making them a practical addition to your home. If your goal is to enhance your home's aesthetic appeal, dummy door knobs are a fantastic option. With a wide array of designer styles and finishes available, they can effortlessly complement your interior decor and architectural style.
The diverse design options of dummy door knobs make matching any interior decor and architectural appeal easy. If you're uncertain about the need for dummy door knobs in your home, it's advisable to consult a professional or visit a hardware store to explore the different types of door knobs available.
Dummy door knob options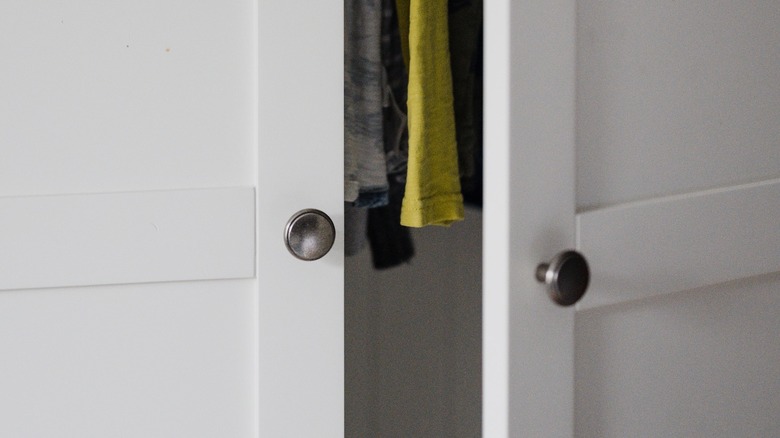 Mariana Serdynska/Shutterstock
There are a few decisions to make when selecting the right dummy door knob for your space. First, determine if you need a single or double door knob. A single dummy is a door knob, handle, or lever meant for one side of the door, primarily for aesthetic purposes. A double dummy door knob features two matching knobs or handles designed to beautify both sides of a single doorway, particularly if there are double doors, such as a pantry or closet. After determining the number of knobs needed, focus on aesthetics. Dummy knobs come in diverse styles and finishes, from classic to contemporary designs. They are made from a variety of materials, such as brass, bronze, or even crystal. By evaluating the door's purpose, position, and aesthetic preferences, you can seamlessly select the ideal dummy door knob.
Finally, consider options for enhanced safety and convenience. For example, shallow closets and pantries often incorporate ball catches or magnetic catches at the door's top. Ball catches enable doors to stay closed without standard latches or locks. Commonly seen on hinged doors, such as those in closets and pantries, they use a spring-loaded system to guarantee a secure closure. Alternatively, magnetic catches employ magnets to ensure the door remains shut, which is ideal for scenarios where ball catches may not be optimal. Both options offer a reliable and safe solution for maintaining the security of shallow closets and pantries.